Trasformare il veleno in medicina, questo dice il Buddismo e negli ultimi mesi ne ho fatto il mio mantra. Ogni terapia, ogni visita oncologica, nel periodo post operatorio, per ogni corsa non fatta, per ogni volta che avrei voluto correre e invece potevo solo camminare, e a volte neanche quello.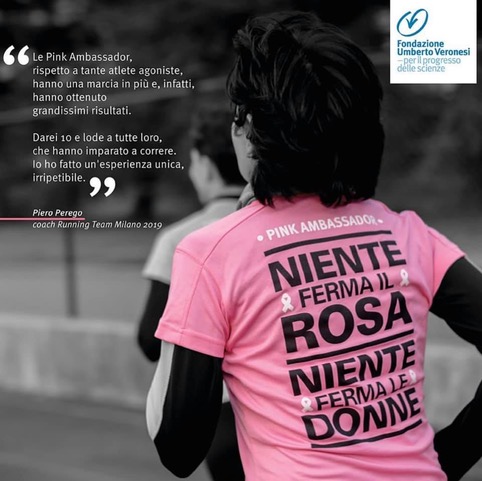 Camminate lente, pesanti, come se avessi avuto massi di cemento legati alle caviglie, ogni passo un'impresa, dolorosa e mortificante per una maratoneta come me, ma non mi sono mai fermata, fosse anche solo per pochi chilometri, ma nemmeno, per pochi metri, non ho mai mollato, non mi sono mai arresa.
Eppure qualcosa mi ronzava in testa. E mente cercavo di riprendere la mia vita in mano, mi ripetevo che per tutto quello che stavo vivendo c'era un motivo. Perché nella vita, nulla succede per caso e nei miei mesi di reclusione rimuginavo, pensavo e pianificavo con tutta la forza che avevo e con tutta la rabbia repressa e la voglia di rivalsa verso qualcosa che mi ha costretto al dover rinunciare a una delle cose più belle delle cose della mia vita: la corsa.
Ora che sto uscendo da questo tunnel forzato, sento che questa esperienza è stata quasi un regalo, un'opportunità che la vita mi ha dato per trasformare la mia passione per la corsa in qualcosa di più grande, qualcosa che possa dare forza non solo a me, e che mi dia la possibilità di aiutare chi come me sta affrontando il mio stesso percorso, quella che io definisco una maratona tutta al femminile, la lotta al cancro.
Scelta quasi naturale è stato il mio interesse e la mia candidatura per diventare una delle Pink Ambassador del progetto Pink is Good di Fondazione Umberto Veronesi.
Grande la mia gioia quando sono stata selezionata nel team Milano per il 2020.
Pink is Good è un progetto nato nel 2013 pe combattere i tumori al seno e gli altri tumori femminili.
Ha l'obiettivo di raccogliere fondi destinati a ricercatori che lavorano nei migliori istituti italiani per trovare nuove cure e anticipare la diagnosi, e diffondere l'importanza della prevenzione. Ad oggi le numerose azioni, gli eventi e le tante campagne firmate Pink is good hanno consentito di finanziare il lavoro di 153 ricercatori e di realizzare diversi eventi di divulgazione focalizzati principalmente sull'attività sportiva della corsa.
La scienza infatti ha provato i benefici dell'attività fisica a tutti i livelli della prevenzione, non solo quella primaria che protegge dall'insorgenza delle malattie. Secondo numerosi studi scientifici fare movimento in modo costante nel tempo riduce il rischio di recidive e favorisce il recupero psicofisico dei pazienti oncologici.
Per questo sono nate le Pink Ambassador. Il progetto nasce a Milano nel 2014, seguendo l'ambizioso obiettivo di estendere il progetto a tutto il territorio nazionale. Oggi è attivo in 12 città italiane.
E' formato da un gruppo di donne operate di tumori femminili che, dopo la malattia, hanno accettato una nuova sfida: partecipare ad una corsa competitiva di alto livello nel mondo.
E' guidato da un team tecnico di eccellenza: medici, nutrizionisti, psicologi e allenatori.
Dal 2018 grazie alla partnership con FIDAL (Federazione Italiana Di Atletica Leggera), la Pink Ambassador seguono per alcuni mesi un intenso allenamento con cadenza bisettimanale, coordinato e gestito da coach professionisti individuati dalla federazione.
"Niente ferma il rosa, niente ferma le donne" questo lo slogan delle Pink Ambassador, una bandiera che le (ci) porta lontano.
Le Pink condividono la propria esperienza di malattia a sostegno della ricerca scientifica e della prevenzione, per dimostrare l'importanza della diagnosi precoce e dei corretti stili di vita nella lotta contro i tumori. Correndo, parlano a tutti di coraggio, di ricerca, di prevenzione.
Una volta divenute ufficialmente "Pink Runner", si acquisisce il ruolo di "Ambassador" dell'iniziativa, cercando di diffonderla il più possibile e di sostenere la raccolta fondi a favore della ricerca.
Due sono gli obiettivi che si assume ogni Pink Ambassador di Fondazione Umberto Veronesi.
Promuovere l'importanza della prevenzione e sostenere la ricerca scientifica. Le Pink Ambassador diventano le testimonial delle attività di informazione e divulgazione sul tema della prevenzione al femminile. Le Pink Ambassador, attraverso i propri canali, promuovono la raccolta fondi a favore della ricerca scientifica sui tumori femminili e diventano esse stesse fundraiser tramite la piattaforma Rete del Dono.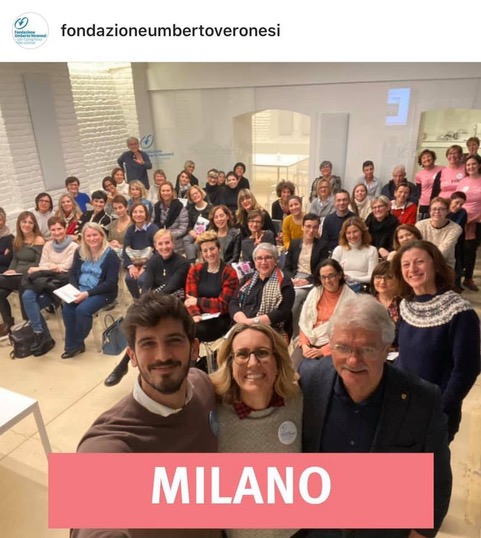 C'è anche un decalogo che contraddistingue le Pink Ambassador e 10 sono le caratteristiche da avere:
Think positive, think Pink!
Una Pink cerca di essere sempre ottimista, di prendere questa avventura con positività, entusiasmo e allegria.
Be social
Una Pink condivide e racconta questa esperienza perché sa che potrebbe aiutare tante altre donne che stanno affrontando la malattia.
Smile
Cerca di sorridere e scoprirai che un sorriso è contagioso, che un sorriso val più di mille parole.
Run Run Run
Non importa quanto veloce sei, l'importante è cominciare. Prendi seriamente la sfida,non mollare mai e quando sei stanca… corri!
We are family!
Le Pink sono una famiglia che si siuta e si ssostiene a vicenda. Non è competizione, non è rivalità, non è gelosia. Non è cercare di sorpassare qualcuno ma, piuttosto, è cecare di tirarselo dietro. E' partire e arrivare insieme, per mano.
Yes we can!
Non preoccuparti se non sei allenata, se credi di non farcela, se pensi che 42 Km siano infiniti: il giro del mondo comincia da un passo.
Be respondible
Non dimenticare mai che sei ambasciatrice di un messaggio importante, ovvero l'importanza di fare prevenzione e sostenere la ricerca.
All together
Non erdere di vista il focus: raccogliere fondi per sostenere la ricerca contro il tumore al seno. Tutte insieme, possiamo fare la differenza.
Believe in Pink
Credi nel gruppo, sii disponibile e domandati sempre "Cosa posso fare io per il team?"
Nessuno ferma il rosa.
Nessuno ferma le donne!
Porta con orgoglio il rosa, la nostra bandiera.
Inizio degli allenamenti a fine marzo, io ho già pronta la divisa e gli scarpini per correre. E non vedo l'ora di cominciare questa meravigliosa avventura.
Commenti
comments