In occasione del lancio della nuova silhouette SolarBOOST e in preparazione della POLIMIRUN - corsa di 10 km organizzata da adidas runners e Politecnico di Milano di domenica 20 maggio - adidas presenta una giornata di sport e di running attraverso l'organizzazione di una serie di attività in programma il 19 maggio.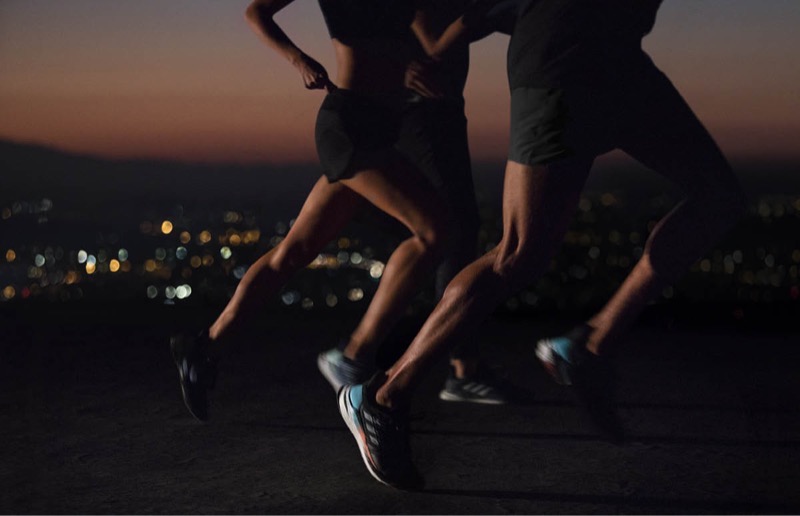 Si comincia alle ore 18.00 con Sunset Yoga with City Zen – una classe di yoga sotto la guida dei maestri City Zen che si ispira all'alternanza tra alba e tramonto per generare calore ed energia. L'appuntamento è al Teatro Burri, insolito palcoscenico a cielo aperto, situato all'interno del Parco Sempione tra l'Arco della Pace e il Castello Sforzesco.
Si prosegue alle 19.30 in Runbase Milano, Corso Sempione 10, con la Golden Hour Run, una corsa in gruppo al tramonto, prova generale di riscaldamento alla POLIMIRUN.
GUARDA ANCHE: Iniziare a correre: come, quando e soprattutto perché
Alle ore 20.00 si aprirà la SOLAR NIGHT presso la Megawatt Court di Via Giacomo Watt 15, un get together con Dj Set per vivere un'esperienza unica ed immersiva ispirata all'energia del sole, per ricaricarsi al fine di superare i propri limiti e per celebrare la nascita del nuovo modello SolarBOOST.
SolarBOOST è una nuova scarpa da running ad alte prestazioni dotata delle migliori innovazioni firmate adidas, un prodotto senza precedenti in termini di comfort, calzata e sostegno, che permette ai runner di muoversi sicuri a qualsiasi velocità e su qualsiasi distanza.
Una nuova silhouette tecnica, dedicata ai runner che esigono il massimo in termini di performance, comfort e ritorno di energia.
Ispirata alle scoperte ingegneristiche della NASA e costruita all'insegna della funzionalità, SOLARBOOST è una scarpa da running ad alte prestazioni, leggerissima, dotata delle migliori innovazioni firmate adidas.
L'elemento di spicco è Tailored Fibre Placement, una tecnologia pionieristica basata sui dati che permette di disporre in maniera mirata le fibre composte da materiale Parley: ogni singolo millimetro della scarpa è frutto di un meticoloso processo di cucitura e assemblaggio. Nasce così un prodotto senza precedenti in termini di comfort, calzata e sostegno, proposto in un formato leggero, che permette ai runner di muoversi sicuri a qualsiasi velocità e su qualsiasi distanza.
La fiducia in se stessi è stata un elemento chiave per la creazione di questa nuova proposta. Partendo dal presupposto che gli appassionati della corsa scelgono questo tipo di allenamento per acquisire maggiore autostima in altri ambiti della vita, la silhouette è progettata proprio per favorire questo aspetto, offrendo ai runner tecnologie all'avanguardia. La campagna Run To Rise – la prima nel suo genere ad avere per protagonisti i membri del movimento adidas Runners, vera colonna portante delle iniziative adidas Running – punta a celebrare i picchi di autostima e di energia raggiunti dai runner alla fine della corsa.
Tracciando un parallelo con la costruzione di una navicella spaziale, in cui ogni singola parte ha un fine ben preciso, ciascun elemento di SOLARBOOST è stato ottimizzato per una specifica funzione orientata alle prestazioni. Con i suoi 295 g, la nuova proposta pesa 15 g in meno rispetto alla precedente silhouette Energy Boost: una riduzione significativa, che tuttavia non compromette né l'ammortizzazione né il ritorno di energia.
Testata dal movimento adidas Runners nelle maggiori città del mondo, con le temperature e le condizioni climatiche più disparate, questa scarpa leggera e al tempo stesso resistente vanta le innovazioni adidas più rivoluzionarie in assoluto, tra cui:
NUOVA tecnologia Tailored Fibre Placement: questa avanzatissima tecnologia sfrutta i dati raccolti da Aramis per disporre in maniera precisa le fibre a base di materiale Parley in corrispondenza del mesopiede, offrendo ai runner il supporto di cui hanno bisogno;
Energy Rail rinnovata: una nuova struttura simmetrica dal peso ridotto, che interagisce con BOOST per favorire la stabilità;
Fit Counter migliorato: struttura in corrispondenza del tallone che unisce sostegno e leggerezza, progettata per assecondare i movimenti naturali del tendine di Achille e garantire una calzata più ampia e confortevole;
Intersuola BOOST: l'intersuola altamente reattiva, costituita all'85% da BOOST, offre un'ammortizzazione ottimale all'insegna della leggerezza, per dare ai runner una sferzata di energia che parte direttamente dal suolo;
Stretchweb ottimizzata: una suola in gomma dal grip ineguagliabile che asseconda la falcata di ogni runner, lavorando in perfetta sintonia con BOOST per un'andatura più fluida e adattabile.
Chris Ekman, Senior Product Manager di adidas Running, ha dichiarato: "Sapevamo che era arrivato il momento di rivedere la concezione classica della scarpa da running ad alte prestazioni. Per creare una silhouette leggera, solida e confortevole, adatta a qualsiasi runner, ci siamo ispirati al settore automobilistico e a quello aerospaziale. Così abbiamo scoperto Tailored Fibre Placement, una tecnologia produttiva ad alta precisione, che ci ha permesso di cucire i materiali con un'accuratezza mai vista prima. Abbiamo poi aggiunto una versione rinnovata della nostra Energy Rail e un'ulteriore evoluzione di BOOST, per una reattività più efficiente. Introducendo la tecnologia Tailored Fibre Placement nel settore delle scarpe da running, siamo riusciti a realizzare la silhouette più avanzata mai messa a punto da adidas Running".
SOLARBOOST (prezzo consigliato 160 €) sarà disponibile dal 17 maggio online e presso negozi adidas selezionati negli Stati Uniti e nell'Europa occidentale e dal 1° giugno 2018 nei negozi di tutto il mondo.
Tutti gli eventi sono gratuiti ed è necessario riservare il proprio posto alle singole attività attraverso il sito adidas.it/adidasrunners
Commenti
comments