Tappa obbligatoria a Parigi: il nuovo flagship store Bensimon. Uno spazio tra design e moda nel cuore della Ville Lumière, al 78 rue Jean-Jacques Rousseau nel suggestivo quartiere Montorgueil. Uno scrigno perfetto per la Tennis più parigina al Mondo!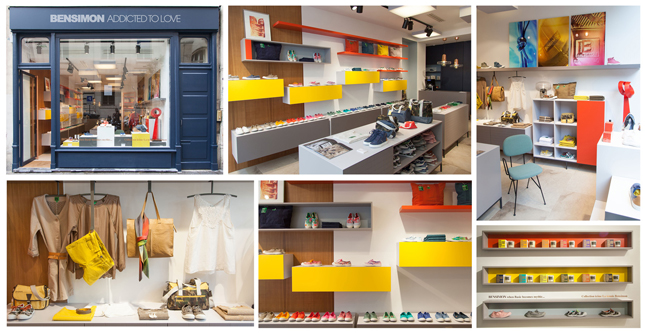 Mentro lo intervistavamo qualche mese fa, Serge Bensimon ci confidava di voler creare delle boutique che fossero molto più che semplici boutiques.
| | |
| --- | --- |
| Bensimon Addicted to Love | |
Non semplici negozi, ma veri luoghi d'incontro dove poter entrare in un mondo. Un mondo fatto di tennis ovvio, ossia della sneaker più parigina che ci sia, la famosa Bensimon, ma non solo.
Abbigliamento, arte, design, profumi. Una vera "arte di vivere alla Bensimon" per sentirsi un po' come a casa. Obbiettivo centrato. Forse per questo che nei quartieri più suggestivi di Paris, nei luoghi che alleano attrazioni culturali e movida notturna, la visita non si fa tappa da Bensimon.
Ora la Ville Lumière può contare su un nuovo flagship: l'iconica sneaker da tennis dai colori quasi infiniti ha trovato una nuova collocazione ideale al 78 Rue Jean-Jacques Rousseau, nel quartiere Etienne Marcel/Montorgueil che dagli anni '80 non ha mai terminato il suo continuo sviluppo.
Uno spazio tra moda e design ideato dall'architetto Stéphan Riolet, architetto della Maison, con una facciata decisamente moderna, un interno postmodernista, un pavimento con pietra chiara, muri rivestiti di legno e tocchi di colori vitaminici.
Bensimon Addicted to Love è già uno dei luoghi parigini a non mancare per nessun motivo al mondo e promette già di diventare luogo di eventi diversi. Appuntamento al 78 rue Jean-Jacques Rousseau 75001 Paris per un nuovo paio di tennis Bensimon (almeno!). E.L.
Resta sempre aggiornato! Iscriviti alla Newsletter di FASHION TIMES
Commenti
comments