5WAY Chats è la rubrica di Fashion Times che racconta, intervista e mostra i nuovi talenti internazionali di moda e lifestyle.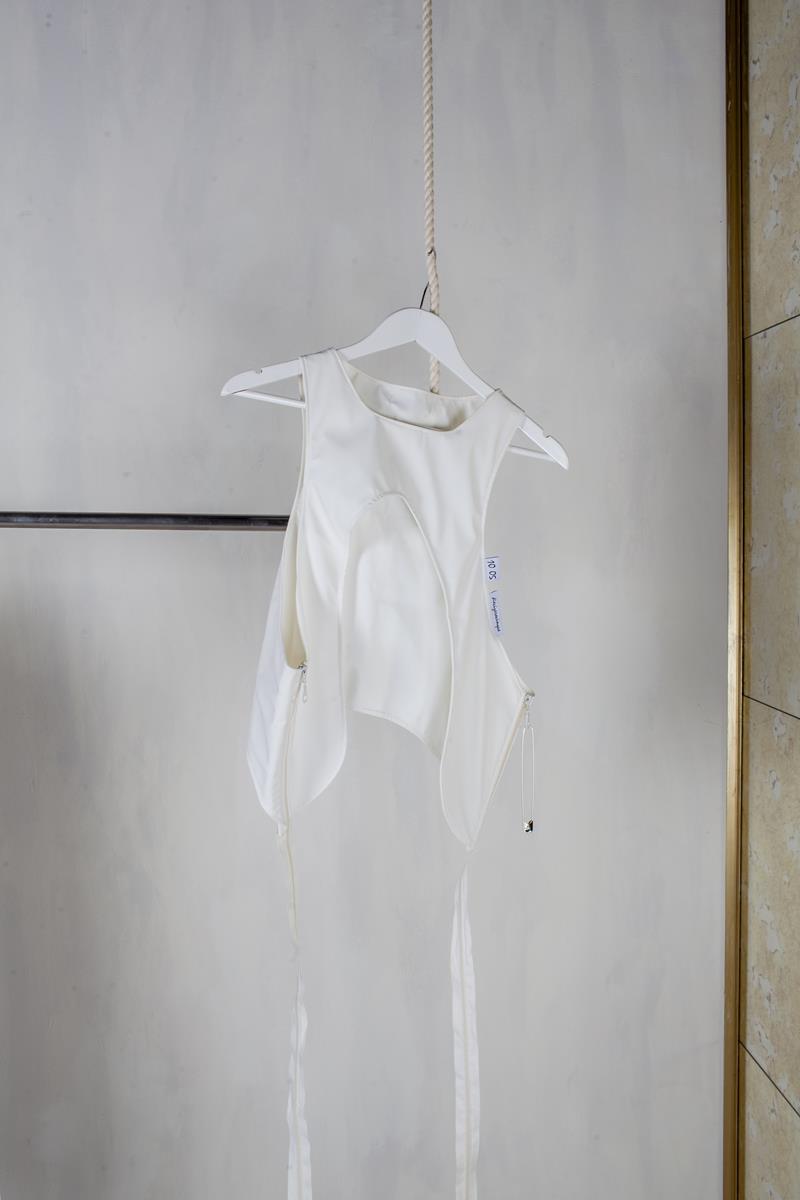 Filosofia, ispirazione e mood del brand? Dal 2019 ho deciso di curare ogni aspetto del brand MODUS VIVENDI, ad oggi 10 05_diecizerocinque.10 05 è una connessione piena del nostro modus vivendi. Appunto MODUS VIVENDI, che semplificato e puntato diventa MV, che in numeri rimani corrisponde all'anno 1005, dal quale appunto DIECIZEROCINQUE. Un "modo di vivere" è questo il concetto alla base della nostra idea di moda. La bellezza è nel nostro #MODUSVIVENDI, come un accordo provvisorio tra due parti: essenza e apparenza, basato su una tacita comprensione tra di loro, al fine di mantenere relazioni quotidiane. Nel nostro #MODUSVIVENDI la bellezza non ha limiti dettati dall'estetica standardizzata. La bellezza non ha età, confini, luoghi comuni. La bellezza è l'essenza della vita. Vogliamo che tutti si sentano belli, senza pregiudizi o giudizio degli altri, la bellezza si trova nei modi di fare e di essere. La bellezza è invisibile agli occhi.
Chi è il cliente ideale del tuo brand? Non abbiamo un uomo o una donna ideale. Il nostro ideale è per tutti. La nostra idea di moda è per tutti!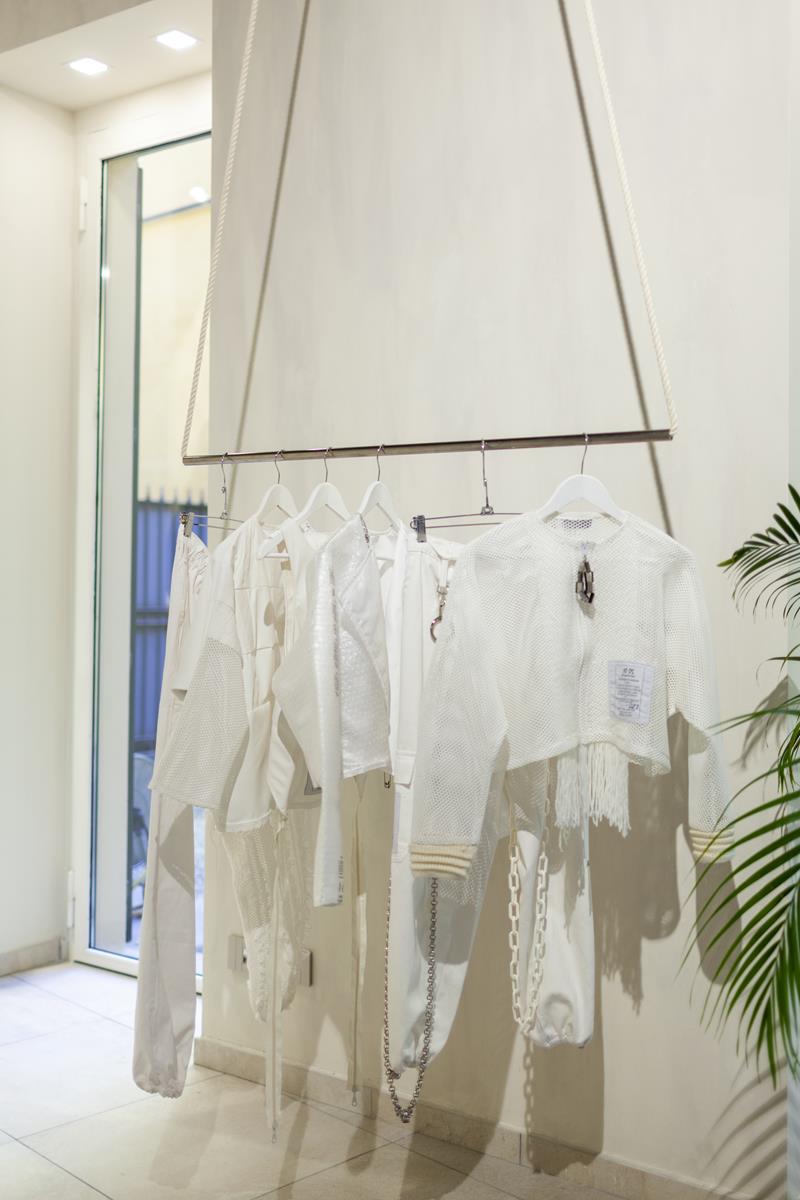 Perché hai deciso di lanciare il tuo brand? La decisione di lanciare il brand è stata del tutto casuale. Da brand emergente stiamo vivendo a pieno questa avventura. Siamo pienamente soddisfatti dei risultati ottenuti in così breve tempo!
Qual è il tuo pezzo preferito dell'ultima collezione? Abbiamo alcuni MUST HAVE e FAV della collezione però ogni capo è unico. In poche parole, i capi che produciamo sono rigorosamente confezionati a mano nel sud Italia, sono capi realizzati con tessuti riciclati, plastica di scarto, materiali plastici edili, patchwork di abiti in disuso, tessuti vintage rigenerati, tessuti manipolati. Senza alcuno spreco e quindi "0 pollution", perché ogni rifiuto tessile o plastico lo inseriamo in bomber, giacche o accessori come imbottitura. Ogni capo è unico e certificato sia nel design che nella sua, appunto, unicità.
Quali sono i tuoi pezzi d'autore, che non mancano mai nelle tue collezioni? Creiamo capi che possono essere indossati tutto l'anno, su stratificazione, quindi abbiamo una produzione sartoriale di ogni tipologia di capo: t shirt, sweater, jumper, pants, gonne, shorts, giacche, trench, bomber, gilet e tutto quello che ci salta in mente di fare.
Come si è evoluto il tuo stile? E la filosofia che guida il tuo lavoro? Il concetto alla base della nostra idea di moda è che deve essere un "modo di vivere", si deve vivere quello che si indossa; quindi valutare il modo in cui è pensato, confezionato e venduto. Tener conto di alcuni immancabili fattori come la sostenibilità, l'avanguardia e soprattutto nel nostro caso l'inclusività. Lo stile non ha avuto evoluzioni particolari, è da sempre che abbiamo questa visione della moda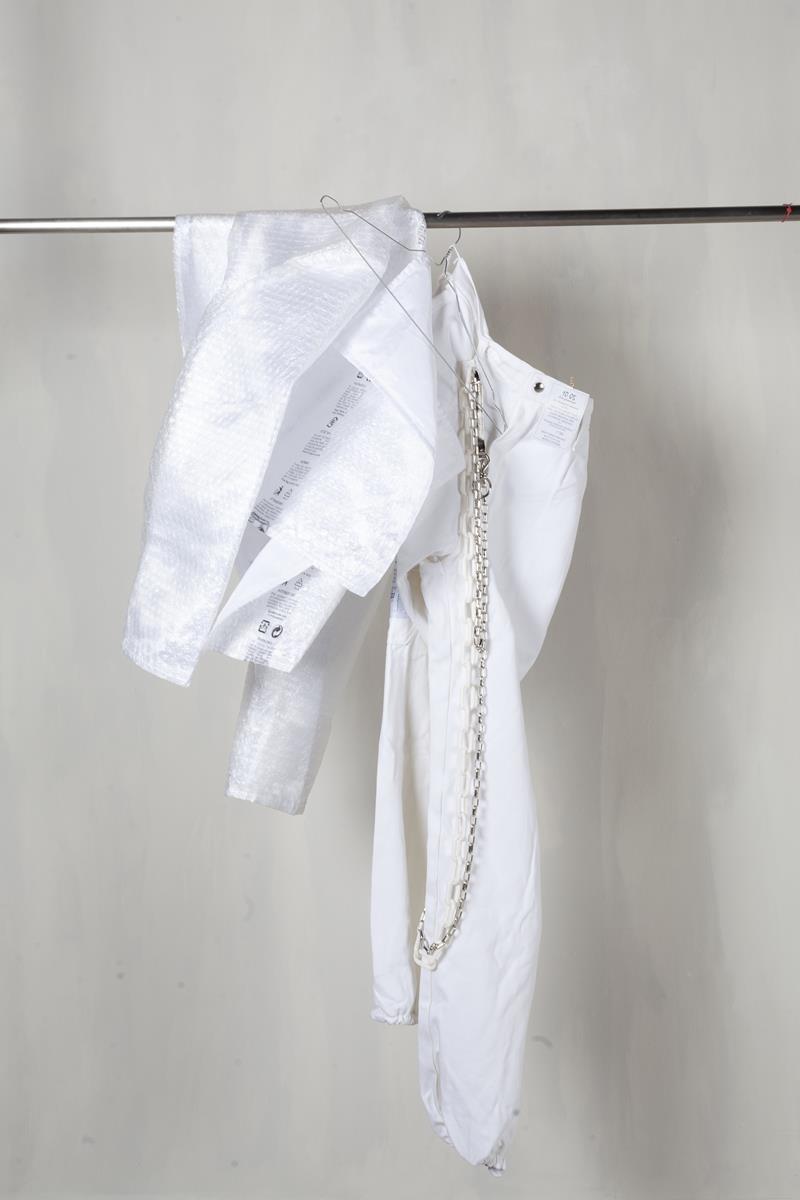 Come definisci l'estetica delle tue collezioni? Crediamo che non sia fondamentale il posizionarsi in una categoria estetica o ridurre lo stile di un brand in poche e semplici parole. Alterniamo lo streetwear al cargo, passiamo dalla haute couture al prèt a porter. Siamo per uno stile fluido e dell'idea che ognuno deve essere libero indossare e abbinare i capi come meglio preferisce e desidera!
Cosa ti ispira nella vita? La nostra musa ispiratrice è la bellezza sicuramente. Il bello di sentirsi liberi di essere ciò che si è e soprattutto ciò che non si è. La bellezza del sentirsi a proprio agio è sicuramente la mia musa. Come ripetiamo sempre la bellezza non ha limiti, età, confini, luoghi comuni. La bellezza è l'essenza della vita.
Ci parli del processo creativo dietro la tua ultima collezione? Vi sveliamo un solo segreto. Ci siamo fatti ispirare dal cinema questa volta, sarà molto stile 'Arancia meccanica' con accenni a 'The colour of pomegranates'.
Qualche progetto in arrivo? Sono in arrivo tantissimi nuovi progetti. Oltre a sito internet, e-commerce e piattaforma interattiva, ci sono in programma collaborazioni con altri designer e artisti. Ci impegniamo sempre di più verso una moda del tutto sostenibile, infatti 10 05 si impegna nella realizzazione di capi "made to order" in primis e in un'unica presentazione della collezione annuale che si terrà ogni 10 Maggio, quindi prossimo evento 10 _05_2021. Quindi stay tuned!
Chi è la tua icona di stile? Senza ombra di dubbio mia nonna! Donna di classe, sempre sul pezzo e all'avanguardia. Amiamo lo stile di Lady D, abbinato alla voglia di essere unici di Lizzo, con l'eleganza eccentrica di Iris Apfel e la grazia di Marlon Brando! 
Cosa ti piace di più del tuo lavoro? Il poter sognare senza dover andare lontano. Quando ho qualche minuto di pausa dal mio lavoro, sogno ad occhi aperti comunque lo stesso lavoro. Lo sogno in grande, da designer e soprattutto sogno una moda all'altezza del mondo che ci circonda.
Il tuo più grande sogno nella moda? Lo abbiamo più volte citato anche nel nostro "MANIFESTO ALLA BELLEZZA" (presentato a Milano, in Piazza Duomo, il 19 Febbraio 2020, durante la MFW)
La bellezza non ha limiti dettati da canoni estetici. La bellezza non ha età, confini e luoghi comuni. La bellezza è l'essenza della vita.
Vogliamo che tutti possano sentirsi belli, senza pregiudizio o giudizio altrui, la bellezza la si trova nei modi di fare, di essere. La bellezza è invisibile agli occhi.
Vogliamo eliminare le differenze di genere. All'unisono, senza età, religione, appartenenza sociale, forma o diversità. Tutti devono essere liberi di esprimersi attraverso il proprio corpo.
Crediamo che per sentirsi bene bisogna amarsi e non aver paura di mostrare quello che siamo, indipendentemente dal sesso, dal colore della pelle, e dalla religione che professiamo.
Non vogliamo categorie, gruppi o appartenenza; la moda deve essere espressione della società quotidiana, specchio della vita reale e non una mera distopica utopia.
Non vogliamo caste, antiche nicchie e indistruttibili cerchie, la moda, come l'arte, deve essere fruibile a tutti e che sia tradizionalmente innovativa, all'avanguardia su aspetto tecnico e ambientale e soprattutto che sia sostenibile.
Il tuo designer preferito di tutti i tempi? In assoluto MARTIN MARGIELA, riconosciamo in lui il nostro "modus vivendi et operandi" Ma siamo attratti allo stesso tempo da Rei Kawakubo, Hussein Chalayan, Thom Browne.
Dove puoi acquistare il marchio? È possibile acquistare 10 05 preordinando i capi dal nostro account IG personale @modus_vivendiofficial. Intanto stiamo lavorando al nostro sito internet, e_commerce personale e ad una piattaforma dalla quale poter confezionare direttamente i propri capi inserendo misure, tagli e tessuti (naturalmente dipende dalla disponibilità al momento del tessuto). Inoltre i capi sono disponibili sulla nuova piattaforma di 5way!
---
Fonte foto: 5WAY press office
Commenti
comments