Immaginate il parco giochi più grande dove siete mai stati, pieno di attrazioni per grandi e piccini, dagli scivoli d'acqua ai campi da golf, dagli acquari alle giostre a tema più estreme. Riempitelo ora di hotel ultra moderni e spiagge tropicali. E trasformatelo in un'isola.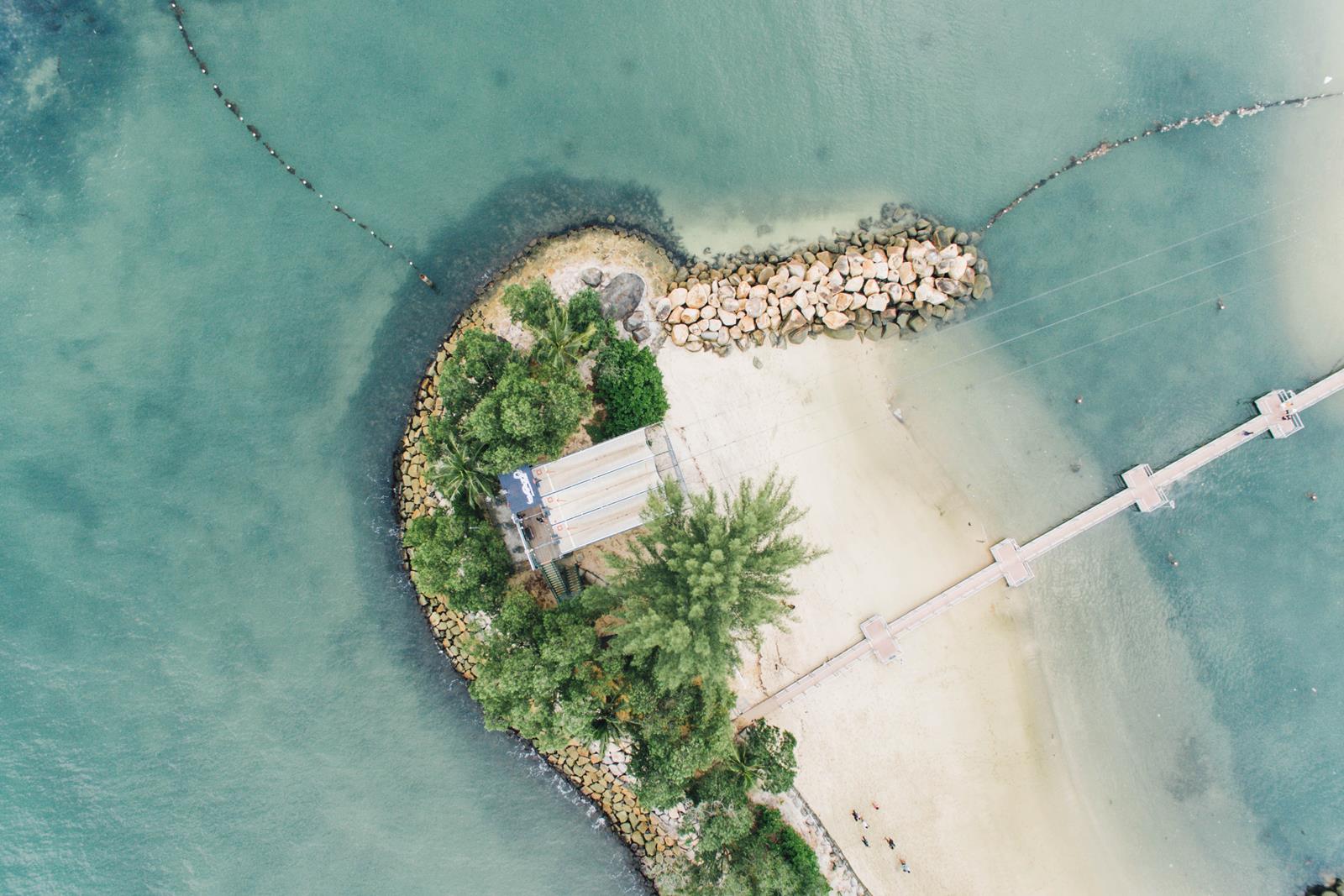 No, non è il sogno di qualsiasi bambino avventuroso: è Sentosa Island, l'isola di Singapore divenuta parco divertimenti a cielo aperto. Fashion Times traccia per voi una vera e propria Sentosa Map, una mappa completa dell'isola con tutti i riferimenti alle attrazioni, agli hotel e alle spiagge di cui avete bisogno per una vacanza in questo paradiso dell'intrattenimento.
La storia di Sentosa Island, Singapore
Con la reputazione di metropoli fra le più tecnologicamente avanzate al mondo, centro nevralgico di innovazione e nuove tendenze, Singapore non poteva certo esimersi dal costruire il suo personale parco divertimenti. Ma di sicuro è l'unica città ad aver dedicato ad attrazioni e giostre un'intera isola.
Situata a soli 500 metri dalla costa sud di Singapore, Sentosa è un vero eden per chi voglia passare una vacanza (o anche una semplice giornata) saltando da un'attrazione all'altra, con intermezzi fatti di cocktail sulla spiaggia e spettacoli pirotecnici elettrizzanti.
Spiagge da sogno: le 6 più belle e particolari della Sardegna
Considerata un crocevia di scambi commerciali fra i porti della Malesia fino alla Seconda Guerra Mondiale, Sentosa è stata di proprietà del Regno Unito fino alla fine degli anni '60. Una volta riconsegnata al territorio di Singapore, è iniziata la riconversione a parco turistico, con un'espansione che prosegue tutt'oggi ad alta velocità. L'isola conta infatti su una superficie di soli 5km², esigua se si considera che ogni anno viene invasa da circa 5 milioni di turisti.
Sentosa è meta privilegiata sia dagli abitanti di Singapore, che spesso la visitano durante i weekend per prendersi una pausa dalla frenetica vita cittadina (e non è un caso che il suo nome in malese significhi "pace e tranquillità"), sia dai turisti, catturati da attrazioni di fama mondiale come il Resorts World Sentosa e gli Universal Studios Singapore.
Come raggiungere Sentosa Island
Nota per l'alto impatto scenico delle sue architetture – basta pensare ai rigogliosi e futuristici Gardens By the Bay e allo strabiliante complesso di Marina Bay Sands – Singapore non lascia niente al caso, neanche l'ingresso alla sua isola-resort. Tutti i mezzi per raggiungere Sentosa Island sono infatti ad alto impatto visivo, che si tratti di una passeggiata lungo una promenade sospesa sul mare o di uno spettacolare ingresso aereo.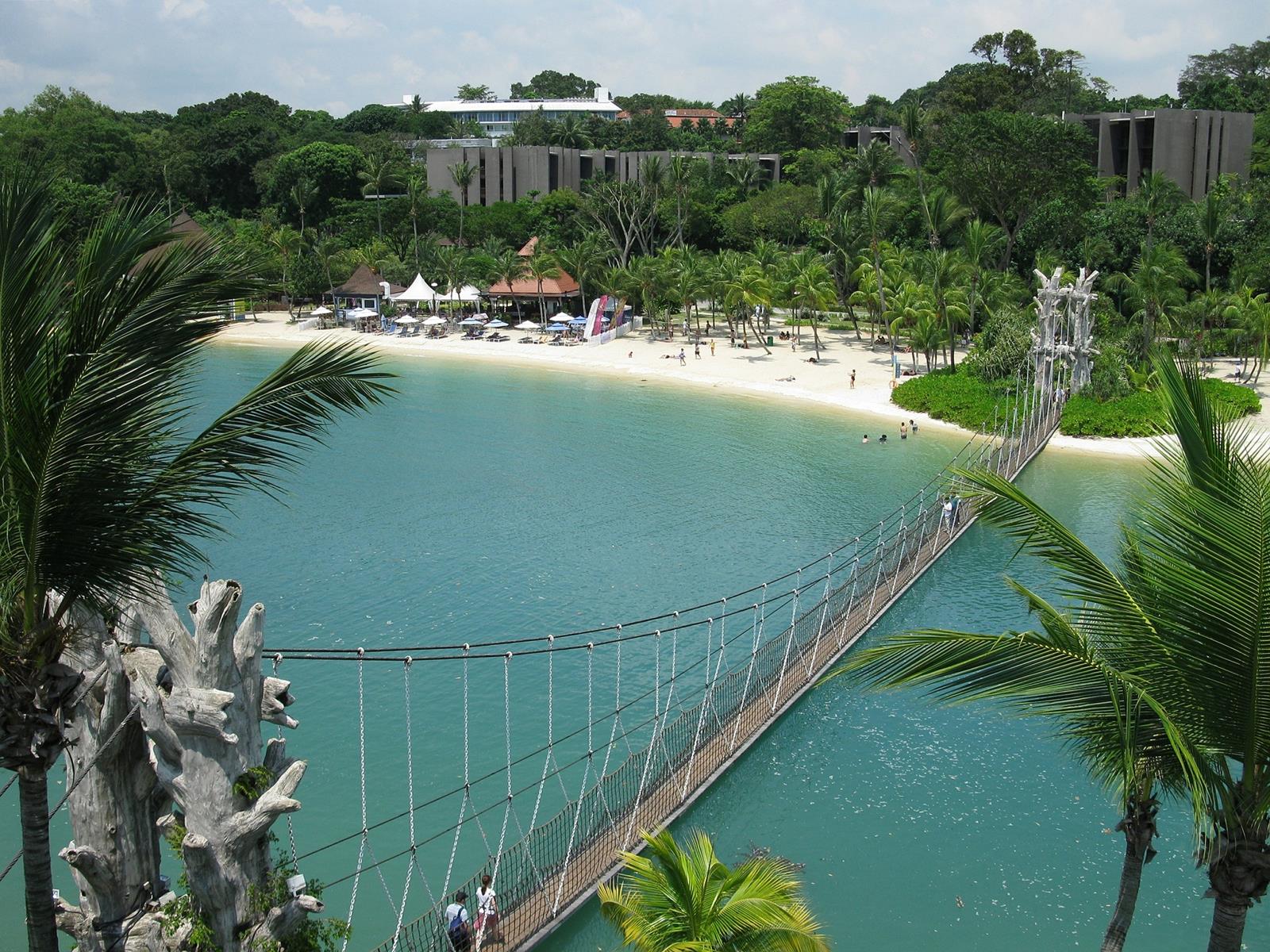 Funivia per arrivare a Sentosa Island

L'entrata più adrenalinica all'isola è di sicuro quella tramite funivia. Le partenze vengono effettuate dalla stazione metro di HarbourFront Centre o dal Mount Faber, una collina poco distante dal centro città. La vista dalla funivia è niente meno che mozzafiato, e nelle giornate di bel tempo abbraccia sia lo skyline di Singapore che le attrazioni di Sentosa, nonché il porto con le sue gigantesche navi. La linea prosegue inoltre sull'isola, con fermate in alcuni dei punti strategici per hotel e attrazioni (Merlion, Imbiah Lookout, Siloso Point). I prezzi del volo in funivia vanno dai 15S$ per la sola Sentosa Line ai 33/35S$ per le partenze dalla terraferma. Sono sempre previsti sconti per i bambini.
Monorotaia per arrivare a Sentosa Island
Altra scelta iper-tecnologica per entrare a Sentosa è il Sentosa Express, la colorata monorotaia in funzione dalle 7 del mattino fino a mezzanotte. Con i suoi caratteristici trenini verde, blu, viola, rosa, rosso, giallo e multicolore, questa monorotaia completamente sopraelevata è in grado di trasportare fino a 4000 passeggeri all'ora. Per prenderla dovrete raggiungere la stazione di HarbourFront e dirigervi al VivoCity shopping mall, il centro più commerciale più grande di Singapore (non vi biasimiamo se decidete di fermarvi qui per una prima sosta di shopping). Il Sentosa Express serve quattro stazioni (VivoCity, Resorts World, Imbiah e Sentosa Beach), e per percorrere l'intero tragitto da un capolinea all'altro impiega solo 8 minuti. Per entrare alla stazione del VivoCity è richiesto un pedaggio di 4S$, mentre le corse da e per Sentosa sono gratuite e illimitate.
A piedi o in bici per arrivare a Sentosa Island
L'estrema vicinanza alla terraferma dell'isola di Sentosa rende agibile l'accesso anche in bici o piedi. Per raggiungere l'isola non dovrete far altro che arrivare al VivoCity shopping mall e imboccare la Sentosa Boardwalk, la passeggiata sul mare contornata da alberi e comode tettoie per ripararsi dal sole e dalle piogge. Se pensate che la vegetazione di questa passerella sia solo decorativa, vi sbagliate: la Boardwalk ospita infatti 5 ecosistemi tropicali indigeni di Singapore. Un modo originale per entrare in contatto con la flora rigogliosa della metropoli definita "la città-giardino".
Buone notizie inoltre per chi sceglie di raggiungere l'isola a piedi o in bici: l'ingresso è gratuito.
Sentosa Map: le attrazioni imperdibili e dove trovarle
Nonostante le piccole dimensioni, l'isola di Sentosa è talmente ricolma di attrazioni e cose da fare che vorrete arrivare preparati. Eccovi allora una mappa dei luoghi imperdibili per una vacanza all'insegna del divertimento.
Universal Studios Singapore
Forse l'attrazione più famosa e gettonata dell'intera isola, cuore pulsante del complesso faraonico di Resorts World. Gli Universal Studios di Sentosa racchiudono tutta la magia dell'omonima casa cinematografica hollywoodiana in 24 giostre, alle quali si aggiunge un numero sterminato di spettacoli, negozi e ristoranti, tutti a tema cinema. Transformers, Battlestar Galattica, La Mummia, Madagascar: sono solo alcuni dei titoli che ispirano le attrazioni del parco, adatto sia alle famiglie con bambini piccoli che agli adulti in cerca di emozioni e adrenalina sulle spericolate montagne russe.
Giostre adrenaliniche
Gli amanti delle avventure da cardiopalma avranno solo l'imbarazzo della scelta agli Universal Studios. Potreste iniziare col botto con Battlestar Galactica: HUMAN vs. CYLON™, le montagne russe doppie più alte al mondo. Ispirate al kolossal sci-fi dal quale prendono il nome, queste giostre con treni speculari (uno con la seduta classica, l'altro con le poltrone che lasciano i piedi sospesi nel vuoto) simulano una battaglia fra navi spaziali umane e aliene in un turbinio di avvitamenti letteralmente da urlo.
Per continuare con le ambientazioni da fantascienza ultra moderna, salite sopra la giostra TRANSFORMERS The Ride: The Ultimate 3D Battle. Sarete immersi in una lotta senza quartiere in 3D fra gli intramontabili robot Transformers, con gli Autobots guidati da Optimus Prime impegnati a difendere il mondo dai temibili Decepticons. Dai tunnel sotterranei della metropolitana alle cime vertiginose dei grattacieli, gli inseguimenti e i combattimenti vi lasceranno senza fiato.
Chi invece pensa di avere uno stomaco di ferro e vuol provare il brivido di un'attrazione intergalattica può salire su Accelerator™. Questa giostra rotante ha infatti il potere di farvi sentire come un satellite che precipita a tutta velocità verso la Terra in un'infinita serie di giravolte.
Lasciate poi momentaneamente da parte la fantascienza e fate spazio ai misteri dell'antichità: Revenge of the Mummy™ vi farà rivivere le atmosfere del film cult La Mummia, in una ricerca febbrile del Libro dei Vivi fra palle di fuoco, scarabei mostruosi e mummie soldato assetate di sangue.
E se di film cult si parla, impossibile non ripercorrere i passi di Alan Grant e Ian Malcom sulla giostra acquatica Jurassic Park Rapids Adventure™. Nel cuore preistorico del Mondo Perduto, dovrete cavalcare rapide e cascate mentre tentate di sfuggire agli attacchi di velociraptor e T-Rex, il tutto sulle note intramontabili della colonna sonora di John Williams.
Avventure per tutta la famiglia
Anche i più piccoli potranno godersi tante avventure insieme ai loro eroi preferiti agli Universal Studios. A partire da Sesame Street Spaghetti Space Chase, il trenino volante che li farà lottare insieme ai Muppets contro un cattivo intenzionato a rubare tutti gli spaghetti del pianeta Terra.
Chi ha amato le rocambolesche storie degli animali di Madagascar, ritroverà i personaggi di Alex, Marty, Melman e Gloria in due attrazioni: la giostra acquatica Madagascar: A Crate Adventure e il carosello King Julien's Beach Party-Go-Round.
Siete invece dei fan sfegatati di Shrek e Ciuchino? Gli Studios dedicano un'intera area alle avventure dell'orco verde più famoso al mondo. Potrete accompagnare il tenero e furbo Gatto con gli Stivali sulla cima di una gigantesca pianta di fagioli (Puss In Boots' Giant Journey), oppure divertirvi a mescolare pozioni d'amore insieme alle Fata Madrina su una ruota panoramica in miniatura (Magic Potion Spin). Se poi il vostro sogno segreto è sempre stato quello di volare sul dorso di un gigantesco drago, qui potrete trasformarlo in realtà: le montagne russe per bambini Enchanted Airways vi portano in groppa alla Dragonessa amata da Ciuchino, in un viaggio fra le nuvole durante il quale incontrerete tutti i vostri eroi delle fiabe, dai Tre Porcellini al Lupo Cattivo, da Pinocchio all'Omino di Pan di Zenzero.
Per i piccoli che invece sentono già il richiamo dell'avventuriero spericolato e temerario di fronte a creature mitologiche, l'area The Lost World™ offre una vasta scelta di giostre preistoriche. I mini archeologi potranno cimentarsi con la scalata di un'intera parete ricoperta di fossili mastodontici all'Amber Rock Climb™, oppure volare sul dorso di uno Pteranodonte sulla giostra Dino-Soarin'™. Per i più coraggiosi c'è infine il Canopy Flyer™, la funivia a prova di dinosauro che li farà passare in volo sopra tutta la distesa di Jurassic Park.
Spettacoli per tutti i gusti
Una gita ad un parco divertimenti che si rispetti non è completa senza aver assistito a qualche spettacolo fantasmagorico. Gli Universal Studios di Sentosa offrono anche in questo senso un intrattenimento degno delle migliori produzioni hollywoodiane, con allestimenti scenici ipertecnologici per tutti i gusti.
Ricordate Waterworld, il blockbuster con Kevin Costner divenuto un cult dell'home video? Lo spettacolo WaterWorld™ vi farà rivivere le acrobazie più surreali e spericolate del film grazie a stuntman espertissimi a bordo di moto d'acqua e altri mezzi acquatici fantasiosi.
Sempre in tema di emozioni acquatiche, l'avventura Lights, Camera, Action!™ Hosted by Steven Spielberg non è per i deboli di cuore. All'interno di un teatro di posa assisterete infatti alla riproduzione tramite sofisticati effetti speciali di un uragano di categoria 5 che si abbatte sulla città di New York. Onde mastodontiche, vento incontrollabile e barche che naufragano pericolosamente verso di voi vi faranno restare col fiato in gola fino a che la calma non tornerà a regnare.
Fuori dalle visioni apocalittiche e di nuovo dentro alle fiabe: per rinfrancare lo spirito serve un altro giro nel mondo fatato di Shrek. Con la Shrek 4-D Adventure accompagnerete l'orco e l'amata Fiona nella loro luna di miele, e grazie alla tecnologia OgreVision vi sembrerà di toccare con mano i vostri personaggi preferiti. Per chi poi vuole davvero far parte dello spettacolo, Donkey Live è invece lo show interattivo in cui gli ospiti possono cantare e ballare insieme al simpatico Ciuchino.
Non siete ancora stanchi di questo mondo incantato? Camminando per strada potreste incontrare alcuni dei protagonisti dei film e dei cartoni del vostro cuore, e magari scattarvi una foto insieme a loro. D'altra parte, non capita tutti i giorni di stringere la mano a Elmo dei Muppets o farsi un selfie con i Minions, giusto?
Marine Life Park
Rimanendo all'interno di Resorts World, c'è ancora un mondo da scoprire oltre agli Universal Studios. A partire dal Marine Life Park, che con i suoi 8 ettari è uno dei parchi a tema acquatici più estesi del Sud Est Asiatico. Al suo interno si trovano due attrazioni: il S.E.A. Aquarium™ e l'Adventure Cove Waterpark.
Sea Aquarium
Con un totale di 45 milioni di litri d'acqua, il S.E.A. (South East Asia) Aquarium è il secondo acquario più grande al mondo, sorpassato solo dal Chimelong Ocean Kingdom a Hengqin, in Cina. Con più di 100 mila animali marini di oltre 1000 specie al suo interno, il S.E.A. Aquarium è un paradiso per gli amanti del mare, sia adulti che bambini. Meduse maculate, pesci scorpione, murene leopardo, granchi ragno, dragoni foglia, pesci leone, squali martello smerlati, delfini dal naso a bottiglia: sono solo alcune delle creature rarissime ammirabili in questo acquario.
Il S.E.A. Aquarium riproduce al suo interno 50 habitat acquatici, per un'esperienza esplorativa intorno al globo. Potrete infatti immergervi nelle acque tropicali del mar di Giava ed imbattervi nei giganteschi pesci Napoleone e nei pesci pipistrello all'interno di un relitto affondato nello stretto di Karimata; oppure toccare con mano le stelle marine e i cetrioli di mare nella Discovery Touch Pool che riproduce il mar delle Andamane. La baia del Bengala ospita specie a rischio di estinzione come i pesci pagliaccio e le aragoste del reef, mentre tutta la magia del corallo è ammirabile nella parte dedicata al Mar Rosso e alla sua barriera, popolata da variopinti pesci balestra, pesci mucca e pesci farfalla. C'è spazio anche per le distese d'acqua dolce: l'area dell'Africa orientale ospita infatti le riproduzioni del Lago Vittoria e del Lago Tanganika, habitat dei ciclidi dalla grossa fronte e dei pesci tigre.
Ma la vera star del S.E.A. Aquarium è la vasca Open Ocean, mastodontico spaccato dei fondali dell'oceano aperto. Lunga 36 metri e alta 8, questa gigantesca casa d'acqua contiene alcuni fra i giganti più famosi delle profondità oceaniche: dagli squali pinna argento agli squali leopardo, dai delfini alle mante giganti, difficilissime da trovare in cattività.
Adventure Cove Waterpark
Se dopo questa passeggiata nel profondo blu siete pronti a tornare in azione, l'Adventure Cove Waterpark vi attende a soli due minuti a piedi dall'acquario. Con 14 fra scivoli e attrazioni, la scelta del divertimento in questo parco acquatico è vastissima.
Gli amanti degli scivoli d'acqua estremi troveranno tutta l'adrenalina di cui necessitano al Riptide Rocket, il primo toboga idromagnetico del Sud Est Asiatico. Famiglie e amici potranno poi sfidarsi in velocità sullo scivolo doppio Dueling Racer, oppure scendere sui gommoni della Pipeline Plunge o del Tidal Twister.
Chi vorrà proseguire l'avventura iniziata all'acquario potrà poi approfittare del Rainbow Reef, riproduzione della barriera corallina dove fare snorkeling in mezzo a più di 20 mila pesci. Altri incontri ravvicinati con le creature degli oceani sono possibili poi a Ray Bay, una baia artificiale in cui interagire con diverse specie di manta.
Un compendio della vostra avventura oceanica lo avrete infine con l'Adventure River, un fiume lungo ben 620 metri nel quale nuotare o navigare a bordo di un gommone. Lasciatevi trasportare dalla corrente e ammirate i 14 habitat riprodotti lungo le sue sponde, dalla giungla ad una grotta misteriosa, fino addirittura ad un tunnel subacqueo.
Dolphin Island
C'è un'esperienza che la maggior parte delle persone, prima o poi, ha sognato di fare nella vita: nuotare con i delfini. A Dolphin Island il sogno si trasforma in realtà: grandi e piccini possono avvicinarsi ai delfini indopacifici, scoprendo di più sulle loro peculiarità ed il loro mondo.
Diversi pacchetti (Dolphin Adventure, Discovery, Encounter, Observer, Trek) permettono di interagire a vari livelli con gli animali: dalla semplice osservazione fuori dall'acqua, al contatto insieme ad allevatori esperti, fino al nuotare vero e proprio con i delfini.
Dolphin Island è stata negli anni oggetto di numerose controversie e lo staff accusato di sfruttare gli animali, sottoponendoli a troppa pressione da parte dei visitatori e costringendoli ad eseguire comportamenti innaturali. Recentemente un video divenuto virale su internet mostrava un delfino del parco mentre prendeva ripetutamente a testate il vetro della sua vasca. Una volta sottoposti a controllo veterinario, gli animali di Dolphin Island non hanno comunque mostrato segni di comportamenti anomali o malattia.
Merlion
Una volta terminata la visita a Resorts World (che potrebbe durare anche per qualche giorno, se volete provare tutte le attrazioni), dirigetevi verso l'interno di Sentosa, in direzione di Imbiah Road. Arrivati al centro dell'isola, una curiosa creatura sarà ad aspettarvi: è il Merlion, simbolo di Singapore, il cui nome deriva dall'unione dei termini inglesi mermaid (sirena) e lion (leone). Questo maestoso essere dalla testa di leone ed il corpo di pesce rappresenta le due anime della metropoli asiatica: da un lato la cultura dei pescatori che abitavano originariamente l'isola, dall'altro il nome reale della città, Regno di Singapura, che in sanscrito significa "città del leone".
Quella di Sentosa è in realtà una replica gigante (è alta 37 metri) della statua del Merlion: l'originale di 8 metri, insieme ad un "cucciolo" di 2 metri, è collocato nel Merlion Park di fronte a Marina Bay. Un simbolo di prosperità e forza che salvaguarda la foce del fiume Singapore.
Images of Singapore Live
Se dopo l'incontro con il Merlion siete rimasti affascinati dalla storia di Singapore, potrete continuare a scoprirla dirigendovi verso il vicino museo interattivo Images of Singapore. In un susseguirsi di stanze animate e scenari coinvolgenti, attori e cantanti ripercorreranno la storia della città, dalle sue origini come umile villaggio di pescatori alla nascita del porto coloniale inglese, dalle difficoltà e i bombardamenti della Seconda Guerra Mondiale alla ripresa del dopoguerra, fino all'indipendenza e all'eclatante crescita economica odierna.
Singapore vi apparirà ancora di più come una nazione fiera delle proprie origini e orientata verso il futuro, ma i cui abitanti non hanno mai dimenticato i valori dell'accoglienza e dell'integrazione.
I più piccoli (ma anche i più grandi, visto che l'esperienza è godibilissima) potranno poi terminare la visita al museo con la Spirit of Singapore Boat Ride, una giostra acquatica che simula un fiume serpeggiante fra le maggiori attrazioni della città.
Mega Adventure Park
Images of Singapore è situato all'interno dell'Imbiah Lookout, altro grande agglomerato di attrazioni di Sentosa Island. Se dopo aver camminato al chiuso sentite il bisogno di ricaricare le vostre pile di adrenalina, la scelta non può che ricadere sul Mega Adventure Park, il primo parco avventura di Singapore. Qui troverete cinque attrazioni che garantiscono forti emozioni.
La star del parco è sicuramente la Mega Zip, una delle zip line più lunghe e ripide di tutta l'Asia. Con i suoi 450 metri di lunghezza e 75 metri d'altezza, la Mega Zip vi farà toccare i 60 chilometri orari mentre planate dalla Imbiah Hill attraverso la giungla e verso un'isola artificiale a largo di Siloso Beach.
Per chi vuole invece provare l'esperienza del classico percorso sospeso fra gli alberi, ma con tre livelli di difficoltà e diversi ostacoli lungo il tragitto, c'è il Mega Climb, camminamento che si arrampica su eucalipti alti 15 metri. Gli scalatori provetti possono contare anche sul Mega Wall, un muro da arrampicata alto 16 metri e con tre percorsi differenti fra cui scegliere.
Se quello che vi attrae non è invece la salita, ma la discesa, il Mega Jump vi permetterà di vivere l'esperienza della una caduta libera in bungee jumping da 15 metri. Va detto però che il vero brivido del vuoto a Sentosa è quello dell'iFly, il simulatore di skydiving indoor più grande al mondo. Situato a breve distanza dall'Imbiah Lookout, questo tunnel del vento verticale vi farà sentire come se precipitaste da 3600 a 900 metri di altezza. Le istruzioni preliminari sono incluse, la spettacolarità garantita.
A completare l'esperienza del Mega Adventure Park c'è infine il Mega Bounce, tappeto elastico "potenziato" sul quale saltare per raggiungere altezze di addirittura 10 metri.
Skyline Luge
Sentosa sembra avere un debole per le attrazioni che includono le discese mozzafiato. Sempre all'interno dell'Imbiah Lookout si trova infatti lo Skyline Luge, una spericolata pista per slittini senza ruote che vi farà scendere a rotta di collo in mezzo alla foresta tropicale, in un turbinio di curve a gomito e pendii vertiginosi. Non dovrete neanche preoccuparvi di tornare faticosamente in cima con lo slittino in spalle come si fa in montagna: per la risalita c'è una comoda seggiovia panoramica.
Wave House
Come ogni paradiso tropicale che si rispetti, anche Sentosa è frequentata dai surfisti di tutto il mondo. Non per le sue onde naturali però: ad attrarre gli amanti della tavola da surf è la Wave House a Siloso Beach, dotata di due piscine a onde artificiali adatte sia per principianti che per esperti.
La piscina Double FlowRider è la più semplice delle due, con onde gentili e senza ricciolo, ma comunque abbastanza forti da permettere all'acqua di scorrere a 32 chilometri orari. Consigliata a chi sta imparando ad andare sulla tavola, ma anche a chi vuole sperimentare trick divertenti in acque controllate.
Gli esperti potranno invece godersi la piscina FlowBarrel, con onde di 3 metri che niente hanno ad invidiare a quelle delle leggendarie coste californiane.
Sentosa Golf Club
Sì, giostre, piscine e spettacoli possono essere esilaranti, ma a volte tutto ciò che si vorrebbe da una vacanza è un po' di relax e sport all'aria aperta. A Sentosa questo desiderio è esaudito al Sentosa Golf Club. Situato nella parte meno affollata dell'isola, a sud est, questo club ospita due dei percorsi da golf più gettonati di tutta la regione, ed è riconosciuto come il migliore del Sud Est Asiatico.
Fondato nel 1974, il Sentosa Golf Club conta su 1500 soci, ma ospita regolarmente (a tariffe più elevate) anche visitatori esterni. Dal 2005 i suoi green fanno da scenario a competizioni di rilievo internazionale come il Barclays Singapore Open, l'HSBC Women's Champions ed il SMBC Singapore Open. Nel 2019 si è aggiudicato il titolo di World's Best Golf Club, miglior golf club al mondo.
Il Serapong è il percorso storico del Sentosa Golf Club, sede di innumerevoli campionati del mondo. Le sue 18 buche si snodano fra vasti green, rilievi sfidanti e grandi laghi, il tutto sullo sfondo di verdeggianti palme e dello scenico porto di Singapore.
Il percorso di più recente costruzione, il New Tanjong, conta anch'esso di 18 buche ed ha un itinerario avvincente, fra depressioni importanti e figure architettoniche che si incastonano nel paesaggio.
Come ogni golf club che si rispetti, anche quello di Sentosa offre un servizio di ristorazione di pregio. Il ristorante giapponese Sushi Kondo e il ristorante pan-americano Panamericana sono aperti sia a pranzo che a cena, mentre il ristorante casual Golfers' Terrace ed il Members Bar restano aperti tutto il giorno.
Wings of Time
Come si fa a chiudere in bellezza una giornata emozionante come quella vissuta a Sentosa Island? Semplice: con uno spettacolo in riva al mare. Sulla spiaggia di Siloso Beach sorge infatti un anfiteatro dal quale prendere parte a Wings of Time, show ultra moderno che mescola recitazione teatrale, musiche epiche, giochi d'acqua e laser colorati. Perdetevi in una storia d'amore e di amicizia sulle ali di un maestoso uccello preistorico, e fatevi abbagliare dalle proiezioni caleidoscopiche su getti d'acqua impressionanti. L'emozione è garantita.
Sentosa Beach: le spiagge dell'isola e i loro locali
Le tre spiagge di Sentosa Island si estendono lungo la costa meridionale dell'isola, ognuna con le sue peculiari caratteristiche, ma tutte ricche di intrattenimenti fra locali, giochi acquatici e party serali. Anche se l'acqua non è color smeraldo come in altre isole limitrofe, la sabbia è morbida ed il litorale ampio per accogliere centinaia di turisti.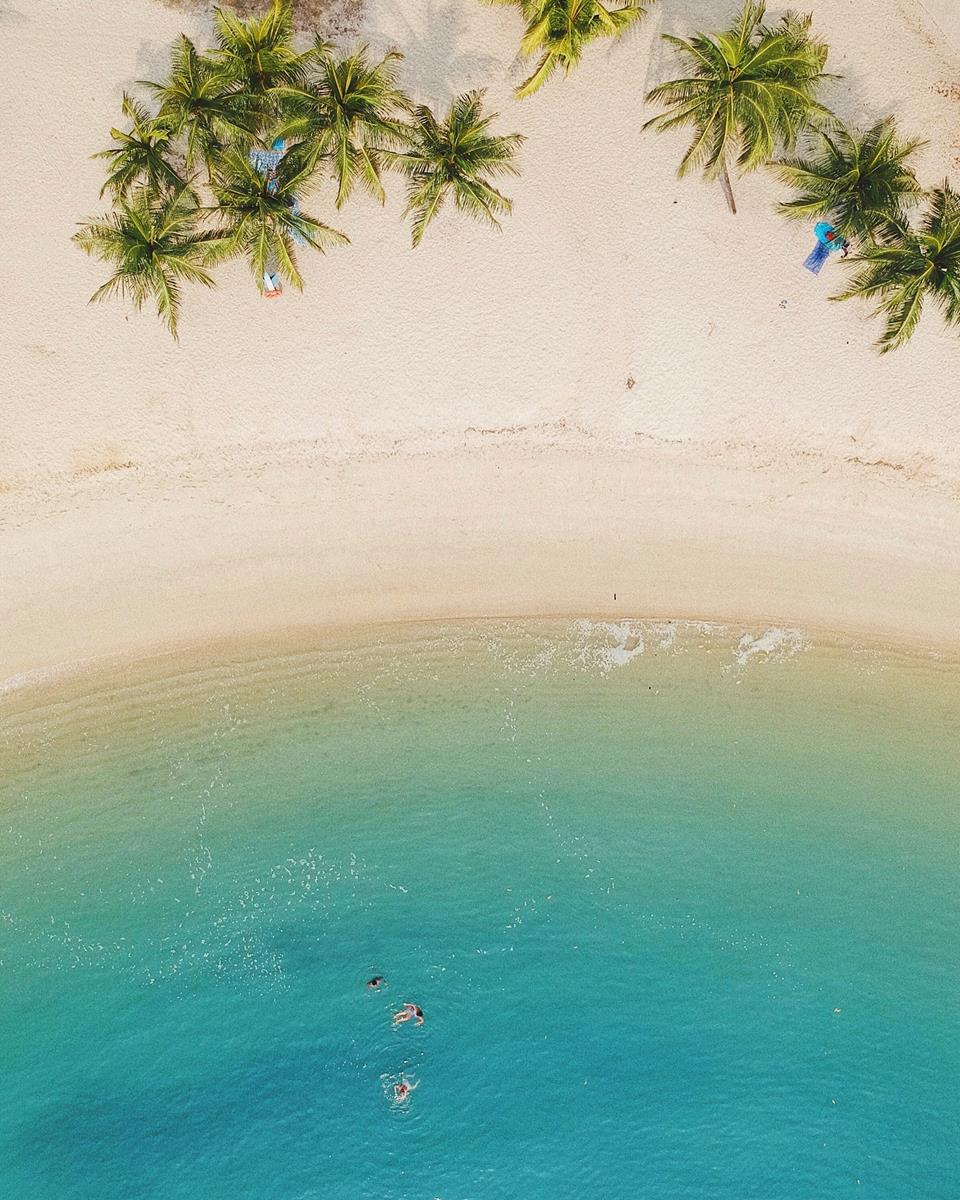 Siloso è considerata la spiaggia più cool delle tre, piena di attrazioni e luoghi di intrattenimento, fra le giostre sopra menzionate ed i più classici campi da beach volley e le piste di pattinaggio. Particolarmente consigliato è l'Ola Beach Club, un tiki bar dal gusto hawaiano dove fermarsi per un cocktail a bordo piscina o per un dj set al tramonto. Per un pasto più sostanzioso dirigetevi invece da Coastes, il locale con tavoli da picnic direttamente sulla spiaggia. Qui potrete gustarvi hamburger e insalate mentre osservate da lontano le enormi navi da crociera o le piattaforme cargo che solcano le acque dello stretto di Singapore.
Palawan è una spiaggia adatta alle famiglie, nota soprattutto per il ponte sospeso sull'acqua che la collega ad un isolotto poco distante. Anche se di esigue dimensioni, questo piccolo rilievo ha una caratteristica unica: è il punto più a sud dell'Asia continentale, nonché il più vicino all'Equatore.
Anche qui non mancano i bar sulla spiaggia, come il Bora Bora Beach Bar ed il Co + Nut + Ink.
L'ultima spiaggia, e anche la meno affollata, è Tanjong, perfetta per una fuga romantica o per godersi un momento di relax. L'unico bar, il Tanjong Beach Club, vi accoglierà con musica lounge e una piscina idromassaggio all'aperto, un'alternativa elegante ai locali ben più roboanti delle altre spiagge. Ma non fatevi ingannare: durante il brunch della domenica e nei party durante i weekend questo posto è tutt'altro che sonnacchioso.
Hotel a Sentosa Island: dove soggiornare
Resorts World
Con 6 alberghi mastodontici e 1500 camere totali, Resorts World è sicuramente l'area con la maggiore potenza di fuoco per quanto riguarda gli hotel a Sentosa Island. Le Beach Villas sono la scelta d'elezione per chi desideri la privacy di un soggiorno esclusivo di fronte all'oceano, mentre le Crockford Towers, l'Hotel Michael, l'Equarius Hotel ed il Festive Hotel offrono ognuno la propria versione di un mix di lusso, natura e divertimento per famiglie.
La scelta più glamour rimane però l'Hard Rock Hotel Singapore, hotel della nota catena di caffè a tema musicale che trova a Sentosa terra fertile per il suo stile affatto sobrio. Al suo interno vi attende un gigantesco sistema di piscine con tanto di bar a pelo dell'acqua, mentre le Rock Star Suite vi saranno sentire come una vera stella del palcoscenico.
Siloso Point
Spostandovi verso la spiaggia di Siloso incontrerete il maestoso complesso dello Shangri-La's Rasa Sentosa Resort & Spa. Questo è l'unico resort di Singapore ad avere l'accesso diretto alla spiaggia, collegata all'area piscina.
Pensato per le famiglie, lo Shangri-La dispone di una Cool Zone per far giocare i bambini sotto supervisione mentre i genitori si rilassano, con scivoli ed attività ricreative che durano tutta la giornata.
Nonostante le dimensioni e l'impatto ambientale considerevole, questo resort sta sempre di più adottando pratiche di ospitalità sostenibile. Una su tutte, l'utilizzo di un sistema di trattamento dell'acqua a particelle fisiche per la manutenzione di piscine e Jacuzzi, il quale riduce l'impiego di materiali chimici dannosi come il cloro.
Oltre al servizio e all'attenzione per l'ambiente, anche la ristorazione è di alto livello, con ben cinque ristoranti che offrono cucina da tutto il mondo.
Palawan Beach
Cambiando spiaggia, nei pressi di Palawan Beach è ubicato un altro gioiello dell'isola di Sentosa: il Cappella Singapore, un mix di charme coloniale e architettura moderna immerso in 12 ettari di terreni lussureggianti. Le camere del Cappella trasmettono un lusso essenziale, con i colori tenui che mettono in risalto ancora di più il verde brillante della vegetazione visibile dalle grandi vetrate. All'esterno, tre piscine a cascata e una spa all'avanguardia forniscono ottimi motivi per non uscire dall'hotel.
Durante l'anno l'albergo propone pacchetti tematici per esperienze mozzafiato, come la fuga romantica o il soggiorno di San Valentino. Se riuscite, fatevi invitare ad una serata danzante: la Sala da Ballo è l'unica di forma circolare di Singapore, può ospitare fino a 400 persone ed è sormontata da una scenica cupola trasparente dalla quale ammirare le stelle.
Sentosa Cove
Nella parte meno caotica dell'isola, non lontano dai campi da golf, sorge uno degli alberghi dall'allure più giovane e vibrante di tutta Sentosa Island e Singapore: il W Singapore Sentosa Cove. Pensato per un pubblico di Millennials, il W appare come una sorta di giungla luminescente dove il confine fra spazi privati e d'incontro pubblico si fa indefinito. Che sia mattina o notte fonda, sembra sempre che stia per accadere qualcosa al W, complice anche la piscina aperta 24 ore su 24 con tanto di wet bar e altoparlanti che diffondono sott'acqua la musica dei migliori dj internazionali.
Si può scegliere la propria camera fra 10 categorie, tutte con la loro personalità ma sempre arricchite da dettagli di eccellenza, come le enormi vetrate ed i letti king size. Menzione d'onore va alle Away Rooms: sono a tema spa e ognuna di esse ha la propria piscina privata. Il modo migliore per godersi lo spirito di divertimento e libertà di Sentosa Island.
Commenti
comments