In occasione della fiera Paris Photo, Max Mara presenta nella boutique parigina gli scatti della prossima campagna pubblicitaria, realizzati dalla fotografa Viviane Sassen.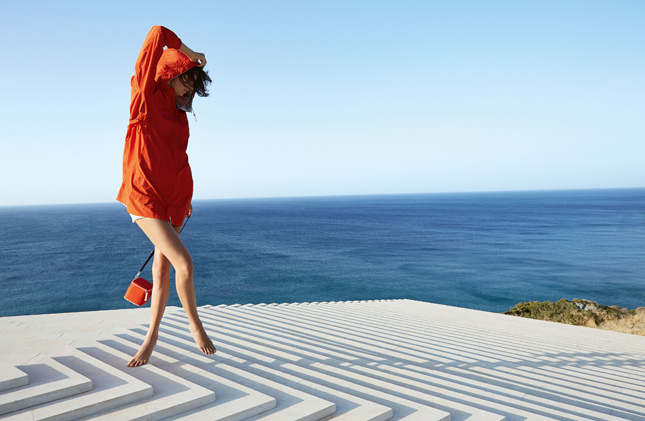 In occasione della prestigiosa manifestazione e per presentare in anteprima la collezione Primavera-Estate 2014 di 'S Max Mara "Here is the Cube", il negozio Max Mara di Avenue Montaigne a Parigi inaugura un'istallazione di immagini inedite della fotografa olandese Viviane Sassen, nuova autrice della campagna pubblicitaria. Le immagini esposte sono state realizzate sull'isola di Milos in Grecia, durante lo shooting.
| | |
| --- | --- |
| S MAX MARA – HERE IS THE CUBE – by Viviane Sassen | |
Dopo i WindCube nel 2012 e i DesertCube nel 2013, scopriamo la nuova collezione di piumini SilkCube, parte della collezione estiva. Piumini design perfettamente bilanciati tra estetica e funzionalità.
| | |
| --- | --- |
| S MAX MARA – HERE IS THE CUBE – by Viviane Sassen | |
I filoni sono due: il primo si ispira ad una cappa dalla linea pulita con cintura e cappuccio staccabile; il secondo ad un modello a vestaglia. Realizzati con esterno in seta, lino e microfibra abbinato a un interno in tela tecnica antigoccia, i due capispalla possono essere impreziositi da cinture ricamate e da polsi e bordi intarsiati o realizzati in visone o volpe.
| | |
| --- | --- |
| S MAX MARA – HERE IS THE CUBE – by Viviane Sassen | |
La palette cromatica propone tinte estive come l'arancione e il giallo accostati per la prima volta dal nero. A.R.
Resta sempre aggiornato! Iscriviti alla Newsletter di FASHION TIMES
| | |
| --- | --- |
| S MAX MARA – HERE IS THE CUBE – by Viviane Sassen | |
Commenti
comments