Scopri tutte le idee regalo per Natale dal brand beauty più amato e ricercato del momento.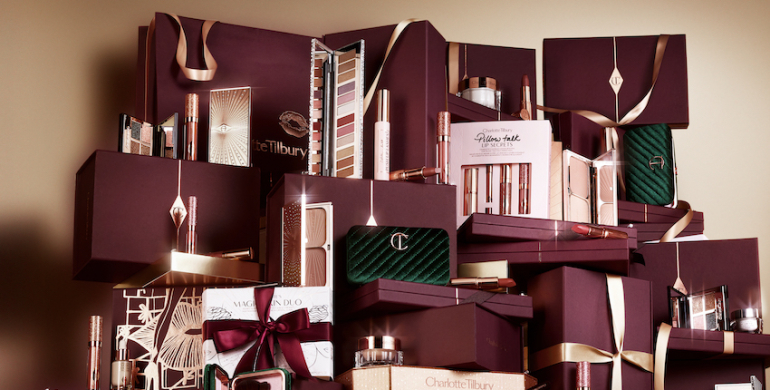 Dal suo arrivo in Italia Charlotte Tilburry ha conquistato tutte le beauty addict e non solo con prodotti professionali e un make-up glam dal tocco inconfondibile. Caratteristiche che hanno fatto si ché i prodotti pensati per le feste sono già in cima alla lista delle migliori idee regalo per Natale.
Prodotti dalle alte performance esattamente come quelli professionali, un packaging ultra glam dal tocco femminile, un make-up dal finish perfetto. Non è difficile capire perché oggi Charlotte Tilburry sia sulla bocca di tutti, non solo grazie al suo rossetto iconico Pillow Talk. Le già tante e numerosi fan del brand hanno accolto il suo arrivo in Italia con grande entusiasmo. Entusiasmo che ha velocemente contaggiato anche nuove numerosissime afficionados del brand.
Così, per accontentare tutte, Charlotte Tilburry ha pensato a numerosissime idee regalo con varie fasce di prezzo, condensando i suoi 27 anni di beauty secrets in una collezione Holiday da togliere il fiato.
Regali di Natale Charlotte Tilburry sotto i 30 euro
Ritrova la palette indispensabile di ogni look, la MINI FILMSTAR GLAM & GLOW con un bronzer ed un illuminante per un contouring perfetto, ma anche il nuovo mascara che va letteralmente a ruba, il PILLOW TALK PUSH UP EYE SECRETS accompagnato dalla matita Rock'n'Kohl Eye Liner. Infine scopri anche il rossetto rosso Walk Of No Shame in formato standard abbinato alla matita labbra Lip Cheat in formato mini.
Regali di Natale Charlotte Tilburry sotto i 90 euro
Sbizzarrisciti con le varie palette, dale formule leggera ma metallizzate e scintillanti. Oltre a questa INSTANT EYE PALETTE BEJEWELLED EYES TO HYPNOTISE in edizione limla maxi palette con 12 tonalità di ombretti con la stessa formula opaca, cremosa e leggera delle palette più amate di Charlotte oltre a duitata, ritrova anche la THE SUPER NUDES EASY EYE PALETTE con tutto il necessario per uno smokey eye facile e veloce per il giorno o la sera, una comoda palette occhi, guance e contouting per aver facilmente tutto il necessario a portata di mano e realizzare un trucco luminoso in pochi minuti ma anche una special edition della FILMSTAR BRONZE & GLOW con un design stellare e un mini pennello, oppure un semplice ma immancabile illuminante viso e corpo con una nuova texture super leggera per brillare come una star.
Il regalo perfetto in esclusiva online solo su Charlottetilburry.com
Ai suoi clienti fedeli che acquistano online dal sito del brand, Charlotte riserva soprese, tutte in edizione limitatissima, così da renderli ancora più esclusivi e attraenti. Lucidalabbra scintillanti, illuminanti occhi in crema, luxury palette scintillanti e ovviamente alcuni set dedicati alla sua Magic Cream (il best seller di tutti i best seller di sempre) fanno da contorno ad altre proposte irresistibili come il mini brush set racchiuso in una clutch di velluto verde smeraldo e il PILLOW TALK DREAMS COME TRUE, meraviglioso coffret con ben 14 prodotti iconici full size.
Scopri tutti i prodotti e le idee regalo nella nostra gallery dedicata.
Foto: Charlotte Tilburry press office
Commenti
comments