E' online il sito The Pirelli Post, per lo studio della cultura e della storia italiane dal Dopoguerra ad oggi, parte dell'accordo con la prestigiosa Università di Princeton.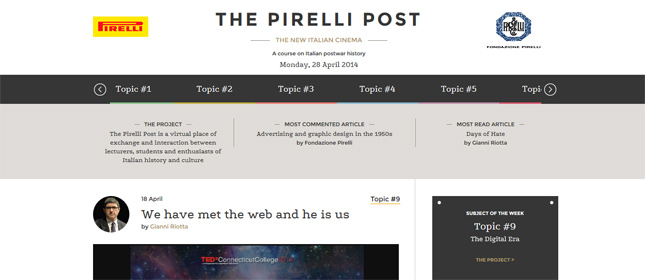 Nasce il progetto The Pirelli Post, parte dell'accordo quinquennale siglato con l'Università di Princeton. Un sito internet per studiare la storia e la cultura italiana dal Dopoguerra ad oggi, trasformandosi in piattaforma di interazione tra professori, studenti ed appassionati.
| | |
| --- | --- |
| The Pirelli Post | |
Su The Pirelli Post si possono infatti consultare testimonianze, manoscritti, fotografie, filmati e pubblicità d'epoca, oltre che numerosi articoli tratti dalla Rivista Pirelli, che dal 1948, anno della sua fondazione, al 1972 ha ospitato le principali firme della cultura letteraria e scientifica, dell'arte e del giornalismo italiane. Una sorta di laboratorio virtuale in grado di interpretare e rielaborare le immagini, i ricordi e le testimonianze dei principali snodi della vita sociale e culturale dell'Italia dal Dopoguerra a oggi.
The Pirelli Post è anche uno degli strumenti didattici che lo scrittore e giornalista Gianni Riotta – al quale Princeton ha affidato per il 2014 la "Pirelli Visiting Professorship in Italian Studies" costituita nell'ambito dell'accordo tra Pirelli e il prestigioso ateneo americano – utilizzerà a supporto del percorso formativo.
Il corso 2014, dal titolo "The New Italian Cinema" e tenuto in team da Gianni Riotta e da Gaetana Marrone-Puglia (docente al Dipartimento di Studi Francesi e Italiani di Princeton), approfondisce le caratteristiche e le dinamiche politiche, culturali e di costume dell'Italia dal Dopoguerra ai giorni nostri anche attraverso l'analisi dei capolavori della produzione cinematografica italiana di quel periodo.
Appoggiandosi a capolavori come "L'ultimo Imperatore" di Bernardo Bertolucci a "La vita è bella" di Roberto Benigni passando per "Nuovo Cinema Paradiso" di Giuseppe Tornatore e "Caro diario" di Nanni Moretti, si parte in un viaggio attraverso la storia italiana del Dopoguerra tra boom economico negli anni '60, il terrorismo e le tensioni sociali del decennio successivo, passando dagli anni '80 e l'Italia della televisione e dei consumi. A.R.
Resta sempre aggiornato! Iscriviti alla Newsletter di FASHION TIMES
Commenti
comments