Il West americano viene reinterpretato in chiave contemporanea da MCS che racconta la sua storia rompendo le tradizionali distinzioni tra generi. Il country, l'outdoor e l'urban coesistono... MCS We The People!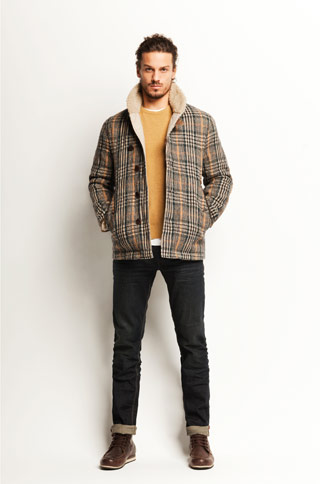 L'anima del brand MCS We The People è in fase di rinnovo! I capi iconici che meglio raccontano l'anima del brand sono stati rinnovati da nuovi fitting, più giovani e attuali. Cambiano le proporzioni, ma il carattere rimane deciso e forte, non c'è più una distinzione di generi tra country, outdoor e urban, ma solo un rinnovo di stili, una coesione tra di essi.
| | | |
| --- | --- | --- |
| MCS Fall-Winter 2013/2014 | | |
Il guardaroba maschile acquista così sapore nel tempo diventando rugged and refined. Il denim è color indaco e non è trattato, i capispalla sono sdrammatizzati da dettagli e inserti, le t-shirt in jersey e serafino hanno una nuova linea più giovane e i pantaloni chino vengono tranquillamente abbinate a cardigan e maglie di pesantezze diverse.
I capispalla hanno colli in lana e l'over Jacket in Pincipe di Galles è sui toni dell'arancio, del verde, dell'ocra e del marrone con l'interno in sherling. E.M.
Commenti
comments