Uniti per la sostenibilità: Gucci Timepieces & Jewelry presenta un'edizione speciale del bracciale e dell'orologio Bamboo. Una collaborazione che si celebrerà a gennaio 2013 in Cina.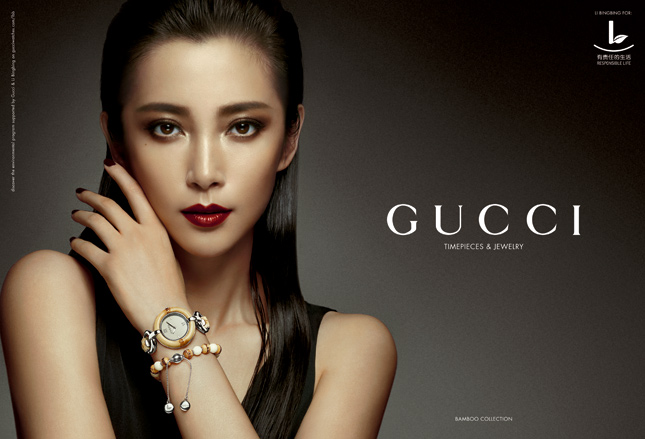 Gucci Timepieces & Jewelry annuncia un nuovo orologio e una nuova collezione di gioielli Bamboo realizzati in collaborazione con l'attrice cinese Li Bingbing in linea con l'impegno ambientale della Maison. La nota attrice è famosa per il suo impegno nella raccolta fondi e per attività benefiche per la protezione del Pianeta. Infatti nel 2009 ha creato l'organizzazione L.O.V.E per incoraggiare un approccio più responsabile e attento verso la Terra.
| | |
| --- | --- |
| Gucci and Li Bingbing for Responsible Life | |
Commentando la sua collaborazione con Gucci Timepieces & Jewelry, Li Bingbing ha affermato: "Molti pensano che moda e protezione ambientale siano incompatibili. In realtà, sempre più protagonisti del settore integrano nei loro design forme di protezione ambientale, con iniziative che diventano sempre più importanti a livello di temi ed elementi. In questo contesto, Gucci Timepieces & Jewelry sta già facendo passi considerevoli sulla strada della protezione ambientale. Insieme a L.O.V.E, la mia organizzazione benefica, mi sono unita a Gucci Timepieces & Jewelry per presentare questa collezione Bamboo. È un immenso onore e una grande emozione per me poter condividere questi valori fondamentali con l'industria della moda. Il mio impegno in campagne ambientali negli anni scorsi mi ha fatto capire che la protezione dell'ambiente deve farsi strada del cuore delle persone. Devono avere rispetto per la natura; apprezzare ed amare la bellezza della natura".
L'orologio da donna presenta una lunetta in bambù con un bracciale in acciaio e bambù ornato dall'iconico motivo morsetto. Il quadrante è in avorio e propone solamente in cifre romane le ore dodici e sei. Sul fondello sono incise le parole "Gucci and Li Bingbing for Responsible Life", a ricordo di questa partnership.
Il bracciale con perle a contrasto si abbina alla perfezione all'orologio e propone perle di bambù e perle bianco latte in noce di Tagua. Il bracciale a cordoncino regolabile è ornato da una perla in argento con inciso il logo Gucci e da due ciondoli in argento incisi con il logo Gucci e il logo Responsible Life di Li Bingbing.
Per presentare questa partnership ambientale, Gucci Timepieces & Jewelry organizzerà uno speciale evento la sera del 17 gennaio 2013 nella storica città di Lijiang, nella provincia dello Yunnan, in Cina, patrimonio dell'UNESCO, con la partecipazione di Li Bingbing. A.R.
| | |
| --- | --- |
| Gucci and Li Bingbing for Responsible Life | |
Commenti
comments