Quale potrebbe essere il sogno più sfrenato di un produttore di serie tv, se non quello di vedere la propria creazione trasformarsi in men che non si dica in un cult? Di sicuro questo sogno tanto ambizioso si è trasformato in realtà per Stephen Night, ideatore di quel fenomeno acclamato da pubblico e critica conosciuto come Peaky Blinders.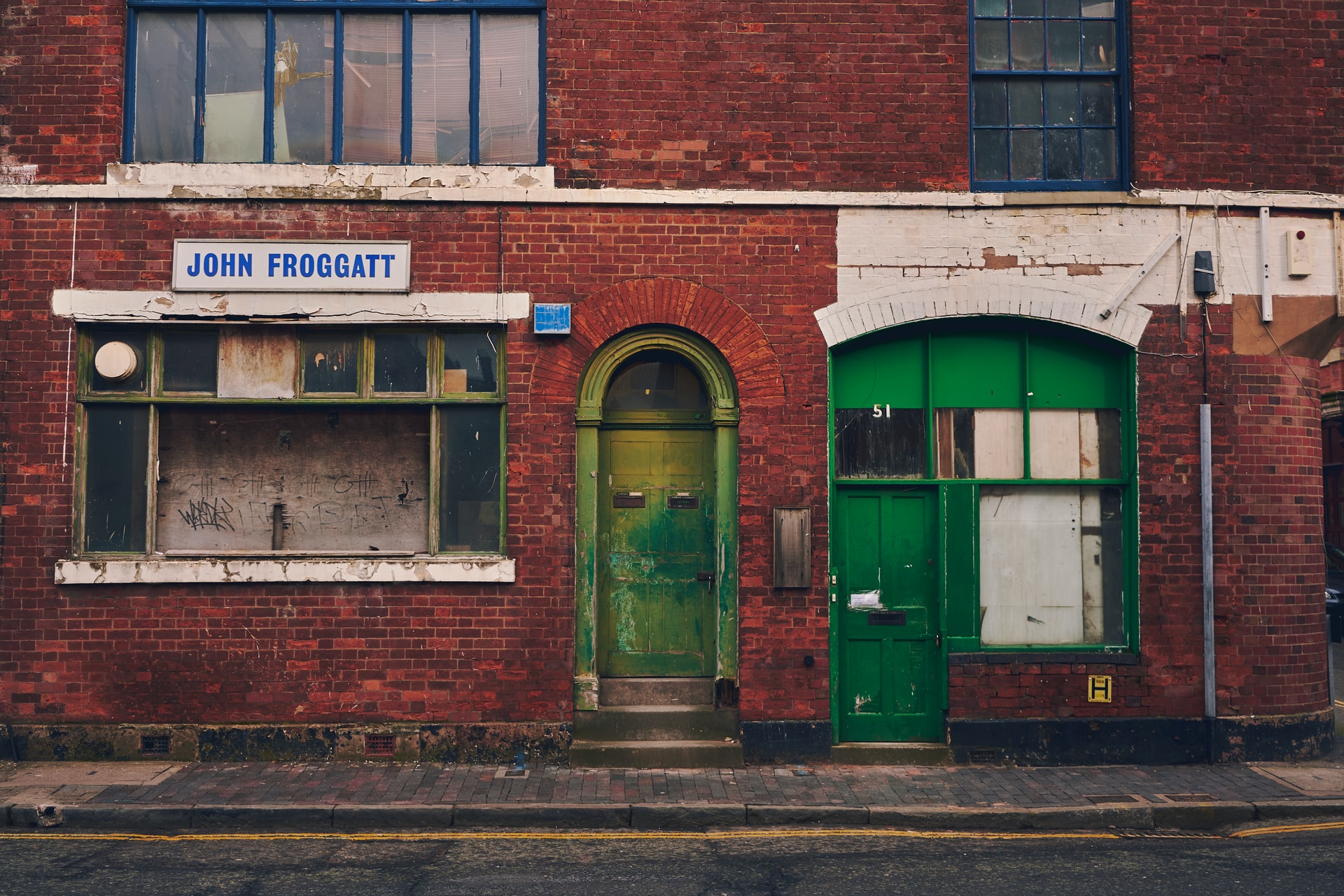 Le 5 stagioni di questa serie targata BBC e in onda dal 2013 hanno infatti registrato negli anni un seguito sempre crescente, con la quinta stagione che ha raggiunto la vetta di 7 milioni di spettatori (la prima era arrivata a 2.3).
A contribuire al successo della serie è un ensemble di elementi vincenti: cast stellare e dalla recitazione intensa (il protagonista è il glaciale Cillian Murphy, ma al suo fianco compaiono anche Sam Neill, Tom Hardy, Paddy Considine e Adrien Brody), battute iconiche (una su tutte, l'intimidatorio "Per ordine dei Peaky Blinders"), uno stile di vestiario ricercato e fedelissimo a quello del primo dopoguerra in cui la serie è ambientata, e – ultime ma non per ultime – le location, accurato sfondo cupo e crudo agli intrighi e agli scontri fra gang.
La Casa di Carta: i luoghi dove è girata la serie tv
Se dunque siete in vena di un tuffo nelle atmosfere da criminali-gentiluomini dell'Inghilterra degli anni '20, eccovi un tour dei luoghi in cui è stata girata Peaky Blinders.
Peaky Blinders: la trama
Subito dopo la fine della Prima Guerra Mondiale, a Birmingham il crimine dilaga, complice la povertà causata dal conflitto. I Peaky Blinders sono la gang – realmente esistita – che vuole tenere in pugno la città, capeggiati dal secondogenito della famiglia Shelby, Thomas detto Tommy (Cillian Murphy). Fra scontri, spie e sotterfugi, gli Shelby e i Peaky Blinders si troveranno a fronteggiare numerosi nemici, dalla polizia alle bande rivali, fino addirittura a gruppi di estremisti politici e ad una minaccia ben più impalpabile: la Grande Depressione
Nelle loro movimentate vicissitudini, gli Shelby attraversano luoghi iconici dell'Inghilterra, dalle campagne a quelle che in seguito sono divenute metropoli ultra-avanzate. Anche se il loro cuore rimane sempre nella città natale: a Birmingham.
Birmingham
Situata nelle West Midlands, la seconda area metropolitana più grande dell'Inghilterra è oggi un fiorente centro economico e universitario, ricco di siti storici e culturali come la Biblioteca di Birmingham, il Birmingham Royal Ballet, la Cattedrale di St. Philip e il Barber Institute of Fine Arts.
Gli inizi del 20esimo secolo furono però testimoni di un vissuto ben più oscuro della città, con il commercio che stentava a decollare ed il brulicare di organizzazioni criminose. Gli Shelby di Peaky Blinders sono l'incarnazione di una di queste, con l'epicentro dei loro affari basato nel quartiere di Small Heath, fra fornaci ardenti e atmosfere da bassifondi. Oggi Small Heath è divenuta una rispettabile zona residenziale, ma questo non ha fermato i produttori della serie nel rappresentarne l'antico spirito.
Le scene di Small Heath sono state infatti girate al Black Country Living Museum di Dudley, un vero e proprio museo a cielo aperto dove sono ricostruiti edifici, negozi e addirittura parte dei trasporti pubblici dei primi del '900. I più di 105mila metri quadri del BCLM ospitano diverse location fondamentali per lo show, come il ponte di Canal Street, i vicoli malfamati e l'Istituto dei lavoratori.
C'è però una location che ancora sopravvive nella vera Small Heath: il Garrison Pub, oggi dismesso, ma centro di complotti, violenza e colpi di scena nella serie.
Un'altra istituzione che i fan della serie associano a Small Heath è Watery Lane, la sede del quartier generale degli Shelby. Anche in questo caso, per rendere le riprese più veritiere, questa strada di Birmingham è stata ricostruita altrove. Per la precisione a Powis Street, Liverpool, luogo reso iconico dai bassi edifici in mattoni scuri che si vedono nella serie. Una curiosità: non lontano da Powis Street, precisamente ad Admiral Grove, è situata la casa di un ex Beatles, Ringo Starr.
The Black Patch
Gli incontri/scontri con il clan gipsy dei Lee segnano importanti punti di svolta nella storia dei Peaky Blinders. Ed anche in queste vicende risiede un fondo di verità: negli anni '20, un'ampia comunità gipsy era infatti stanziata in un'area chiamata Black Patch a Smethwick, poco fuori Birmingham.
Qui oggi sorge un memorial in onore dell'impronta che questa comunità ha lasciato nella zona e di una delle sue figure più rilevanti: Henty Smith, definita come "la regina dei Gipsy" agli inizi del '900.
Cheshire
Questa zona dai declivi scenografici e punteggiata da residenze d'epoca e giardini curatissimi fa da sfondo ad alcune sequenze ambientate lontano dall'affollata e caotica Birmingham.
Nella quarta stagione, Arthur e Linda Shelby tentano la fuga in campagna e si nascondono ad Hawthorn Bank, cottage tipicamente inglese circondato da una quieta campagna. Saranno felici i fan che vogliono assaporare dal vivo le atmosfere della serie: Hawthorn Bank è una struttura ricettiva nella quale si può soggiornare, con tre camere e tre bagni. Gli interni sono stati rimodernati, ma il fascino del countryside inglese di un tempo resta.
Ben più maestosa ed elegante è invece Arley Hall, la residenza dove Tommy si rifugia dopo la tragedia che lo colpisce nella terza stagione. Questa imponente magione, di proprietà della famiglia Ashbrook da 500 anni, è chiamata "Arrow House" nella serie, e le sue maestose hall e rigogliosi giardini hanno fatto da sfondo a molteplici altre produzioni televisive e cinematografiche.
Sì, perché il mondo del cinema sembra avere una particolare predilezione per il Cheshire: nella residenza di Lyme Park è stata infatti ambientata la versione della BBC del classico di Jane Austen Orgoglio e Pregiudizio, mentre l'intera regione ha ispirato il nome di uno dei personaggi più famosi di Alice nel paese delle meraviglie, il Gatto del Cheshire (o Stregatto).
Keighley & Worth Valley Railway, Yorkshire
Anche un "non luogo" come una linea ferroviaria può trasformarsi in una location di grande impatto scenico in mano alla giusta produzione. Ne è testimonianza la Keighley & Worth Valley Railway, una linea compatta lunga quasi 5 miglia che da decenni fa da sfondo a film e serie tv. Questo particolare tratto di ferrovia nello Yorkshire dispone infatti di scenografie, vagoni e locomotive che coprono ben 100 anni di storia, e che quindi si adattano a rappresentare opere ambientate in svariate epoche.
Tutte le scene che hanno a che fare con stazioni e treni che si vedono in Peaky Blinders utilizzano proprio la KWVR come location. Anche la sequenza del confronto mozzafiato fra Grace Burgess ed il poliziotto Chester Campbell, alla fine della prima stagione.
Manchester
La narrazione di Peaky Blinders potrà anche non spostarsi mai deliberatamente nella città dell'Old Trafford, ma Manchester ospita comunque alcune location significative per la serie.
Prima fra tutte quella dei Victoria Baths, lo stabilimento per la balneazione e lo sport indoor inaugurato nel 1906 e ancora caratterizzato da piastrelle, terrecotte e pavimenti a mosaico d'epoca. Qui sono ambientate le scene delle scommesse sui cavalli della seconda stagione, e la location è dovuta incorrere in non poche modifiche strutturali per rendere il girato verosimile. Una delle stanze con vasca è stata infatti completamente ricoperta di segatura, e solo i cavalli in grado di passare dall'ingresso, piuttosto stretto, sono stati fatti entrare.
Una visita ai Victoria Baths è sempre consigliabile se siete a Manchester: potreste partecipare ad un corso di nuoto, incappare in un festival di yoga, godervi una performance artistica, oppure ammirare le numerose produzioni cinematografiche che scelgono questo luogo suggestivo come location.
Un altro landmark di Manchester utilizzato dalla serie è lo Stockport Town Hall, il municipio del distretto di Stockport, imponente esempio di architettura vittoriana oggi usato per eventi e matrimoni. Le sue sale maestose ricoperte di legno di quercia sono divenute nella serie la sede della Shelby & Co., la società della famiglia Shelby nella stagione 5. La Camera del Consiglio è poi stata utilizzata come sfondo ai primi passi da vero politico di Thomas Shelby.
Formby Beach, Merseyside
Una serie drammatica che si rispetti non può esistere senza un confronto epico fra il protagonista ed il suo rivale. Peaky Blinders è ricca di questi momenti ad alta tensione, anche se forse il clou lo si raggiunge con lo scontro fra Tommy e il suo amico/nemico Alfie Solomons, alla fine della quarta stagione. I due si fronteggiano sulla spiaggia di Formby Beach, un posto altrimenti tranquillo dove le famiglie possono trascorrere momenti di relax fra le dune e il Mare d'Irlanda, ma che in questa serie acquista un'atmosfera ben più struggente. A dimostrazione dell'inestricabile legame fra il successo di Peaky Blinders ed i luoghi in cui è ambientata.
Photo by Gabriele Stravinskaite on Unsplash
Commenti
comments