Quando ho creato il mio blog il nome è nato spontaneo: The dreamer of fashion, il sognatore della moda.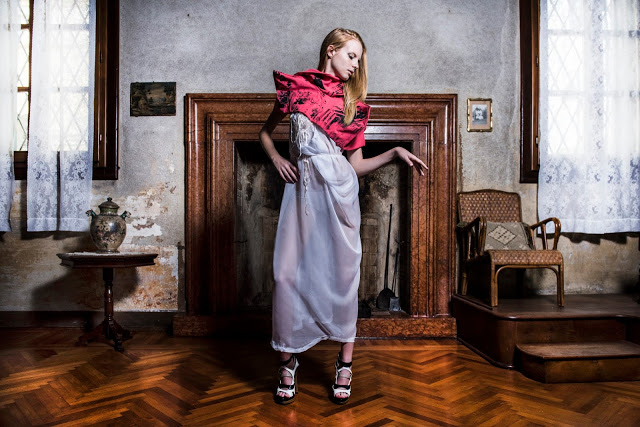 Non ricordo un momento della mia vita in cui la moda non sia stata il mio sogno, la mia aspirazione o semplicemente la via di fuga per un bimbo timido poco incline per le relazioni sociali con i suoi coetanei e che trovava nel mondo della moda l'unico modo per comunicare.
Dico sempre che la moda è l'unica cosa che so fare ma anche l'unica che voglio fare. Ho cominciato a studiare moda dalla scuola superiore e ho avuto l'opportunità di fare molte esperienze nonostante abbia solo 22 anni,.
The Dreamer of Fashion è nato nel 2014 quando dopo aver preso la maturità ero nel bel mezzo dell'indecisione tra il continuare gli studi o smettere.
Ho poi optato per la prima opzione e ora manca meno di un anno alla mia laurea in fashion design. "Il mio è una sorta di portfolio virtuale che ho creato per far conoscere il mio lavoro,  non  il classico "fashion blog " ma è uno spazio che mi sono regalato  per mostrare tutti i miei lavori  da fashion designer, una sorta di scatola piena di  piccole idee che spero di poter al più presto realizzare "
Non nascondo che guardo ai primi post con molta tenerezza, dalla nascita del blog sono cambiate  parecchie cose, oltre ad aver intrapreso il percorso universitario ho cominciato a lavorare e realizzare il mio sogno come Fashion Designer freelance  per un'importante azienda di calzature e accessori. (l'ultimo post pubblicato sul mio blog).
Sono cresciuto, ma sicuramente una cosa non è cambiata,  l'entusiasmo che ho per quello che per me è il lavoro più bello del mondo ovvero creare moda vedere prendere vita quello che era solo un idea buttata su carta, realizzato e poi indossato dalle persone.
Sfogliando "The dreamer of fashion" potete trovare tanti miei bozzetti e servizi fotografici dalle ispirazioni più disparate.
Il mio blog è una  vetrina  che uso per far conoscere  quello che so fare, in cui mostro il mio stile e le mie fantasie sotto forma di abiti  che spero essere contemporanei e moderni.
Negli ultimi anni la visibilità della mia piattaforma è molto cresciuta grazie ai social network e quando Fashion Times mi ha dato l'opportunità di raccontare  in un mio spazio il mio punto di vista da  giovane fashion designer e Millennials sono rimasto molto entusiasta.
L'argomento principale di questo spazio sarà ovviamente la moda,  i suoi sviluppi e tendenze, ma anche il design, l'arte  visti però con l'ottica delle nuove generazioni. L' idea è semplice ma super contemporanea, raccontare ciò che è il mio punto di vista  ma anche ciò che mi succede intorno.
Senza dimenticare The dreamer of Fashion i cui post compariranno anche sugli articoli. La immagino un po' come  una sorta di rubrica settimanale un diario, in cui sviluppo un argomento visto sempre in chiave fresca, ironica e passionale. Un po' come sono io.
Commenti
comments