Il segreto per continuare a brillare nonostante una crisi mondiale? Innovare, guardare avanti e lavorare sodo senza mai perdere il sorriso e la passione. Pensare in grande rimanendo fedeli a sé stessi e alla propria community. Tutto questo e molto altro hanno fatti si che Layla Cosmetics fosse il brand di successo del momento!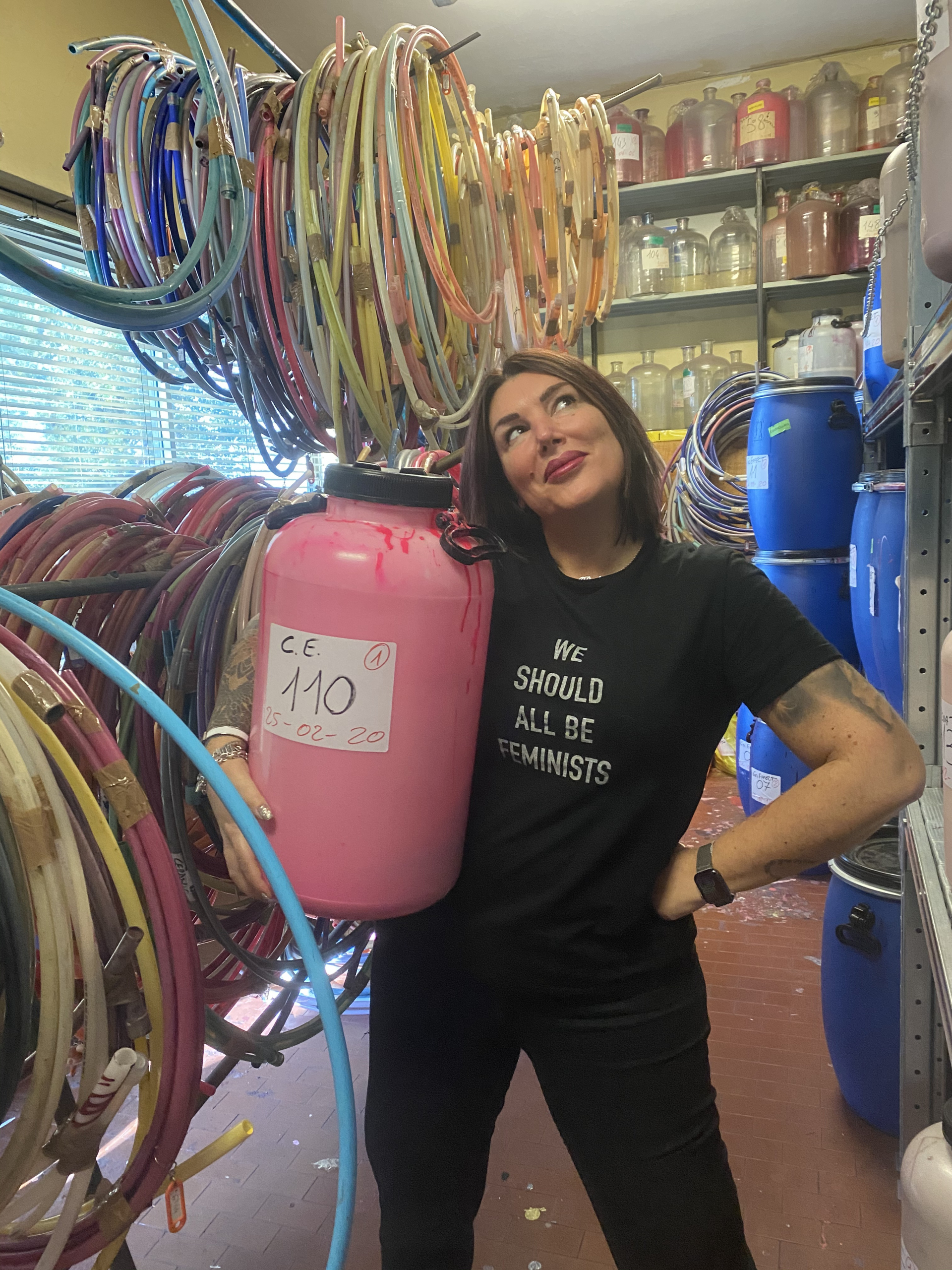 Empowerment, innovazione, qualità e sincerità. Quella la formula segreta di Layla Cosmetics che dalla produzione di smalti italiani sin dal 1936 oggi punta ad abbattere tabù ed etichette puntando sulla community. Abbiamo incontrato virtualmente Babila Spagnolo, Ceo e anima del brand, colei che ha convinto pure Fedez.
Una storia di famiglia ma non solo quella di Laya Cosmetics. Una storia di tradizioni e know how tramandato di padre a figlia, e poi di madre a figlia. Una storia di innovazione, sguardo al domani e con un forte senso di community. Questa è Layla, raccontata da Babila Spagnolo, oggi vero volto del brand. Un brand che oggi punta a parlare alle donne ma non solo, che punta ad abbattere muri specialmente quelli della perfezione e che ha saputo innovare e reinventarsi, andare avanti forse meglio di prima nonostante una pandemia.
Babila è la degna ereditiera di un brand che oggi è riuscita a fare suo senza mai tradire le radici piantate da nonno e mamma. Un brand che si vuole essere vicino ai suoi clienti qualunque essi siano. Un brand che è riuscito a colpire Fedez dimostrando che sì, anche gli uomini possono sapersi fare le unghie, a volte, meglio delle donne. E chi sa che tra i due non nasca qualcosa?
La vostra storia è molto interessante e particolarmente importante per quanto riguarda il mondo della cosmetica in Italia, principalmente per il mondo smalti. Come nasce Layla? Fu mio nonno, nel 1936, a portare la produzione dello smalto in Italia. Lo smalto esisteva già in Italia, ma la produzione era per il 90% americana e mio nonno è riuscito a portare qui la produzione; il nonno era un ragazzo di Locri, dell'entroterra calabrese, che si sentiva un po' soffocato da questa realtà, così a 15 anni si è imbarcato come mozzo su una nave che faceva Napoli-New York. Stando poi a degli scritti che ho trovato, pare che lui fosse anche responsabile acquisti. Una volta arrivata a New York, la nave è andata in avaria ed è rimasta così per 2 anni. Così mio nonno, non sapendo cosa fare una volta là, è andato al porto e si è fatto assumere in un'azienda che produceva smalto. Si è reinventato e in due anni ha imparato a produrre lo smalto. Dopodiché si è imbarcato nuovamente a bordo di una nave con tratta New York- Roma e una volta arrivato a Roma ha scelto di trasferirsi subito a Milano. Qui, in un sottoscala, ha iniziato a mettere insieme i componenti e fare smalti di notte, cercando poi di portarli in giro e venderli di giorno alle estetiste. Così è iniziato tutto e i suoi affari sono da subito andati bene; inizialmente lui faceva solo smalti trasparenti perché era la cosa più facile, poi, nel 1945, ha iniziato a costruire questo stabilimento che ha inaugurato nel 1952.
Lo stabilimento di oggi è lo stesso di allora? Sì, certo, è identico. È tutto realizzato in cemento armato, una vera casa. Qui noi facciamo tutto, dalla produzione al magazzino.
La parte dedicata al make-up è iniziata invece quando è arrivata tua mamma, giusto? Esatto. Mio nonno è mancato nel 1975 e mia mamma si è trovata con una forte azienda in mano. Lei ha iniziato anche a guardare la concorrenza e ha pensato di ampliare l'azienda anche al mondo del make-up, iniziando con 6 colori di rossetti, per poi ingrandire il tutto con il resto dei prodotti. I prodotti sono tutti di nostra produzione, tranne le matite. Facciamo tutto all'interno, senza appoggiarci ad altri, compresi grafica, disegni di espositori, stand per fiere… Essendo un'azienda produttiva con tanto know how, preferiamo tenere tutto all'interno dell'azienda stessa.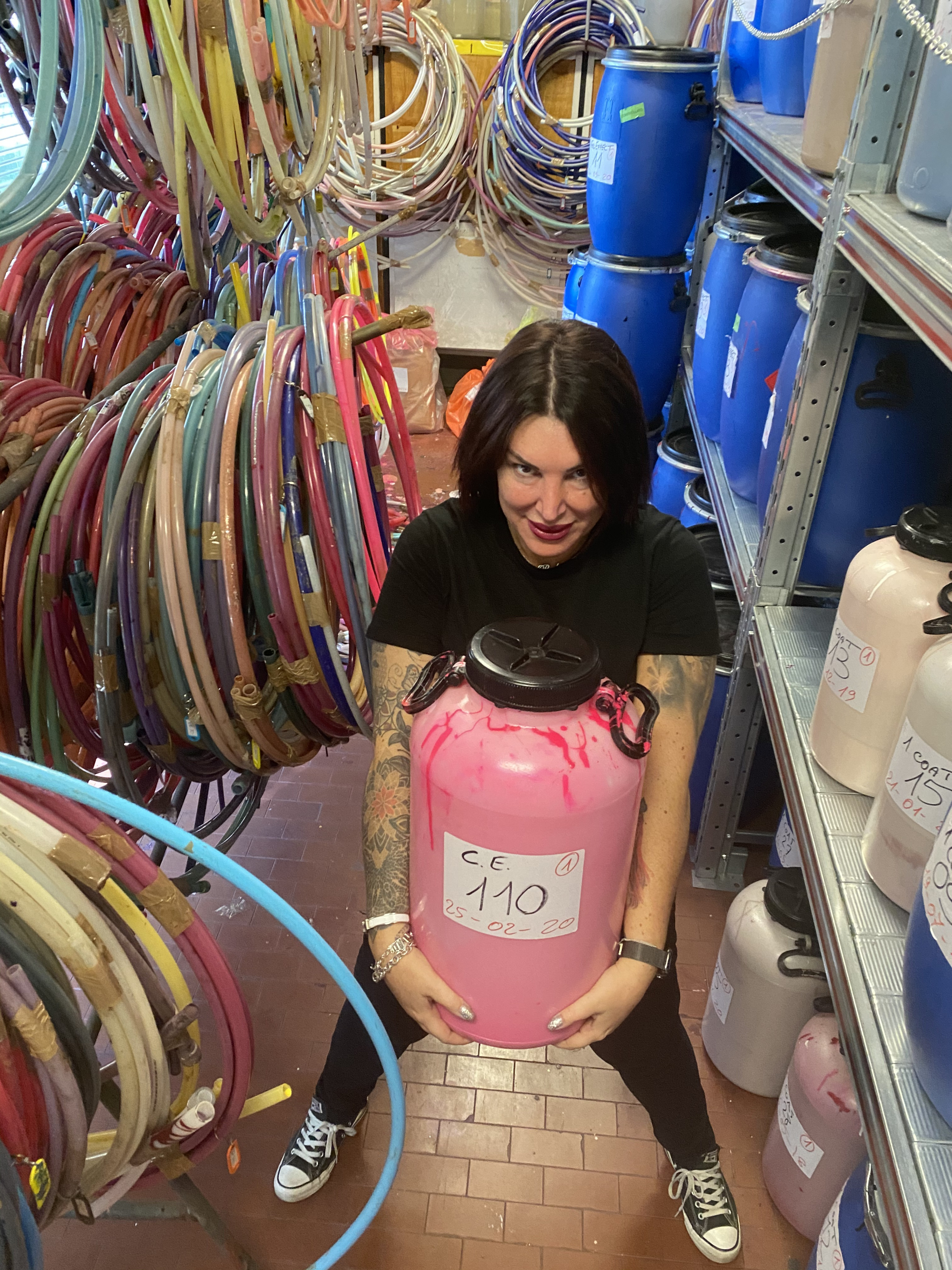 Oltre a questo aspetto, che sicuramente vi contraddistingue, in cosa cercate di essere diversi dagli altri, in un periodo in cui i brand di cosmetica arrivano sul mercato con tanta velocità? Devo dire che a volte ci sono alcuni brand che fanno un po' paura, ma la storia mi aiuta. In cosa ci distinguiamo? La verità è che noi facciamo parte di quel segmento che punta molto sulla qualità e io penso che un marchio piccolo come Layla debba necessariamente immettere sul mercato pezzi che siano perfetti al 100%. Noi ci distinguiamo per la qualità, perché con il nostro prodotto riusciamo ad essere dei professionisti del settore; abbiamo prodotti in vendita nelle grandi profumerie, nei grossisti per estetiste e lavoratori del settore, ma siamo anche in negozi che fanno parte della grande distribuzione.
Riuscite quindi ad offrire a tutti, prodotti ultra-professionali? Esattamente. Questo succede perché siamo molto attenti al training, cosa che facciamo da molto tempo. Abbiamo iniziato molto prima di questo 2020 che ha un po' rivoluzionato tutto il modo di vivere e lavorare. Mio marito mi aiuta molto nel lavoro, lui è "Il Creatore" su Instagram, è colui che si occupa di confezionamento e produzione e fa tutta la parte di ricerca e sviluppo. Nel 2020 abbiamo scelto di rivoluzionare le cose, perché il mondo sta cambiando e rimanere fermi non è contemplato. A fare la differenza è la qualità, ma io adesso ho anche cambiato il modo di comunicare.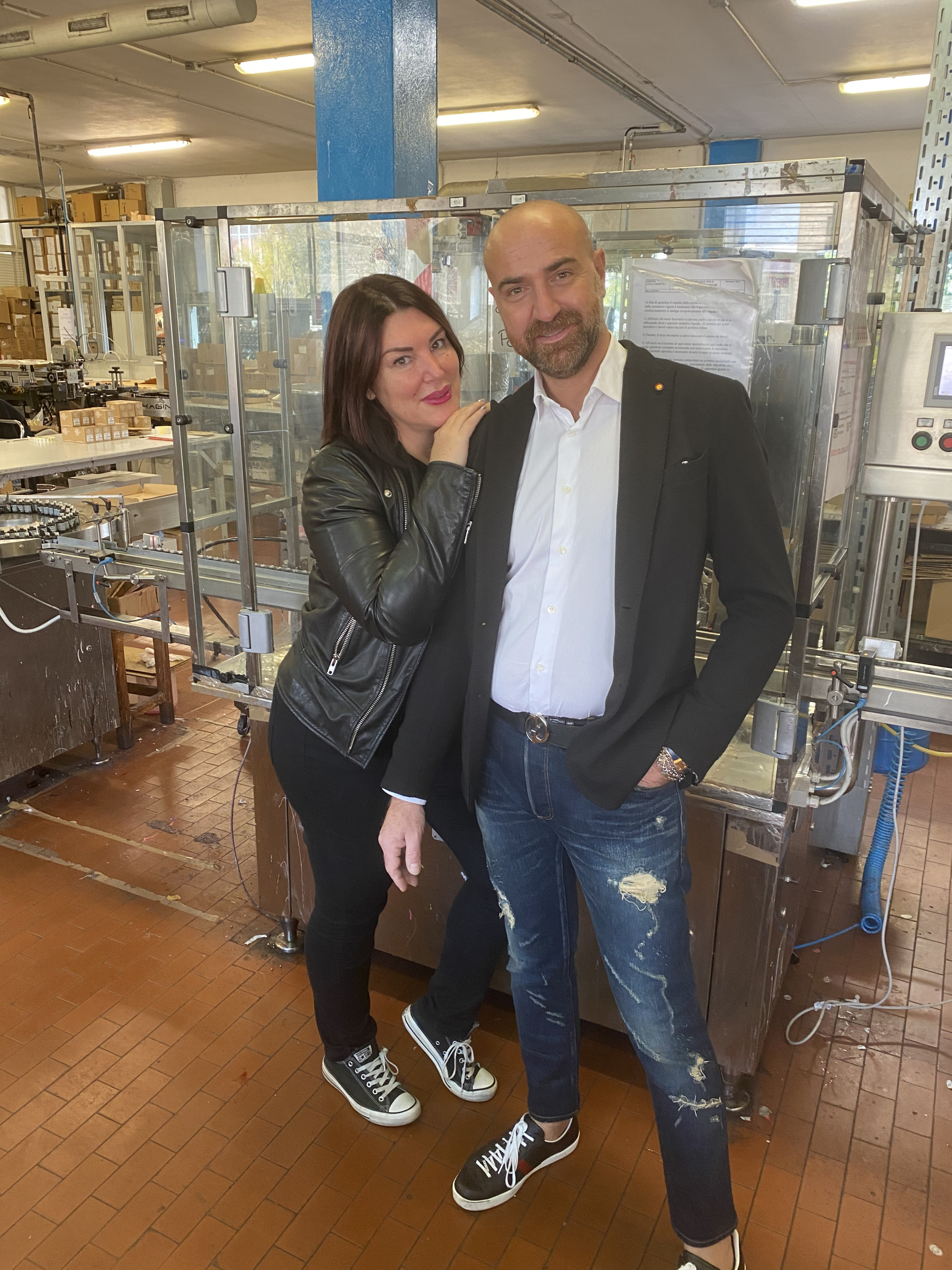 Siete precursori di molte cose, di molte scelte, ma anche a livello di comunicazione siete stati i primi se non gli unici ad essere riconosciuti per aver optato per testimonial maschili. Vero, però è il tipo di testimonial maschili che ha lasciato un po' senza parole. Io sono davvero stanca dell'attuale sistema cosmetico. Faccio parte del comitato direttivo di Cosmetica Italia e il mio pensiero è quello di voler "svecchiare" il tutto. Innanzitutto, ho voluto dire "Basta" a queste immagini di modelle perfette, perché io che non sono perfetta non mi rivedo in loro e di conseguenza non riesco a capire il prodotto che devo (o dovrei) acquistare. Così ho deciso di togliere tutti i filtri. Nel momento in cui dovevo lanciare il mascara The Longer The Better avevo bisogno di un'immagine che non riuscivo a trovare, quindi ho voluto usare la faccia di una donna robot. Da quando avevo 14 anni io sono sempre stata l'immagine di Layla, mia mamma usava me per le foto e ancora oggi sono il volto del mio brand per il quale ho cominciato a fare foto struccata per molti prodotti. Io non voglio più prendere in giro le donne che comprano il mio prodotto. Voglio una comunicazione alla pari: io mostro il prodotto per quello che è realmente. A febbraio è iniziata la pandemia e io mi sono ritrovata in ufficio da sola ed ero un po' spaventata, così dall'inizio di marzo, fino alla fine di maggio ho fatto una diretta Instagram al giorno, esclusi solo i week-end.
I contenuti erano altamente professionali. Alla fine, in realtà si trattava di veri e propri corsi! Sì, corsi professionali. Il mio intento era quello di portare le donne a vedere il prodotto. In giro per l'Italia abbiamo delle beauty consultant, che fanno corsi professionali in istituti scolastici e io, durante queste dirette Instagram, ho voluto riportare proprio i contenuti di questi corsi professionali, così che fossero accessibili a tutti. Ancora adesso faccio 4 dirette alla settimana insegnando tutta una serie di tecniche. Molte persone hanno iniziato a seguirmi e abbiamo creato una bella community. Sono stata un po' sgridata dal web perché mi rivolgo sempre alle donne, ma io mi percepisco un'azienda capace di integrare tutte e tutti. La prima scelta strana è stata Rocco Siffredi, scelta avvenuta perché abbiamo realizzato questo mascara The Longer The Better con una comunicazione così disruptive che si può fare solo e soltanto se il prodotto che stai proponendo è davvero buono. Con Rocco abbiamo trovato una persona che ha da subito amato il progetto e in tutte le dirette e le stories che abbiamo fatto, lui gioca molto, ma sa benissimo come interfacciarsi con un prodotto che non è suo. Abbiamo deciso che io non avrei fatto parte in nessun modo delle sue stories, ma la verità è che ne è uscito un Rocco davvero sorprendente, fresco e dinamico; certo ho avuto molto coraggio a fare una scelta del genere; ho subìto molte critiche di mancata eleganza e di comunicazione fuori-asse, perché molte donne non sono abituate a questo genere di comunicazione. Ma il punto è proprio questo! È legato al fatto che uno come Rocco Siffredi non c'entra niente con il make-up. Libertà è la parola che segue tutto il percorso di Layla. Io non faccio dirette formative per vendere, ma le faccio per rendere la donna libera e indipendente. Questo poi porta alla scelta di comprare i prodotti Layla ed è qualcosa che mi rende davvero felice e orgogliosa. Da qui nasce la parola "freevola", che per me racchiude tutto: quando sei libera, tu donna puoi volare dove vuoi e fare ciò che vuoi. Io mi arrabbio molto quando durante le lezioni di trucco mi dicono "io non ce la farò mai", perché bisogna sempre provarci.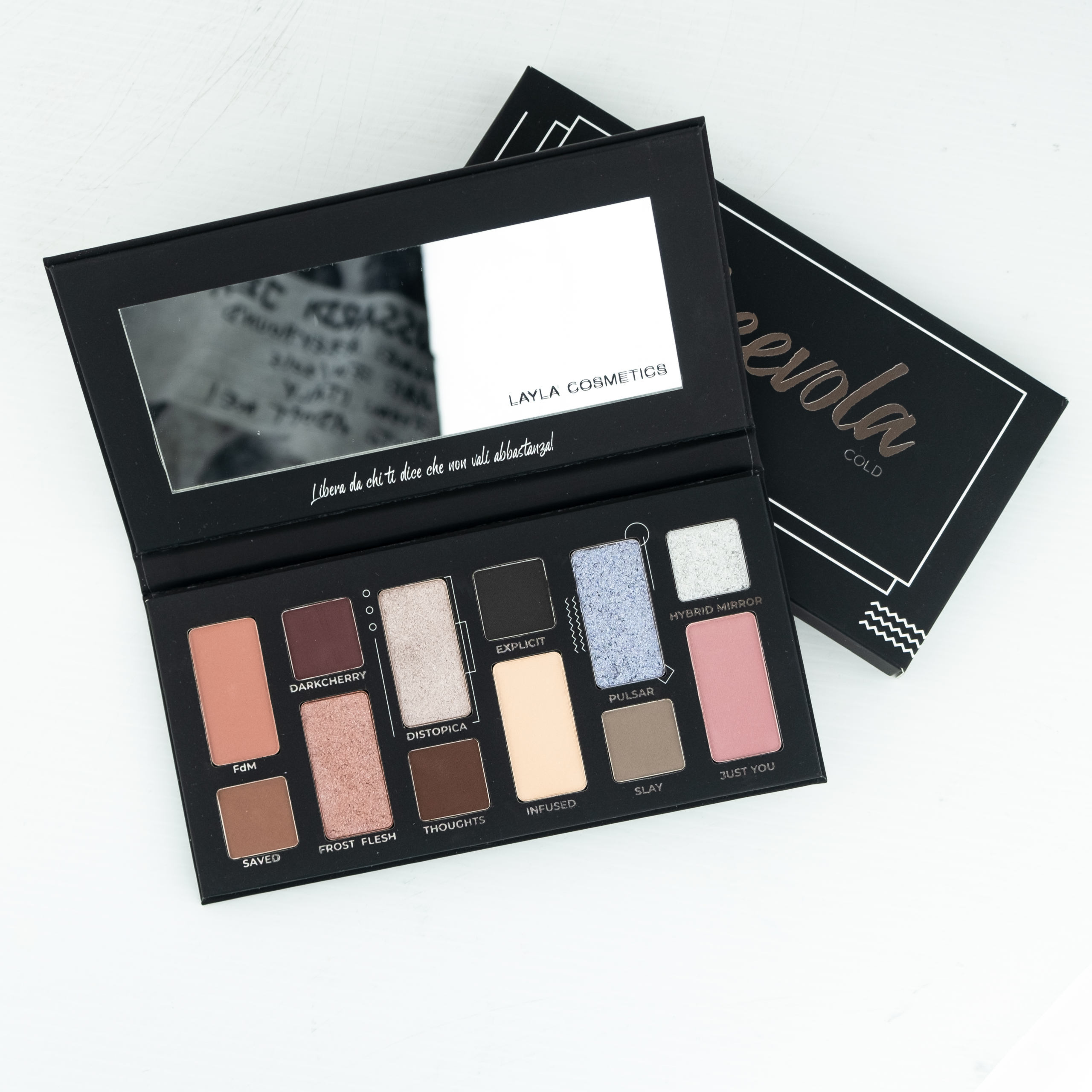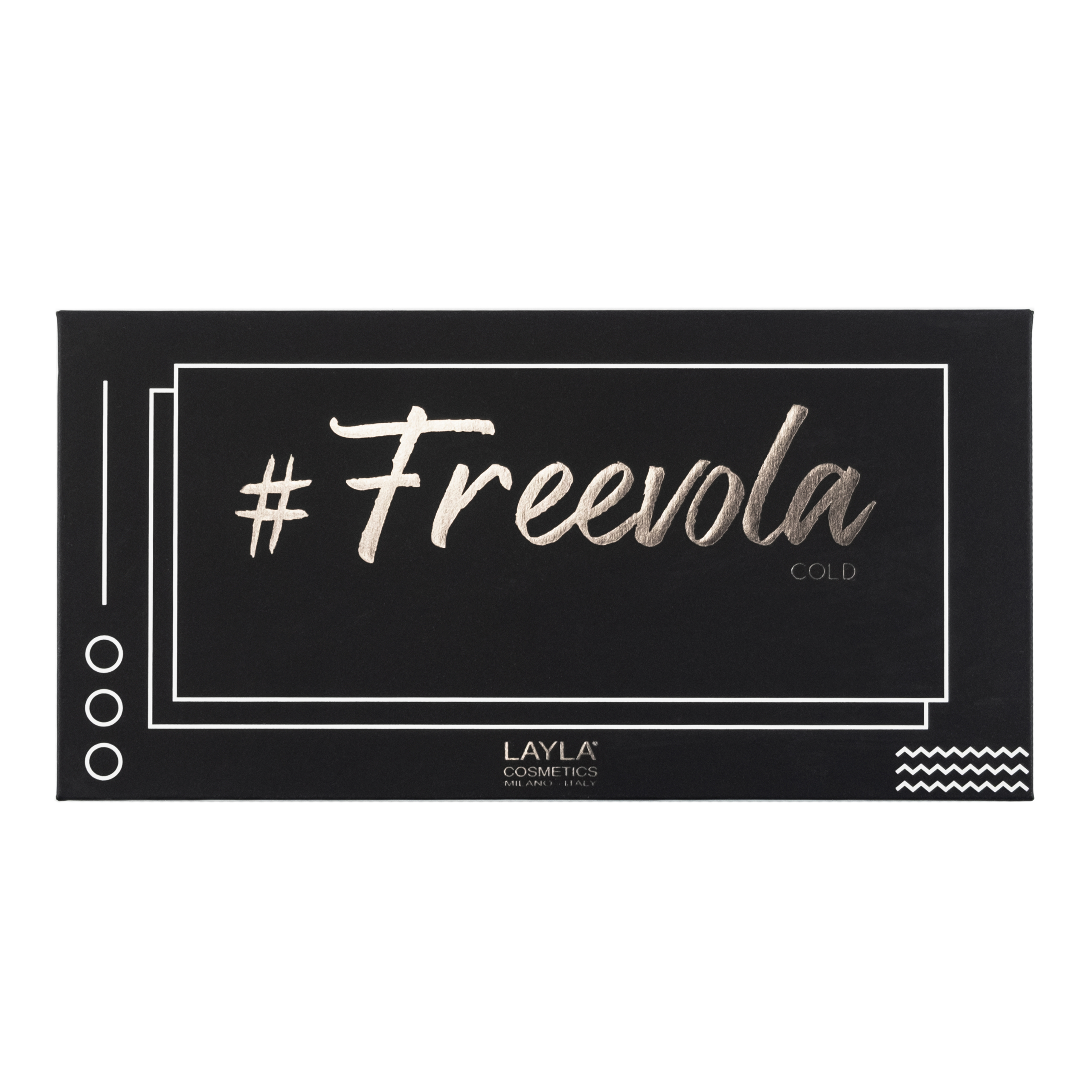 Effettivamente tutte le immagini legate ai più famosi brand di make-up rappresentano questi look stupendi che appaiono davvero difficili, se non impossibili, da replicare. Non tutti i brand sono inclusivi. Certo, ed è una scelta voluta, perché il distaccamento vuol dire élite, cosa che a me personalmente non piace. Anche io durante questo lockdown ho (re)imparato a truccarmi, perché da quando è mancata mia mamma io avevo smesso di truccarmi; quando è iniziata la pandemia ed è arrivata l'idea dei tutorial, io mi sono dovuta guardare dei video per imparare ed è proprio lì che ho colto questo distacco di molti brand con la donna reale. Quindi dopo aver ripreso un po' di confidenza con il trucco, ogni giorno provavo ad esporre le mie conoscenze tramite Instagram. Sapersi truccare ci fornisce un po' di sicurezza in più ed è vero, perché solo così sicure siamo veramente libere.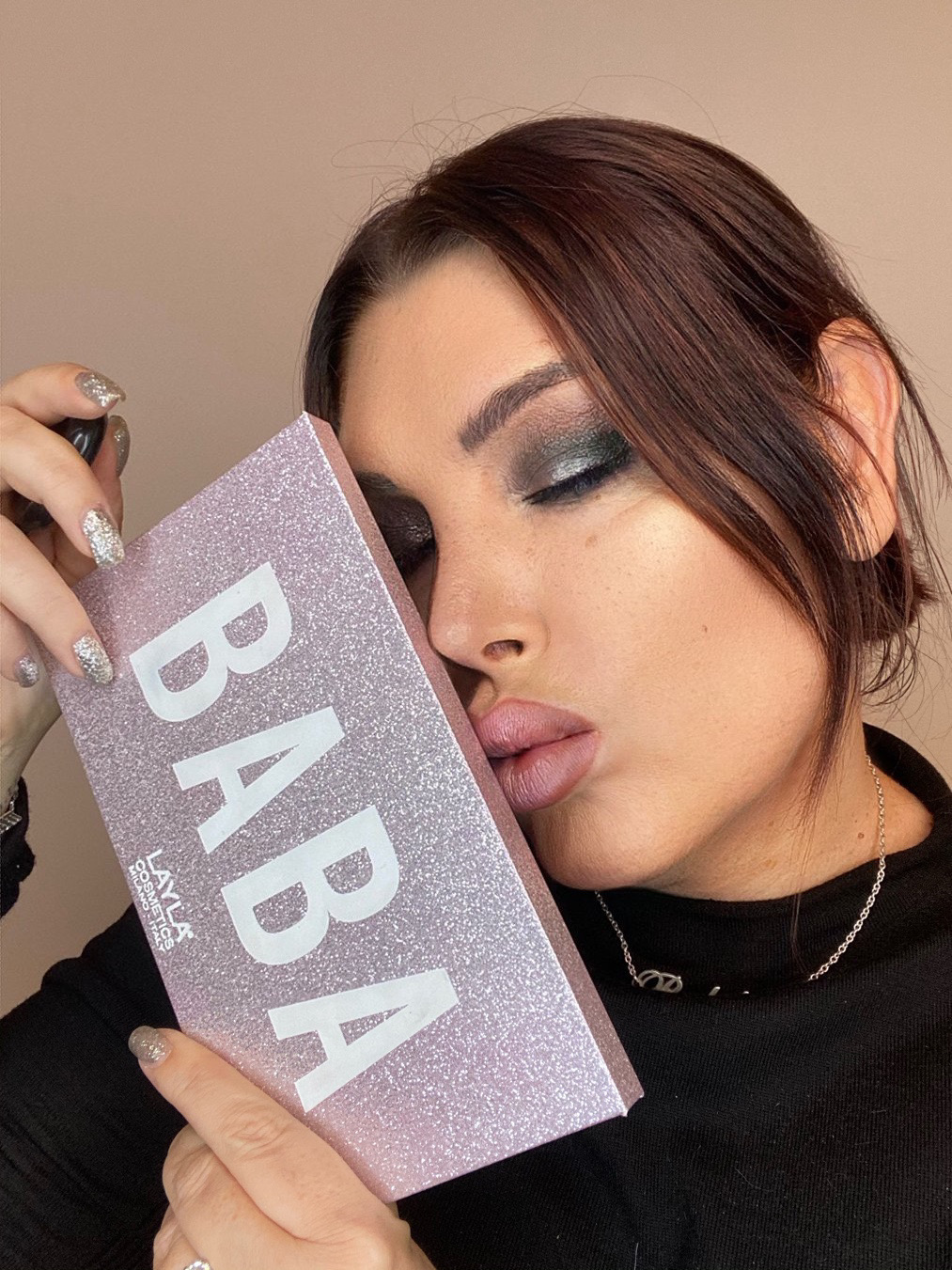 Forse questa pandemia ha anche fatto concludere un ciclo per dare vita a un nuovo inizio. Per tante aziende, il lockdown è anche stato qualcosa che ha portato a un approccio diverso, soprattutto per chi ha voluto fare quel salto verso un mondo nuovo che sarà quello post lockdown, perché inevitabilmente tutto cambierà, come sta già cambiando. Tu come la vedi? Assolutamente. A me infatti è successo così, all'improvviso, quando è iniziato il lockdown e mi sono sentita sola, senza avere la mia quotidianità. Da lì ho iniziato a fare le stories e sono arrivata ad oggi. Dovevo fare qualcosa e così ho iniziato. Penso anche io che il lockdown possa essere una chiusura prima di un nuovo inizio, però ci vuole sempre la volontà, perché niente arriva gratis, lo dico sempre alle mie ragazze. Io non sono femminista, anche se sono main sponsor di 9 muse, perché secondo me il women empowerment non significa essere femminista; io sono dell'idea che ci si debba rimboccare le maniche, lavorare e organizzarsi al meglio. Formarsi e informarsi è il mio femminismo.
Secondo te è quindi il momento di "normalizzarci" senza per forza rinchiuderci in qualche casella di genere? Io penso che oggi le donne non abbiano più bisogno di essere difese. Pensiamo noi a noi stesse, e proprio a questo ho dedicato una palette, dandole il nome di Redemption.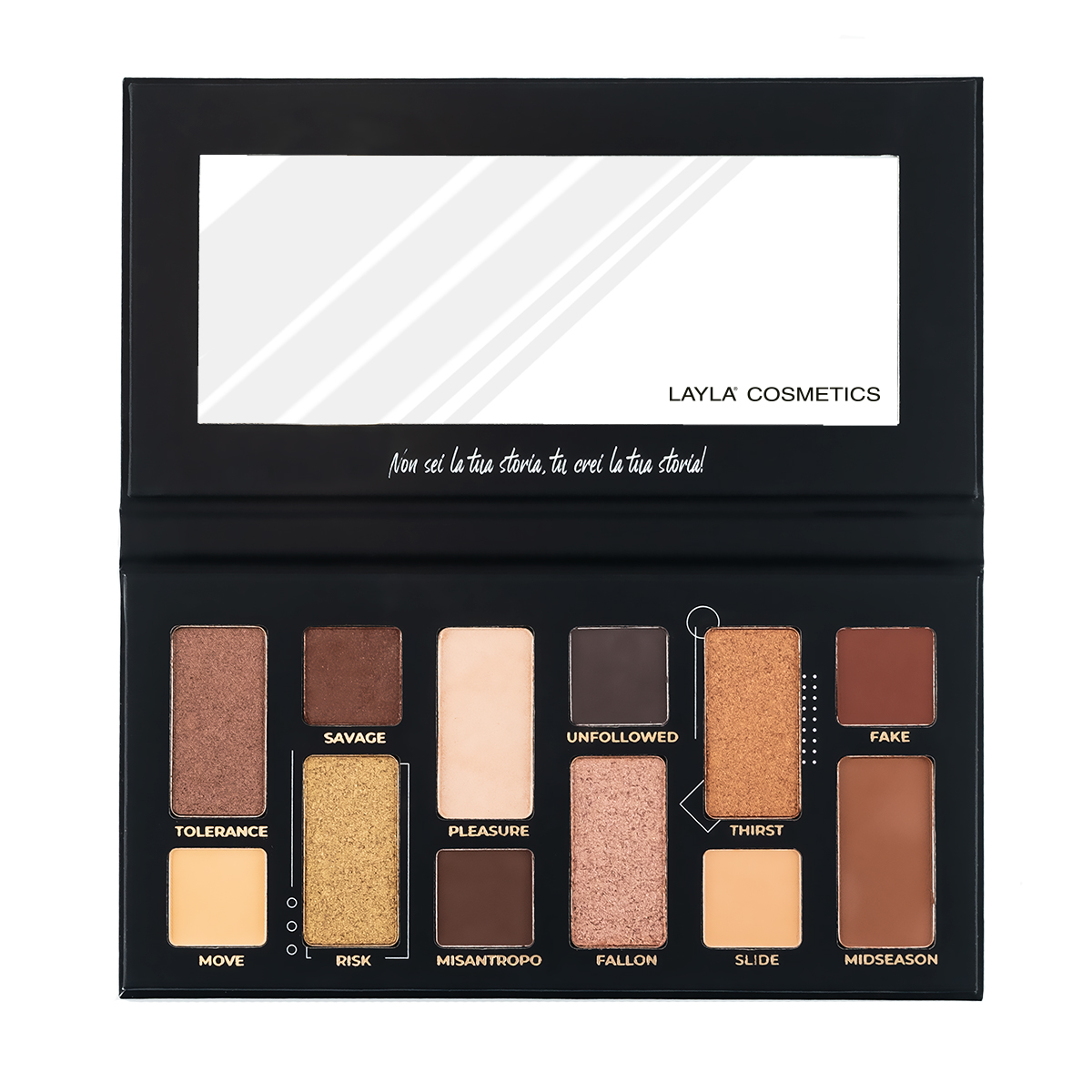 Cosa ci puoi raccontare invece della scelta di un nome come quello di Fedez accanto al nome Layla? Un altro segreto è Fedez. Lui, a inizio giugno, ha pubblicato questa storia sulle unghie, perché Chiara Ferragni era a fare il video con Baby K e aveva chiamato questa manicurista di nome Unghie della Madonna per farle le unghie. Fedez, divertito, ha deciso di farsi i disegnini sulle unghie e questo mi ha molto incuriosito. Verso la fine di giugno ha poi fatto un'altra storia in cui si vede bene il semi-permanente e pur cercandolo, non ho trovato niente legato ad un possibile adv, così insieme alla mia social media manager abbiamo deciso di contattare Fedez e Chiara Ferragni. Abbiamo parlato del contratto, lui ci ha pensato e poi ha confermato questa collaborazione un po' strana con noi. La prima storia è stata all'inizio di settembre. Le persone si stupivano che Layla avesse scelto un uomo, non che avesse scelto Fedez. Io pensavo di far esplodere il marchio proprio per la presenza di Fedez, invece il marchio è esploso per la scelta di un uomo. Da lì è poi nata una collaborazione molto bella e interessante, abbiamo creato un rapporto molto empatico e aperto, tanto che Fedez adesso si fa le unghie da solo!
Fedez è stato un po' il primo, apparendo sempre in tutte le stories con le unghie sempre fatte ed è una cosa che effettivamente fa riflettere: perché gli uomini non possono avere le unghie fatte? Sì, adesso sono anche altri a seguire un po' quest'onda. Mi vengono in mente Ghali, Achille Lauro… tutti con lo smalto! Inutile sottolineare che questa collaborazione con Fedez ci sta dando molta notorietà, basti pensare a tutti i follower che ha e che quindi di conseguenza guardano le sue stories e i suoi post. E chissà poi che non nasca altro…  Noi di Layla andiamo avanti ad emozioni, non abbiamo piani da seguire. Per il 2021 abbiamo anche firmato un contratto con la Spora come strategist: siamo l'unica azienda con cui lei ha firmato un contratto singolo, perché generalemente lei fa gruppi di lavoro. Layla sta andando molto bene e questo mi regala molta energia.
Tutto questo denota un dono nel capire le mosse da fare nel momento giusto. È qualcosa di innato e molto importante. Diciamo che avete fatto la mossa giusta nel momento giusto. Sì, poi sono anche l'unica titolare di azienda che ci mette la faccia, cosa che inizialmente non è stata semplice, perché anche io avevo la tendenza a ricercare la perfezione. In quanto titolare di azienda avevo fornitori e concorrenti e sentivo di dover essere sempre impeccabile; poi mi sono resa conto che quel modo di fare e di essere non mi apparteneva, non ero io. Così una mattina, senza trucco e con tanto di molletta nei capelli, ho iniziato una diretta ed è stato lì che ho trovato il giusto canale per parlare con le donne. Mi sento fortunata!
Fedez e Chiara Ferragni in questo periodo sono assolutamente vincenti. Sì, io l'ho anche detto a lui. Loro potrebbero tranquillamente godersi la vita facendo ciò che meglio credono. Invece loro fanno davvero cose grandiose. Infatti, ho deciso di aderire con molto piacere a Scena Unita, il progetto di Fedez per venire in aiuto ai lavoratori dello spettacolo. Così, perché mi andava di poter dare un aiuto, un mio contributo. Io voglio continuare così, voglio andare avanti a stupire le persone che mi seguono e non voglio essere un marchio di cosmetica, ma voglio essere molto di più.
Secondo te, in un periodo in cui tutto corre veloce, qual è il futuro della cosmetica? Qual è il prossimo step che potrebbe fare il settore? Potrebbe iniziare abbattendo qualche muro, anche se è un qualcosa che ancora non credo possibile. Io ho iniziato, ma lo vedo difficile, perché la cultura della perfezione è radicata sin dalla nascita del settore. Layla è facilitata perché essendo una realtà piccola riesce a gestire tante cose insieme.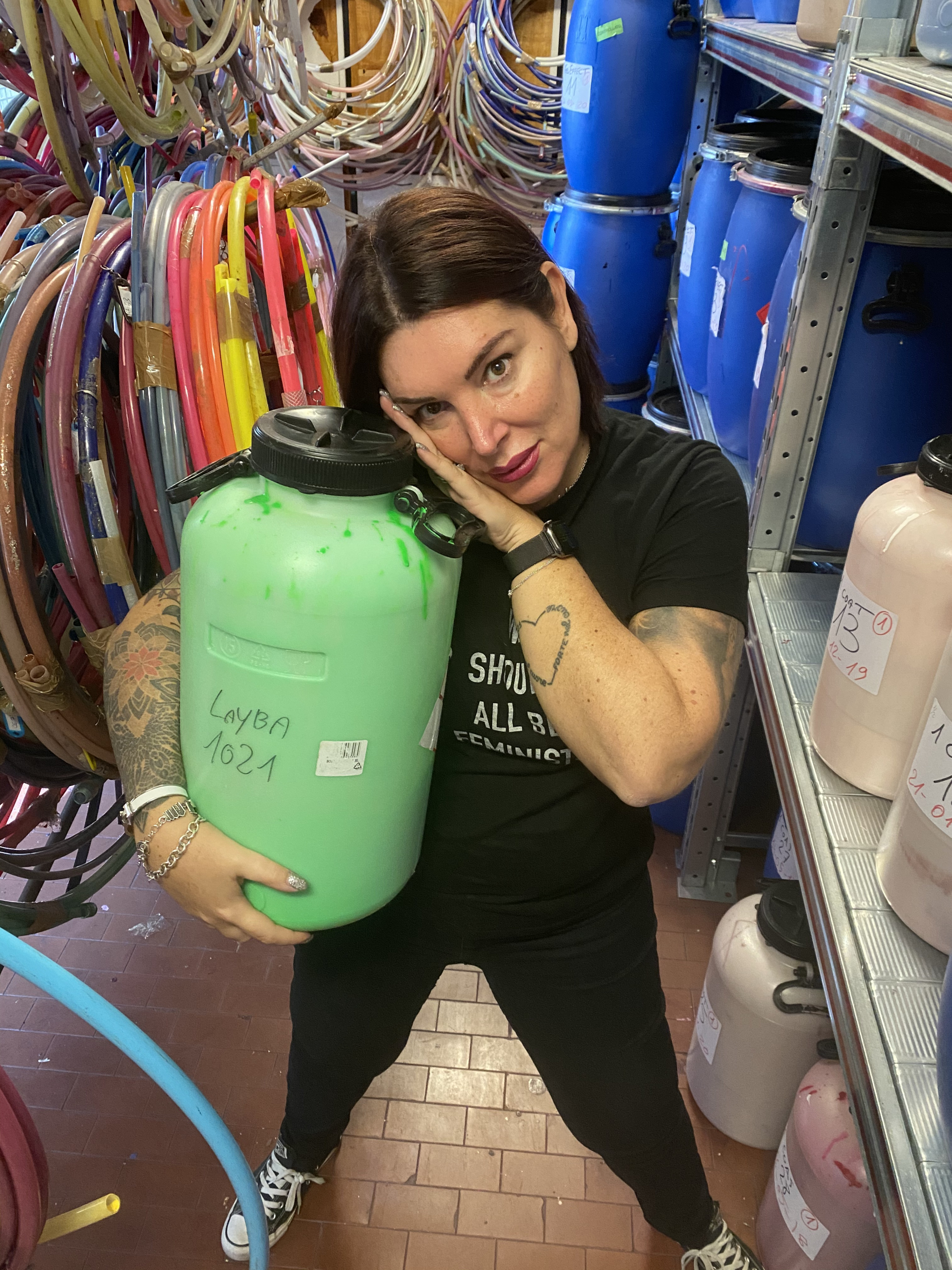 Le persone hanno bisogno di ritrovarsi in persone come te. Cosa ne pensi? Sì, è vero. Le persone tra l'altro vanno nei negozi in cui non ci sono i nostri prodotti in vendita e chiedono proprio dei nostri prodotti! Io ho proprio il desiderio di continuare su questa linea. Si è creato un bellissimo collegamento tra Layla e il cliente Layla.

Possiamo quindi dire che il segreto di tutto è nella community? Sì, sicuramente. Questo è ciò che manca al mercato cosmetico, che è molto chiuso. Layla in questo è diversa,  e oltre ad essere sinonimo di inclusione, di spirito di condivisione all'interno di una grande e affiatata community, è anche l'unica azienda in Italia che produce e commercializza i propri prodotti.

Hai un sogno nel cassetto? Qual è il tuo prossimo progetto? Il sogno nel cassetto è che Layla possa andare avanti anche dopo questo momento, perché è un'azienda piccola, resistente, ma fragile di fronte a ciò che sta accadendo in questo periodo di pandemia. Io sono la mamma di Layla e il mio desiderio è che questa mia figlia possa essere sana e sfavillante ancora per molto tempo. Per quanto riguarda i progetti futuri… Ce ne sono tanti, ma non posso dirveli!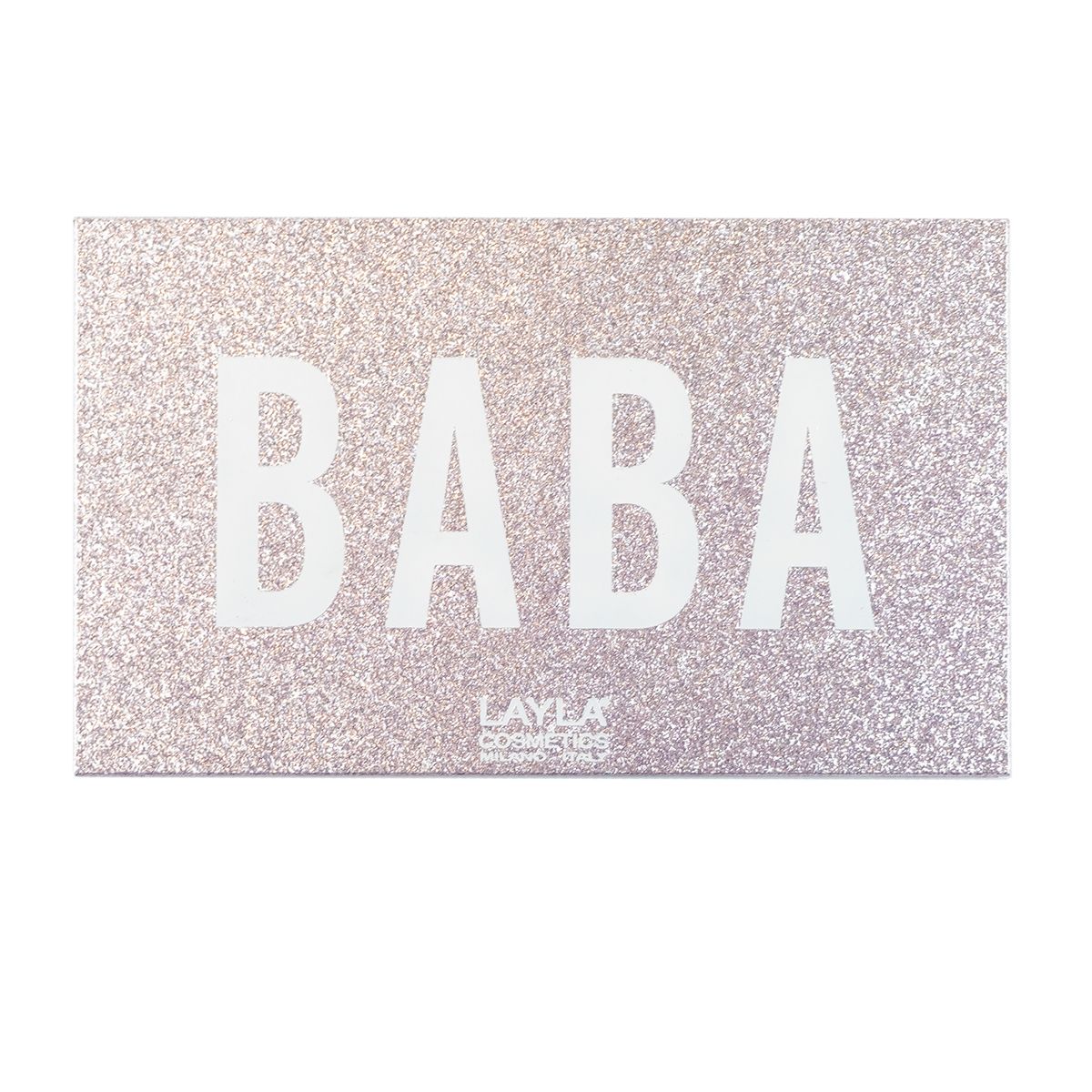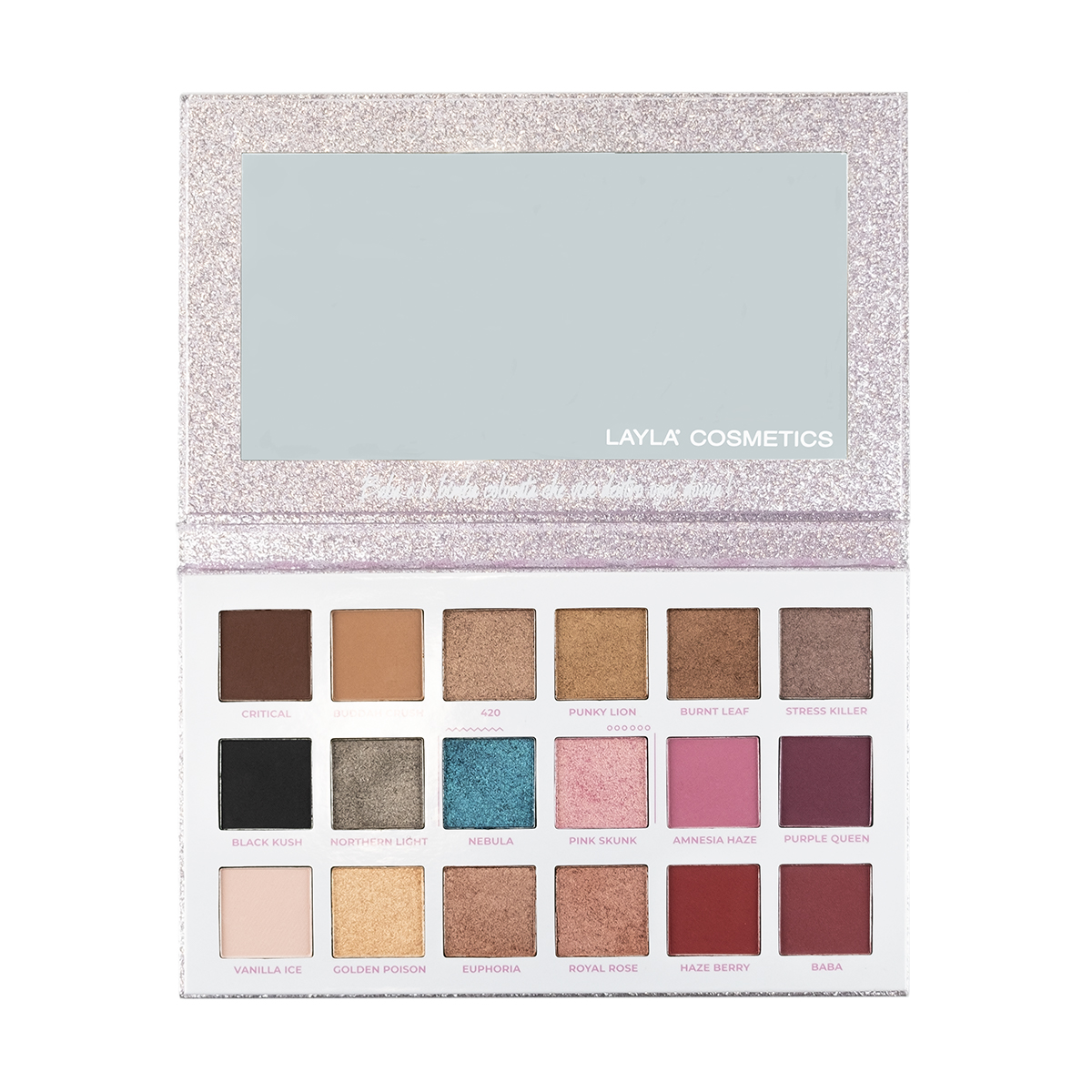 Commenti
comments