Un uomo tranquillo con un lavoro rispettabile, una moglie, due figli, una vita dalla normalità lisergica. E sotto la facciata, il crimine. Ozark, serie drammatica targata Netflix giunta alla sua terza stagione, è il racconto emblematico dell'uomo mite con un segreto, dell'opaca superficie del ceto medio americano che nasconde sotterfugi oscuri e trame deplorevoli.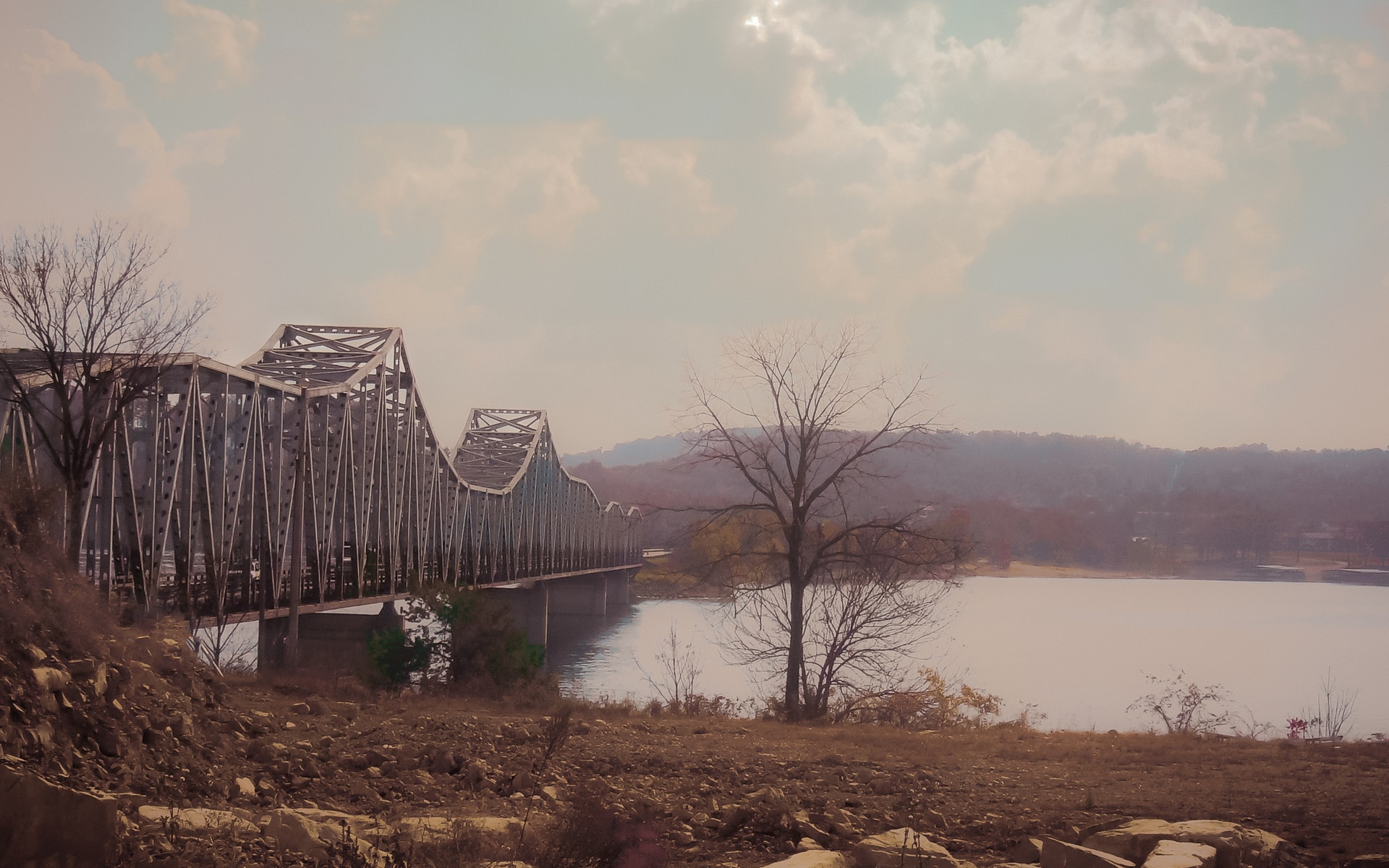 Martin "Marty" Byrde (Jason Bateman) è un consulente finanziario di Chicago che, come secondo lavoro, ricicla denaro sporco per alcuni cartelli della droga messicani. Quando qualcosa va storto, l'unica possibilità di rimanere in vita è fuggire. Marty parte allora con la moglie Wendy (Laura Linney) e i due figli Charlotte e Jonah per le Ozark, nel Missouri, località turistiche fra laghi e montagne dove tenterà il tutto per tutto: riciclare una somma di denaro senza precedenti.
La bellezza rurale e spesso cupa delle Ozark, con i loro boschi di felce rossa e i grandi laghi, penetra nella vita dei Byrde e accompagna le loro gesta sempre più criminose, fra traffico di droga, violenza e omicidi.
Cosa mettere in valigia se si parte per la montagna
Se dunque volete immergervi nelle atmosfere crude e fredde di questa serie ma senza perdervi gli scenici paesaggi che le fanno da sfondo, scoprite con noi quali sono i luoghi in cui è stata girata Ozark.
Altopiano delle Ozark
Situato fra Missouri, Arkansas, Oklahoma e Kansas, l'Altopiano delle Ozark è la regione montana americana più estesa fra gli Appalachi e le Montagne Rocciose. La sua bellezza rurale si dipana fra foreste, paesaggi carsici fatti di sorgenti, grotte e doline, e grandi laghi sia di origine naturale che artificiale.
Sono proprio i laghi e i corsi d'acqua a costituire una delle attrazioni favorite dal turismo delle Ozark. Parchi fluviali come l'Ozark National Scenic Riverways e il Buffalo National River accolgono annualmente centinaia di migliaia di turisti, attratti dalla possibilità di lunghe gite in canoa sul fiume, trekking nella natura e relax nelle località di villeggiatura spesso dalla forte impronta rustica.
Fra le mete più gettonate della regione c'è Branson, cittadina situata sulle rive del lago artificiale Taneycomo. Oltre ad una spettacolare passeggiata lungo lago fiancheggiata da locali e negozi di lusso, Branson è salita alle luci della ribalta del turismo nazionale per il vasto numero di teatri e luoghi di intrattenimento che ospita. Come il Dolly Parton Stampede con spettacoli da gustarsi durante la cena, il Museo delle cere di Hollywood, il Titanic Museum con una replica in scala ridotta del leggendario transatlantico, e il Silver Dollar City, parco divertimenti a tema western/boscaiolo.
Osage Beach, Lago Ozark e diga di Bagnell
All'inizio della prima stagione della serie, Marty trasferisce la sua famiglia nella (apparentemente) sonnacchiosa Osage Beach, sulle rive del Lago Ozark. Nonostante la bellezza peculiare delle sponde frastagliate di questo lago – che somigliano quasi a scaglie di un grande drago – le riprese della serie sono state effettuate altrove. La produzione è infatti stata quasi interamente eseguita in Georgia, sulle sponde dei laghi Allatoona e Lanier.
Nella serie è ben visibile però un simbolo del Lago Ozark e di questa regione: la diga di Bagnell, costruita nel 1929 proprio per creare il lago stesso. Per i fan della serie che passassero da queste parti, c'è una chicca imperdibile non lontano dalla diga: si chiama Marty Byrde's ed è un locale aperto in omaggio al protagonista di Ozark (ma che non compare nel telefilm). Il suo motto all'ingresso? "Entrate ed aiutateci a riciclare un po' di soldi!".
Lago Allatoona
Lo stesso fascino rurale delle Ozark si ritrova dunque in Georgia, altra regione nota per i suoi paesaggi montani ad alto tasso scenico.
Sulle rive del Lago Allatoona, a Canton, si trova il Blue Cat Lodge, il ristorante che Marty Byrde rileva inizialmente per coprire i suoi loschi traffici. Questo locale esiste davvero: prima noto come Little River Grill, poi riaperto come JD's on the Lake, serve hamburger, frutti di mare e cocktail, ed ha mantenuto l'insegna Blue Cat in onore dello show.
Non lontano dal Blue Cat si trova il Little River Marina Center, il molo dove alcuni membri della banda criminale dei Langmore lavorano sulle barche. Noto anche come Suntex Marina, questo molo offre nella realtà servizi di alta qualità ai naviganti, come noleggio barche e boat club esclusivi.
Lago Lanier
Questo lago artificiale a nord della Georgia fa da sfondo alla casa dei Byrde, cottage idilliaco (che nella serie perde gran parte della sua amenità) con il suo molo privato e circondato da foreste di pini. La cittadina che ospita questa location si chiama Flowery Branch, ed è situata su una penisola all'estremità sud est del Van Pugh North Park, parco ricreativo con spiagge, campi da gioco e aree picnic.
Eagle Rock Studios, Norcross
Se i vasti spazi aperti di Missouri e Georgia sono perfetti per girare in esterno, le atmosfere cupe degli interni di Ozark nascono grazie agli Eagle Rock Studios di Norcross, sempre in Georgia. È infatti in questi studios che sono stati ricostruiti alcuni dei luoghi chiave della serie, come lo strip club Lickety Splitz, altro investimento di Marty Byrde, lo scantinato di Buddy Dyker e la roulotte di Russ Langmore.
Non lontano da Norcross si trova anche il Jonas Bridge Park, il parco fluviale dove una battuta di pesca fa incontrare Russ Langmore e l'agente dell'FBI Roy Petty. Al Jonas Bridge la pesca è davvero un'attività popolare, da accompagnare con gite in barca o pomeriggi di sport sulla spiaggia.
Atlanta, Georgia
Dalle isolate montagne ai grattacieli di una metropoli. Anche Atlanta fa capolino nelle scene di Ozark. La capitale della Georgia, famosa per attrazioni come il gigantesco Georgia Aquarium, il Centennial Olympic Park dedicato alle Olimpiadi del 1996 e il museo della Coca Cola, appare nella serie Netflix per una sua caratteristica peculiare: il cibo.
Atlanta ospita infatti The Silver Skillet, ristorante noto per servire la cucina tipica degli Stati Uniti del sud. Qui è dove si ferma per uno spuntino anche l'agente Petty, e come dargli torto: con piatti come le braciole alla griglia ricoperte di salsa country, il polpettone arrosto e la torta al cocco, non c'è che da leccarsi i baffi.
Il Silver Skillet è una vera e propria istituzione locale, tanto da essere spesso frequentato da personaggi del mondo dello spettacolo come Samuel L. Jackson, Hugh Jackman, Janelle Monae e Ryan Gosling. Questo ristorante è inoltre apparso in altre importanti produzioni cinematografiche, come Anchorman 2 con Will Ferrell.
Non lontana da Atlanta è situata poi un'altra location di Ozark dal fascino grandioso: lo Chateau Elan di Braselton. Questo resort vitivinicolo appare nella serie nelle vesti di dimora del boss del crimine messicano Del, e l'opulento stile fa capire il motivo di questa scelta.
Oltre a campi da tennis e da golf, innumerevoli ristoranti e bar e suite lussuose, la tenuta ospita una cantina dove poter effettuare degustazioni di vini provenienti da diversi vigneti di California e Napa Valley.
Fonte foto: Unsplash
Commenti
comments