I due designers raccontano il progetto Manifesto Flowers.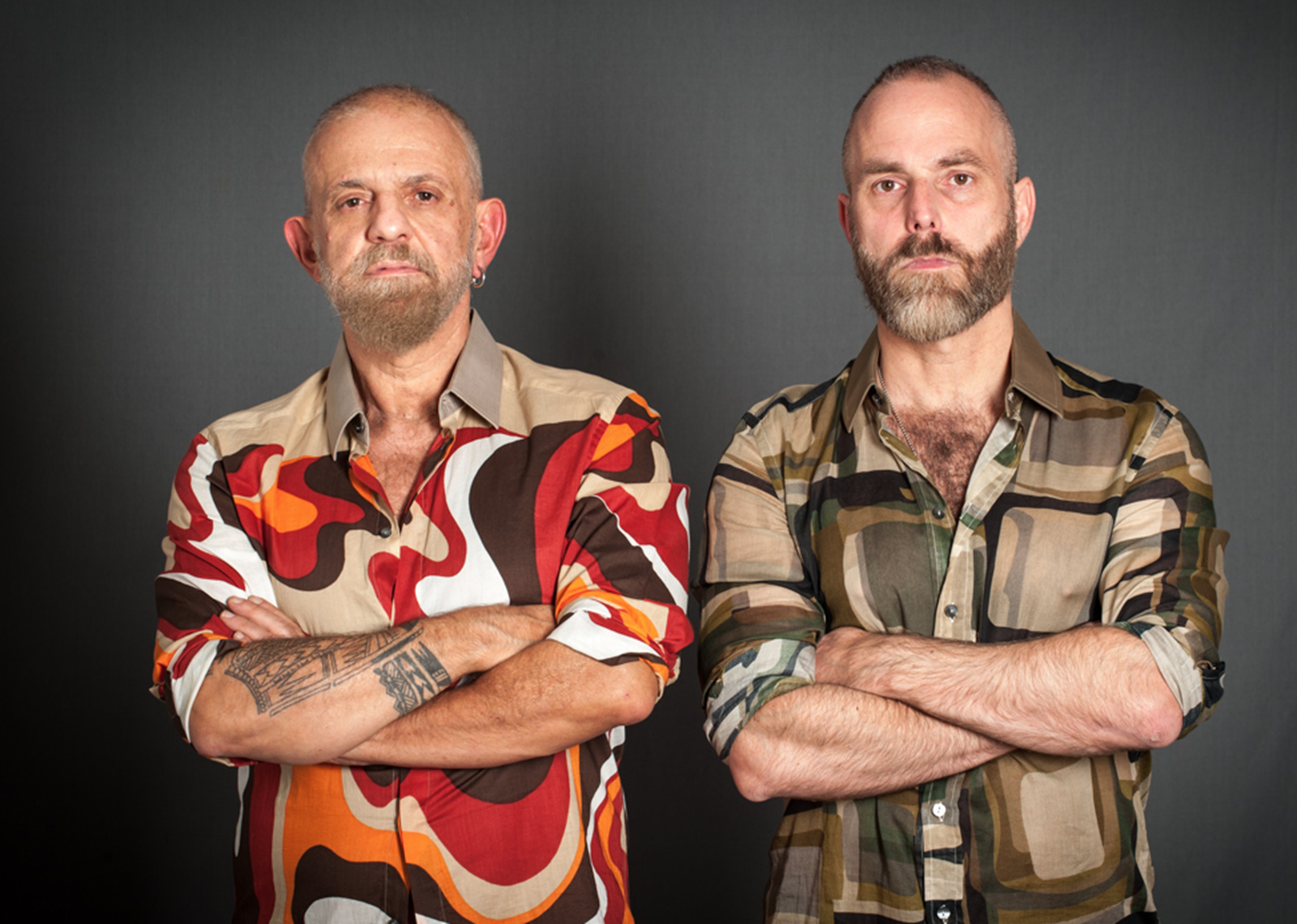 Scegliere di comunicare con i fiori è atto-gesto-tocco di grande forza, coraggio, umanità, spessore.
Ed è importante non fermarsi a parlare solo dell'aspetto puramente creativo… ovvero del comporre un bouquet, un allestimento, un innesto… ma invece sottolineare come chi – facendo  questo mestiere –  sceglie (in un certo senso) di mettersi a nudo… mostrando quel lato di sé più poetico, romantico, intimo, nascosto, quel tratto di sé più vulnerabile.
I fiori sono infatti gesto, pensiero, poesia, racconto, sensibilità e legame.
Non a caso con le piante c'è un rapporto esclusivo – a volte inaccessibile se non a pochissimi – tanto che per parlare di frasi fatte si dice… avere il pollice verde.
Bruno Bugiani e Kenneth Pope fanno "ruotare" oggi buona parte della loro vita quotidiana, tra rose, orchidee, tulipani, peonie… e tantissimi altri fiori di tutti i tipi…. accostando i colori della natura, i petali in tutte le loro varianti e realizzando le composizioni più speciali per i loro Top Clients internazionali.
E le richieste? Arrivano da Maison come Versace, Bottega Veneta, Givenchy, Armani, Vacheron-Constantin… richieste – quelle di questi Top Clients – che si amalgamano, a quella forte visione, sguardo e tratto che Bugiani e Pope rivolgono nel loro lavoro – e creatività – sempre e solo al domani, rivestendo gli allestimenti di quell'aurea rock-romantica che è traccia e plus di una loro filosofia che arriva dal loro background: Bugiani accanto a Gianni e Donatella Versace e Pope non solo in Condè Nast America ma anche accanto (con alcune collaborazioni) a Francis Ford Coppola e a sua figlia Sofia.
Il loro progetto, la loro casa- creativa, il loro sogno, la loro azienda – per utilizzare termini più business – si chiama Manifesto Flowers.
Così il loro tocco – come Flower Designers – si traduce su temi e scenografie per sfilate, eventi,  "dinner placé", wedding tra i più esclusivi al mondo e… tutto in un modus operandi dove Manifesto Flowers – definito già dalla stampa (vedi DRepubblica, nel numero di Giugno 2019)  "L'avanguardia italiana più provocatoria" –  è la forza creativa floreale che completa il lavoro della loro clientela worldwide.
Ho incontrato Bruno Bugiani e Kenneth Pope questa settimana per Focus On.
Partiamo da una mia curiosità… ovvero il vostro totale cambio di vita. Nel senso che mi sono chiesto… una rosa, un'orchidea, un bouquet, un allestimento floreale – con i loro profumi e i loro colori – possono suscitare delle emozioni talmente uniche ed essere così rassicuranti, così magnetici da far scegliere di abbandonare una vita di glamour, lusso, viaggi continui in giro per il mondo, top model, magazines internazionali per una vita invece forse più tranquilla, più rilassata e forse più felice?  Che cosa è successo nel vostro percorso che vi ha portato ad un certo punto ad un cambio di rotta così radicale?
Bruno+Ken: Questo non è stato il primo grande cambiamento per entrambi.
Ken: Nel settembre 2000, ho lasciato a New York la mia vita, il lavoro, l'appartamento, la famiglia e gli amici per trasferirmi a 4000 miglia, in un paese in cui non conoscevo quasi nessuno, nemmeno la lingua a quel tempo. Allo stesso tempo, Bruno aveva lasciato Versace dopo 16 anni e aveva intrapreso una nuova carriera nella musica, chiamato da Eros Ramazzotti.
B+K: Il glamour della moda e della musica, le sfilate, i servizi fotografici, i tour musicali per il mondo sono certamente eccitanti e stimolanti, ma a lungo andare possono anche essere stancanti e (talvolta) un po' vuoti. Con l'età, le priorità cambiano e fare qualcosa che è personalmente soddisfacente diventa più attraente. Bruno ha sempre avuto un fascino per la natura, le piante e i fiori e aveva sempre avuto un sogno segreto: aprire un negozio di fiori. È stata un'occasione per metterci alla prova, per vedere se potevamo creare qualcosa di nuovo, qualcosa che rappresenti i nostri gusti e i nostri ideali.  All'inizio, sicuramente abbiamo pensato che sarebbe stato uno stile di vita più rilassante e passami il termine, romantico – anche se chiunque abbia mai avviato un'attività può dirti che sicuramente non è così! Ricordo che Bruno diceva: << Ora basta, voglio fare qualcosa di materiale, non ne posso più di correre come un pazzo>> anche se continua a correre anche adesso.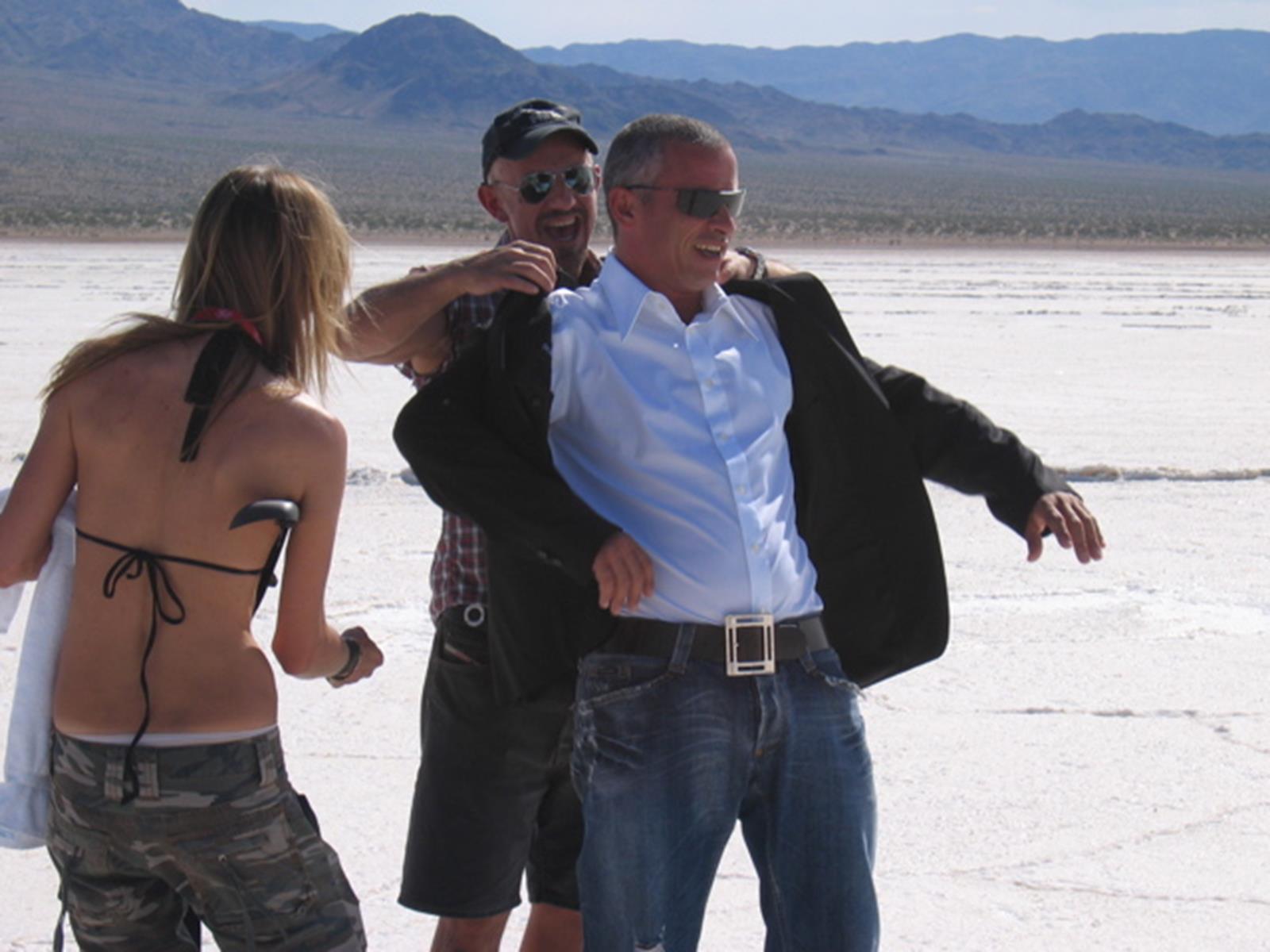 Com'è nato nello specifico Manifesto Flowers?
Ken: All'inizio del 2011 ci siamo trovati entrambi liberi da impegni lavorativi, Bruno aveva appena lasciato il posto di manager da Eros e abbiamo fatto la cosa più logica: siamo andati in vacanza per alcuni mesi, in Australia e nel Sud-Est Asiatico.  Al nostro rientro, l'idea era di prendere un anno sabbatico per poi capire cosa fare del nostro futuro. L'idea ha funzionato fin troppo bene e quando il 2011 si è trasformato in 2012, abbiamo iniziato a pensare: "Hmm, forse dovremmo iniziare a essere un po' più proattivi ….", il conto in banca piangeva un po' ed era ora di rimboccarsi le maniche. Così a metà 2012 nasce Manifesto Flowers.
Bruno: All'inizio non è stato facile, nessuno ovviamente ci conosceva come flower designers, ma per fortuna la nostra ricchezza erano i contatti e soprattutto il fatto che le persone, se hai lasciato dei buoni ricordi, ti risentono con piacere. Ricordo ancora il primo articolo su di noi, scritto da Sandra Bonzi per La Repubblica, il Titolo era "La Second Life di Bruno e Ken", lo era e l'articolo fu una vera gioia.
Che cosa della vostra esperienza professionale nella moda (per te Bruno) e più nell'editoria (per te Ken) avete poi trasferito o proiettato nel flowers business?
Ken: Quando si avvia un'attività in proprio, la parola chiave è "business". Il marketing, le pr e la cura dell'amministrazione sono importanti tanto quanto i prodotti stessi.  Entrambi abbiamo un discreto background in quei settori. Di particolare utilità per me è stata la mia esperienza a NYC con Delia's, un catalogo di abbigliamento per teenagers di incredibile successo negli anni '90. Ho potuto vedere quasi dall'inizio, i passi fatti dall'Azienda per far crescere il loro pubblico e i cambiamenti che erano stati fatti per far raggiungere il successo alla Società. Oltre alle considerazioni pratiche, certamente entrambe le nostre esperienze lavorative hanno avuto un impatto enorme sullo sviluppo della nostra estetica personale. Entrambi abbiamo lavorato a lungo con fotografie e grafica, con le sottigliezze che un'immagine può proiettare e in che modo piccoli cambiamenti, possono avere un grande impatto. Naturalmente anche le forme e le trame della moda sono fondamentali e molte di queste lezioni possono essere utilizzate nel nostro approccio ai fiori e nel modo in cui rappresentiamo il nostro marchio.
Bruno: Ho trasferito in questo lavoro quasi tutto. Non essendo un fiorista nel senso classico del termine ho iniziato e continuo a seguire un percorso diverso. Diverso per gli accostamenti di colore, diverso per le forme e per l'approccio a questa Arte. Il Maestro Versace mi ha insegnato che bisogna osare e spesso nel processo creativo cerco questo legame immaginario tra i fiori e la moda. Quello che faccio, tutto quello che faccio, deve piacere a me prima di tutto.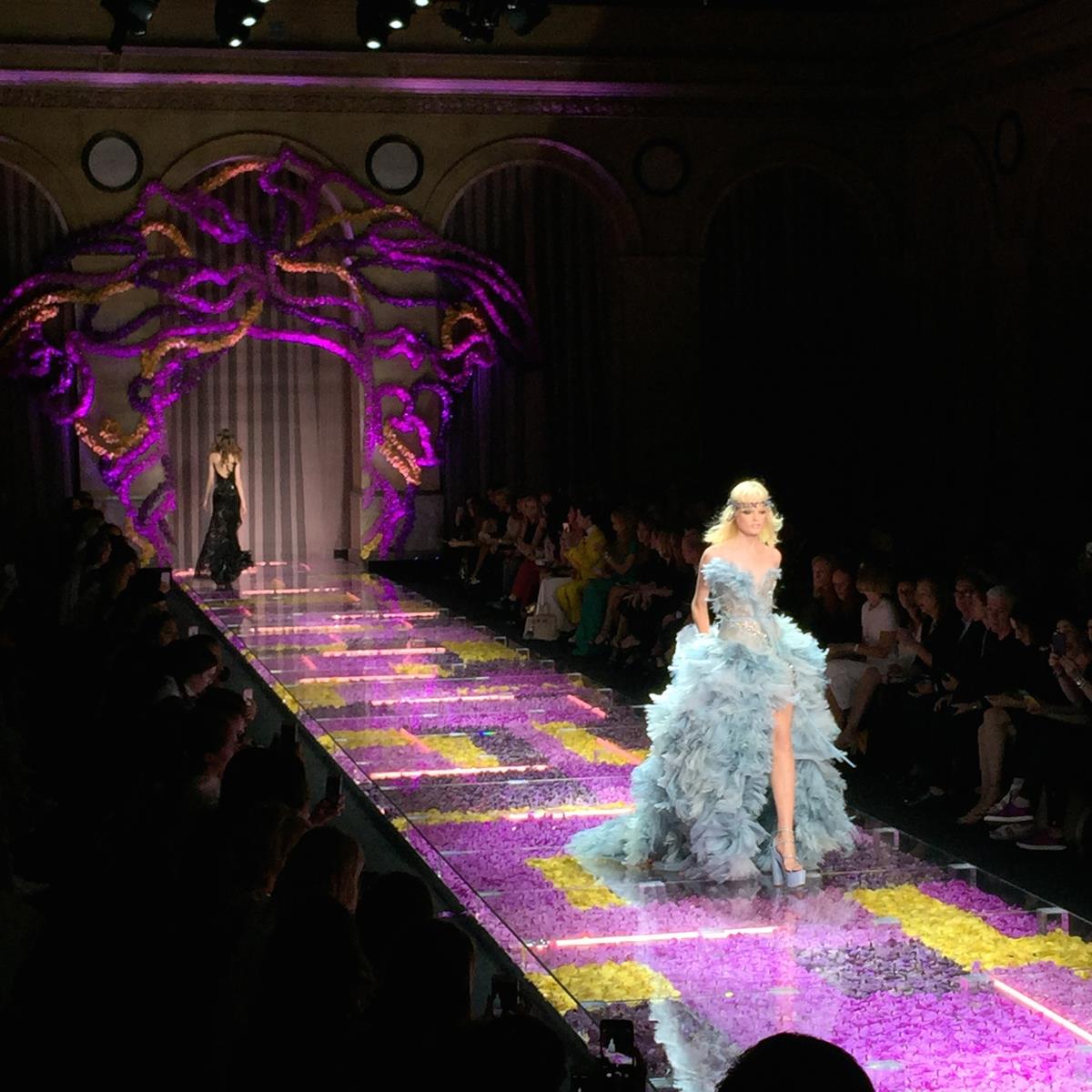 Oggi con la vostra azienda (www.manifestoflowers.com) collaborate con i marchi di lusso più importanti al mondo…da Versace, Givenchy a Bottega Veneta ma vi occupate anche di eventi privati e matrimoni extremely luxury. Nello specifico che cosa vi chiedono le Maison, perché vi scelgono, come le supportate con il vostro gusto personale …e qual è il vostro plus che vi rende unici?
Ken: Le richieste che riceviamo variano da cliente a cliente. Alcuni hanno un'idea molto specifica di ciò che vogliono, altri ci danno una direzione generale e usiamo la nostra esperienza e conoscenza di entrambi i fiori e del marchio, per sviluppare diverse opzioni all'interno dei parametri indicati. Una cosa che ci aiuta a comunicare con "la moda" è che parliamo la stessa lingua. La moda, più della maggior parte delle industrie, è costantemente alla ricerca, prende cose dal passato per ricontestualizzarle per il futuro. Il presente è sempre un progetto in corso, così come cercare di creare qualcosa di assolutamente nuovo. Essere consapevoli di quella tensione e tenere il dito sull'attuale zeitgeist è di vitale importanza per comunicare con il settore moda. Entrambi abbiamo una vasta gamma di interessi culturali e quindi ci sentiamo a nostro agio a fare riferimento a qualsiasi cosa, da Pina Bausch a Lady Gaga.
Bruno: Sicuramente non siamo unici, forse unico è l'approccio al cliente che sa che da noi il "fuori dall'ordinario" è quasi una regola e non si fa scrupoli a domandarci cose particolari. Inoltre grazie ad alcuni dei nostri top clients abbiamo avuto l'occasione di ricevere ordini da personaggi al top della moda e dell'Arte, che ci chiedono lavori spesso ispirati ad una collezione o ad un abito in particolare o semplicemente Hollywoodiani.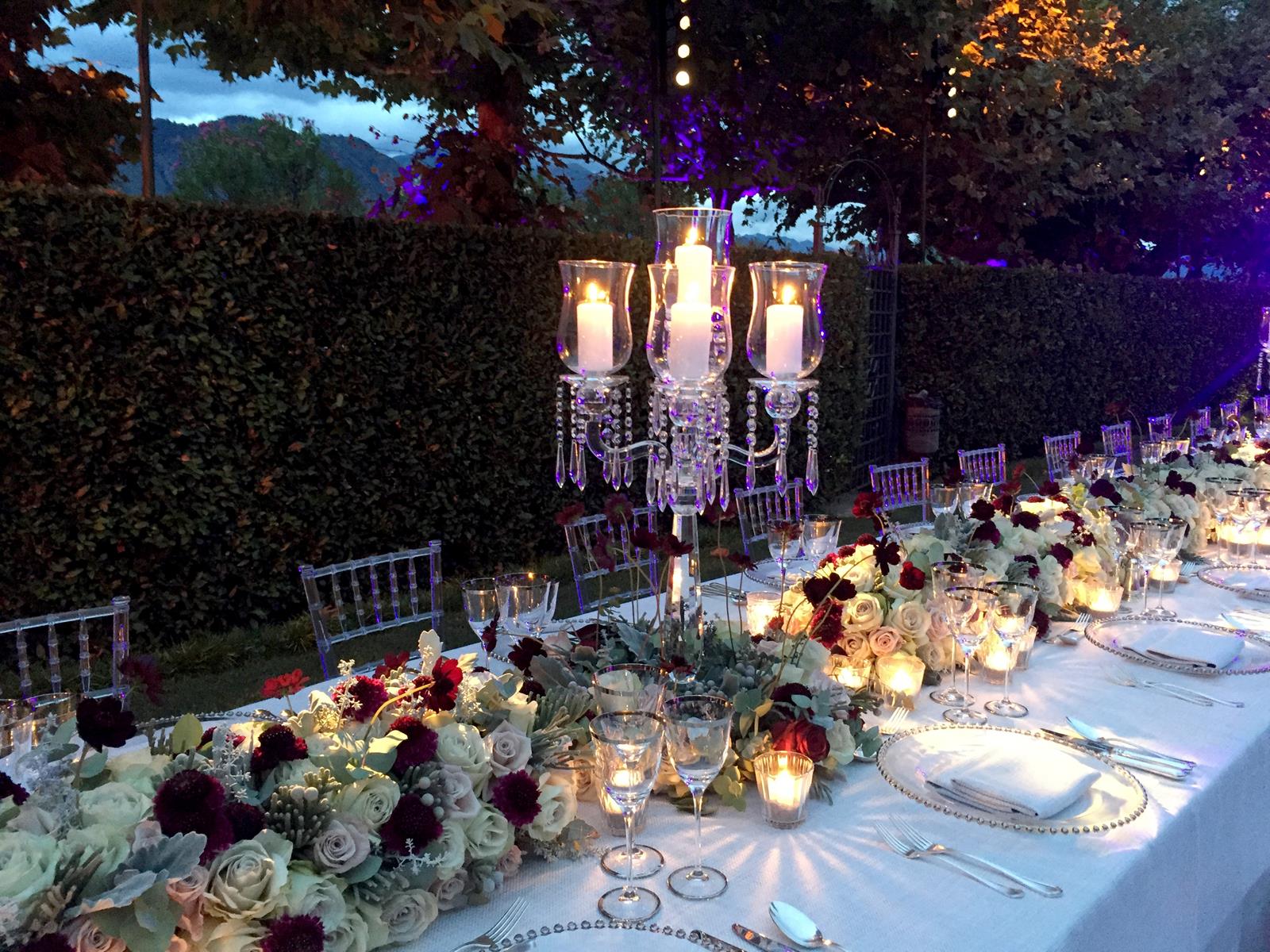 Qual è il giusto tocco floreale da dare ad un evento per renderlo elegante ma con equilibrio in modo che l'allestimento non diventi mai eccessivo?
Bruno: Un allestimento è sempre un gioco di equilibri, l'ambiente e la luce sono degli alleati importanti di cui servirsi. Trovo che il giusto tocco possa essere un utilizzo del fiore a sottolineare l'ambiente senza violentarlo. Vedo spesso dei lavori dove c'è troppa "massificazione floreale", purtroppo si è un po' perso il gusto del dettaglio per il gusto della quantità. Per questo ho voluto chiamare "Bouquet Couture" la nostra nuova linea di omaggi acquistabili su richiesta. Come un abito su misura non sono fatti in serie, domandiamo infatti che il cliente ci contatti per decidere insieme i colori e i fiori che lo comporranno. Il mercato dei fiori on line è molto importante, specie oggigiorno, e ho trovato giusto che Manifesto cavalchi quest'onda a modo nostro, mantenendo la nostra qualità.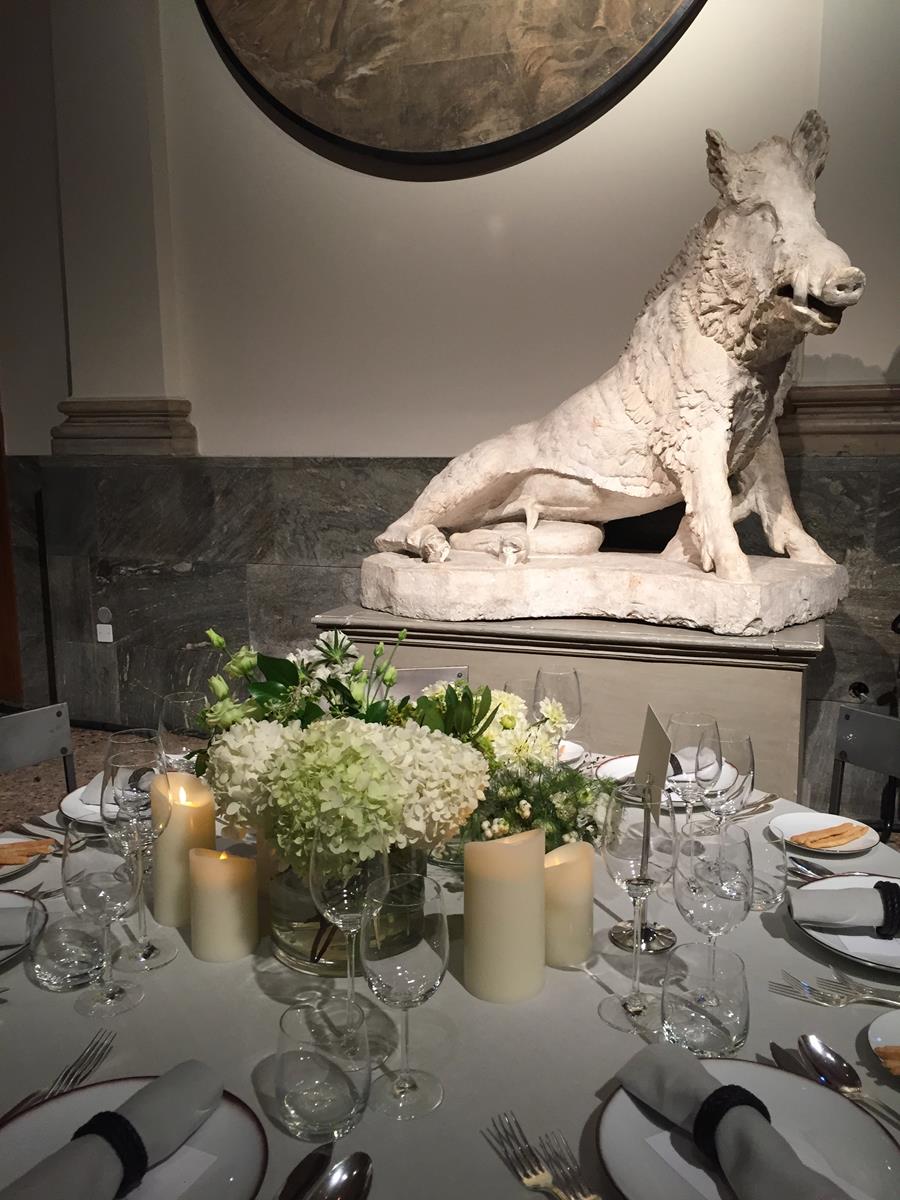 Come vi siete divisi i ruoli in azienda?
Ken: Dato che ho il pollice "nero" e sono capace di uccidere un cactus con un semplice sguardo, i nostri ruoli si sono definiti abbastanza rapidamente. In breve: Bruno è il motore creativo, segue la parte dell'immagine social, mentre io mi concentro sulla grafica, gli account e l'organizzazione.
Bruno: Mi impressiona un pò dirlo, io sono il Direttore Creativo. L' Azienda si è sviluppata da quando ero io a fare i fiori e a consegnarli correndo come un matto. Per anni siamo andati avanti avvalendoci di freelancers per i grandi eventi, ma ora finalmente ho un assistente/braccio destro, Davide, un fiorista bravissimo e un ottimo organizzatore, l'ho soprannominato "il grillo", perché un saggio nel gruppo ci vuole proprio!
Linda Evangelista, Naomi Campbell, Elton John, Christy Turlington, Jennifer Lopez, Lady Diana. E ancora il genio di Gianni Versace e gli anni accanto a lui e Donatella e poi il tuo ruolo come personal manager di Eros Ramazzotti. Le campagne pubblicitarie e i grandi fotografi. Bruno che ricordi hai di quegli anni?
Bruno: Ricordi splendidi.  Ognuna delle persone che nomini e che ho avuto la fortuna di incontrare mi ha segnato. Ho incontrato Gianni e Donatella Versace al Teatro alla Scala, dove stavo seguendo un corso, nel modo più normale possibile. Gianni era Gianni e ammetto che mi è difficile dimenticare l'uomo e ricordare solo il Genio. Donatella, che adoro, avrà per sempre la mia riconoscenza. La sua generosità è unica. Per me c'è sempre stata, non scorderò mai, anni dopo la mia uscita dalla Società, il suo messaggio dove mi chiedeva di occuparci dei fiori per la sua casa. Ho anche avuto la grande fortuna di stare sui set fotografici con dei mostri sacri, Avedon, Weber, Meisel, Thorimbert, Gastel, solo per citarne alcuni e sono esperienze impagabili. Eros, che già conoscevo, mi ha cercato e voluto a tutti i costi anche se sapeva che il mio background era nel fashion. Il salto dalla Moda alla Musica è stato molto interessante, grandi differenze e molte assonanze fra i due ambienti. Avevo mantenuto per me il controllo dell'immagine di Eros, l'ho fatto rischiare un po' di più sul look portandolo da Dolce e sono perfino riuscito ad ottenere il grande onore di fargli avere una copertina scattata da Bruce Weber a Miami. Sono rimasto 10 anni al suo fianco, diceva che saremmo invecchiati assieme, ma poi le donne ogni tanto sanno come muovere le pedine, stavo rinnovando il contratto e le cose sono precipitate. Destino.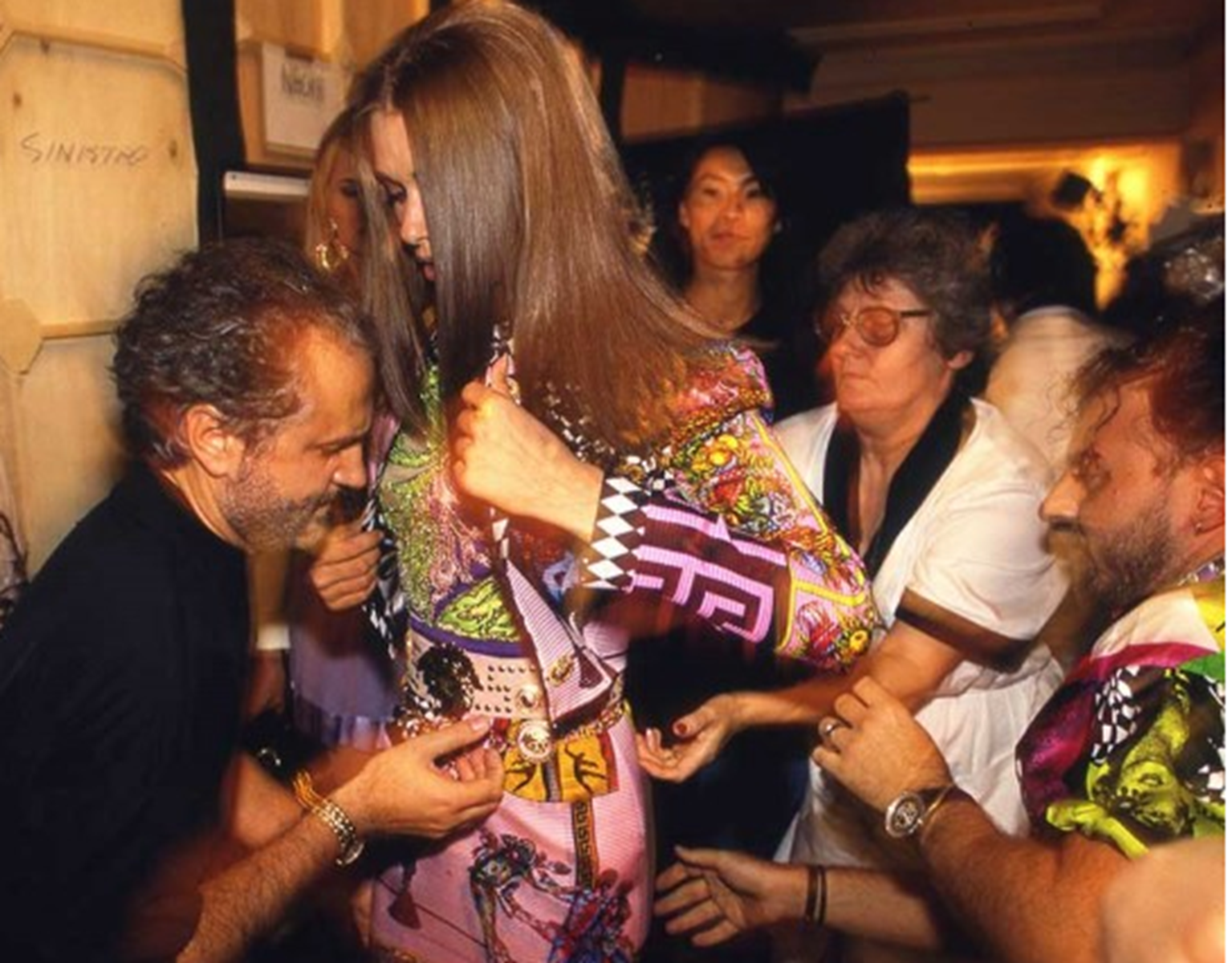 Che cosa ti hanno insegnato Gianni e Donatella Versace?
Bruno: Il rispetto dell'Arte in ogni sua forma, l'uso del colore, il senso della famiglia, il pensare out of the box a costo di scioccare e a saper stare su un set fotografico, ad esempio. Ancora oggi i redattori moda mi chiamano per delle collaborazioni. Ma soprattutto immaginami a 24 anni appena entrato in Versace, quando Donatella mi portò al Superstudio a seguire le immagini della nuova campagna pubblicitaria by David Bailey starring Susie Bick. Dreams…. Cito una frase di Donatella Versace che amo molto: "la creatività nasce dal contrasto fra le idee".  Questo l'ho visto giorno per giorno. Donatella e Gianni erano un team perfetto.
Kenneth oggi come vedi l'editoria e il momento complicato che sta attraversando?
Ken: È certamente un momento difficile per i supporti della stampa, anche prima che il COVID-19 arrivasse a complicare ancora di più la nostra vita. Come la maggior parte delle persone, faccio affidamento sui social media per gran parte delle mie informazioni. Nel bene e nel male, l'ascesa di voci individuali più piccole con un punto di vista specifico ha sfidato l'autorità dei giornali e delle riviste consolidate. Ciò che rimane importante è la voce editoriale della fonte, se hanno svolto le loro ricerche e se presentano un punto di vista equilibrato. Purtroppo, poiché le cose si riducono dalle pubblicazioni del mercato di massa a più prospettive personali su Instagram, penso che i giorni dei servizi di moda a budget elevato potrebbero essere passati. Quando ho lavorato alla rivista Details nei primi anni '90, non si risparmiava affatto, quindi non era un problema mandare, ad esempio, David LaChappelle in giro per l'USA per un mese a fotografare una storia natalizia (che infine non fu pubblicata perche il caporedattore, James Truman, l'aveva odiata dal primo sguardo) o fare in modo che Nitin Vadukal e il suo team passassero una settimana in Alaska per un'altra storia. Con il calo delle vendite, è più difficile per le riviste permettersi questi lussi. E' ormai un sogno.
Quali sono i vostri prossimi progetti?
Ken: Bella domanda. La situazione del COVID-19 ha ovviamente messo in sospeso qualsiasi piano immediato e costretto tutti a ripensare le proprie attività. Al termine, le cose saranno diverse e alcune vecchie abitudini cadranno lungo la strada mentre sorgeranno nuove occasioni. È impossibile prevedere come saranno le cose perché non sappiamo se la vita "normale" riprenderà, dopo quanto e in quale nuova forma. L'impatto finanziario sarà enorme, ma si spera che lo Stato possa aiutare tutte le piccole e medie imprese. Ecco perché paghiamo le nostre tasse, giusto? Vincerà l'Italia che non si arrende, alla fine, ma sarà dura per tutti.
Bruno: Abbiamo fondato Manifesto Flowers senza avere un negozio, per scelta. Ora abbiamo diversi laboratori artigiani dove avviene la produzione, ma il cuore pulsante è il nostro grande Studio/Abitazione a Palazzo Annoni nel Lodigiano, con la gatta che fa le sfilate sulle scrivanie. Una situazione perfetta dove lavorare in sintonia. Sai che da 5 anni le cicogne nidificano sulla torre del campanile vicino casa? Ora stiamo pensando a nuove formule sia di allestimento che di vendita, ma molto conteranno le scelte e gli input che ci daranno i clienti. Gli eventi sono a rischio, ma noi siamo aperti al cambiamento. C'è sempre più voglia di green, confido che il mercato del fiore tornerà ad essere fondamentale per l'industria degli Eventi e del Wedding. A questo proposito una costola di Manifesto Flowers si è staccata ed è nato Manifesto Flowers Wedding, che si occupa esclusivamente di questo settore. Forniamo un servizio a 360 gradi, dalla grafica per la comunicazione, inviti, partecipazioni a – se richiesto – un servizio di Planning, oltreché i fiori, mi pare ovvio. Intanto stiamo lavorando a dei nuovi progetti con alcuni coltivatori per creare delle varietà floreali "uniche" e "dedicate" alle quali dare un'identità e una destinazione precise, ma questa sarà una sorpresa che non posso ancora raccontare.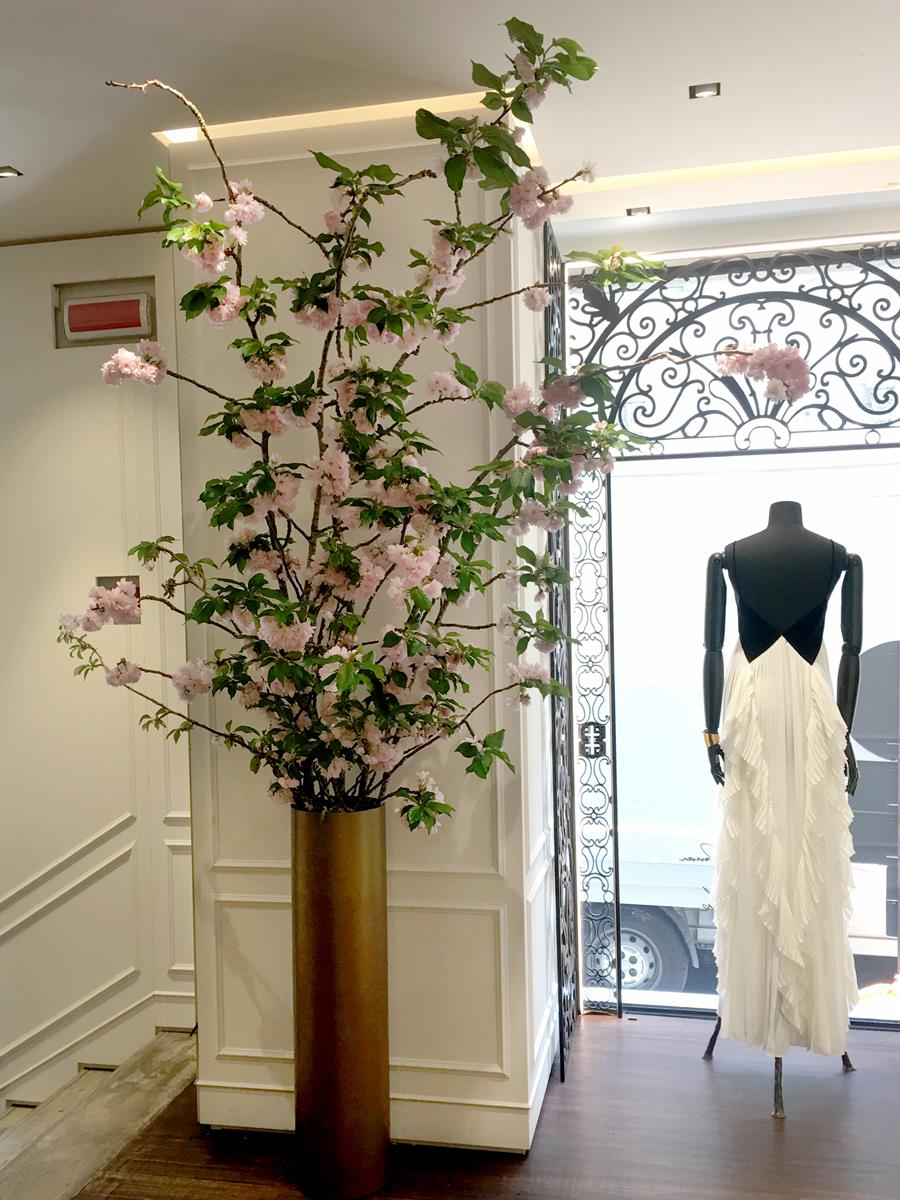 Stiamo vivendo un momento complicatissimo… una pandemia che sta mettendo in ginocchio tutto il mondo… e tutto ciò ci porta forse a riflettere meglio su tanti aspetti della vita. Come state affrontando questo periodo?
Bruno: Con estremo interesse. E altrettanto timore. C'è stato una cambiamento epocale ma ancora non ce ne rendiamo davvero conto.
Ken: Con cioccolato, marijuana e Netflix.
Dalla tv ai giornali … vediamo questi giorni delle immagini che mettono in evidenza come la natura si stia riappropriando piano piano del pianeta… mettendoci – per un periodo – in uno stato di totale isolamento… e facendoci capire che siamo un tutt'uno con essa. Voi che in un certo senso avete scelto di starle accanto quotidianamente … questo suo messaggio lo avevate capito da un pezzo… e secondo voi sarà proprio questa unione la futura e giusta dimensione per tutti noi?  
K+B: Lo speriamo sicuramente! Anni fa Gucci ci chiese – per una campagna pubblicitaria – tutta una serie di oggetti e mobili che la natura stava riprendendosi. Un lavoro certosino per far rinascere degli oggetti con un nuovo abito, il più simile possibile a quanto avrebbe fatto la Natura stessa se fossero stati abbandonati anni in campagna. E qui il mio lavoro diventa scenografia. Quello che sta succedendo oggi nella realtà. L'attuale pandemia è tragica e terrificante, ma è anche un'opportunità per fare un "reset", per pensare a cosa funziona e cosa no in tutti gli aspetti della nostra vita. La causa specifica dell'epidemia COVID-19 non è ancora chiara in questo momento, ma ci sembra evidente che almeno una parte delle cause provenga dall'impatto umano sull'ambiente. Abbiamo cieli offuscati dallo smog, oceani che si riempiono di detriti, terra avvelenata da sostanze chimiche di fabbrica. Speriamo di poter usare questo campanello d'allarme per rivalutare le nostre priorità, mitigare la ricerca dilagante del denaro e sviluppare un apprezzamento e rispetto per la Madre Terra.
Commenti
comments