Si è conclusa la scorsa settimana, l'ottava edizione di Art City Bologna 2020: tante proposte che hanno riunito appassionati e professionisti del settore e non, nel capoluogo emiliano.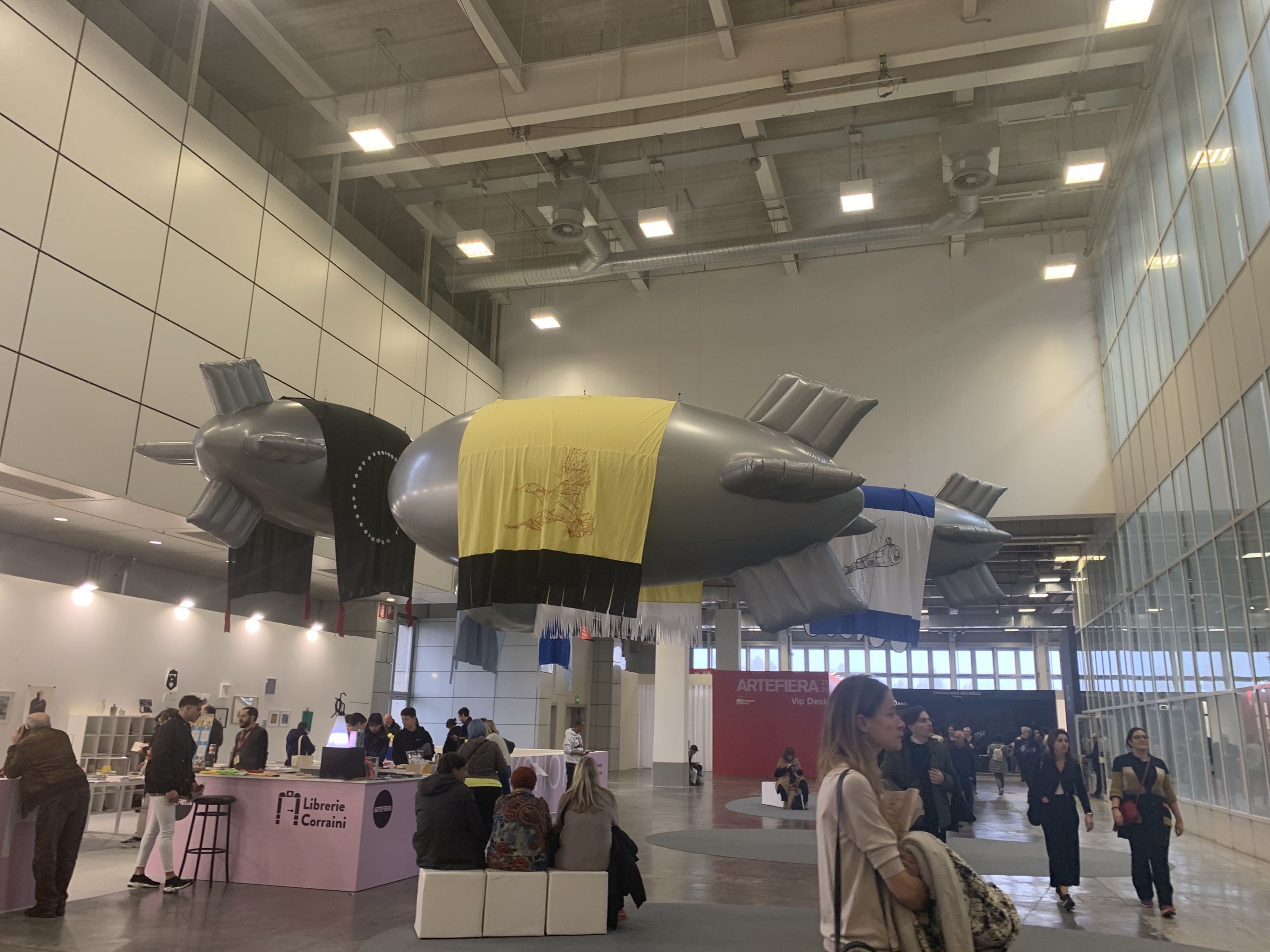 Si è conclusa la scorsa settimana, l'ottava edizione di Art City Bologna 2020: tante proposte che hanno riunito appassionati e professionisti del settore e non, nel capoluogo emiliano.
ARTEFIERA – 44esima edizione
Sebbene la 44esima edizione della fiera (la seconda sotto la direzione di Simone Menegoi) si sia conclusa in positivo, registrando un ingente incremento di fruitori rispetto agli scorsi anni, questa edizione non è risultata viva come le precedenti.
155 gallerie, la maggior parte italiane che hanno esposto artisti storici e, forse, dato troppo poco spazio agli emergenti.
La fiera, alla quale quest'anno si accedeva dal Padiglione Nord, si è sviluppata nei padiglioni 15 e 18. Il fruitore veniva subito accolto da una grande opera di Eva Marisaldi intitolata Welcome posizionata all'ingresso del Padiglione 18.
L'installazione comprendeva quattro dirigibili color argento ornati con drappi ricamati da motivi raffiguranti uccelli, satelliti, stelle e fuochi artificiali. Il secondo intervento dell'artista è stato quello di "personalizzare" le bustine di zucchero -disponibili presso i bar delle fiera e in alcuni selezionati bar di Bologna- con suoi quaranta disegni, in modo da rendere il gesto irriflesso dello zucchero nel caffè un gesto poetico.
Il fil rouge tra i due interventi  è il tema dell'aria, del cielo e del librarsi in alto, come cercano di fare i dirigibili esposti.
Altre proposte interessanti sono i lavori di Ruth Beraha, esposta da NContemporary. L'artista praticava il calcio a livello agonistico, ma ha dovuto interrompere l'attività sportiva a seguito di un intervento alla schiena e nella sua arte trasporta questo suo essere dura ma anche fragile, questa convivenza di due anime in un solo corpo.
La sua poetica si percepisce molto bene da quest'opera: una mazza da baseball realizzata in vetro soffiato colorato di Murano. La mazza è un oggetto prettamente maschile mentre la tecnica ed il materiale usato per la realizzazione, rendono l'oggetto in sé molto fragile e lo connotano dell'aspetto femminile.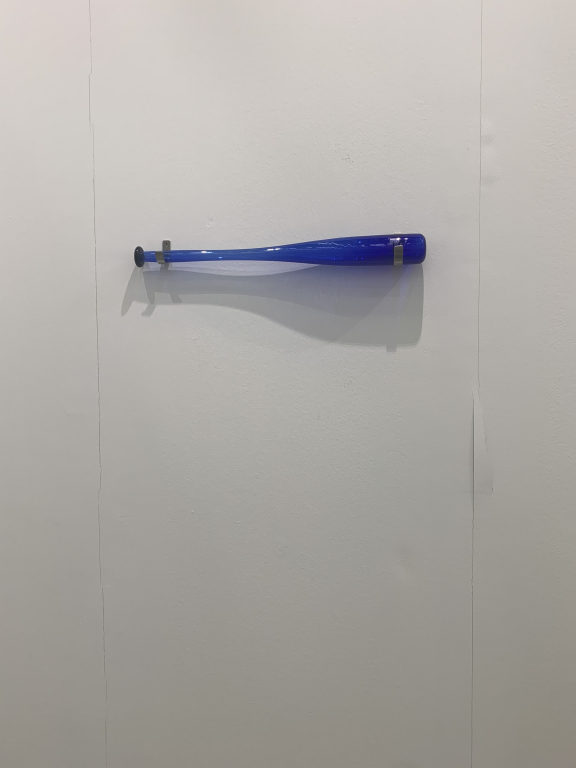 Altro artista che incuriosisce molto è Albert Hein, esposto dalla Galleria Menhir. L'artista costruisce un linguaggio che consiste in segni, numeri, luci, giochi e soluzioni. I neon dei quali si serve, sono necessari a creare una contraddizione tra un luogo comune ed il sofisticato.
Albert Hein è un osservatore che, semplicemente esplorando le situazioni che lo circondano,  ha creato un suo personale codice linguistico il quale indica altri modi di vedere le cose. Questi significati possono essere sviluppati attraverso sottrazioni della componente figurativa, dell'assenza di significato, o della nascita di un senso consequenziale in modo da esporre concetti e, per l'artista, proprio la luce rappresenta un'immagine ed un concetto.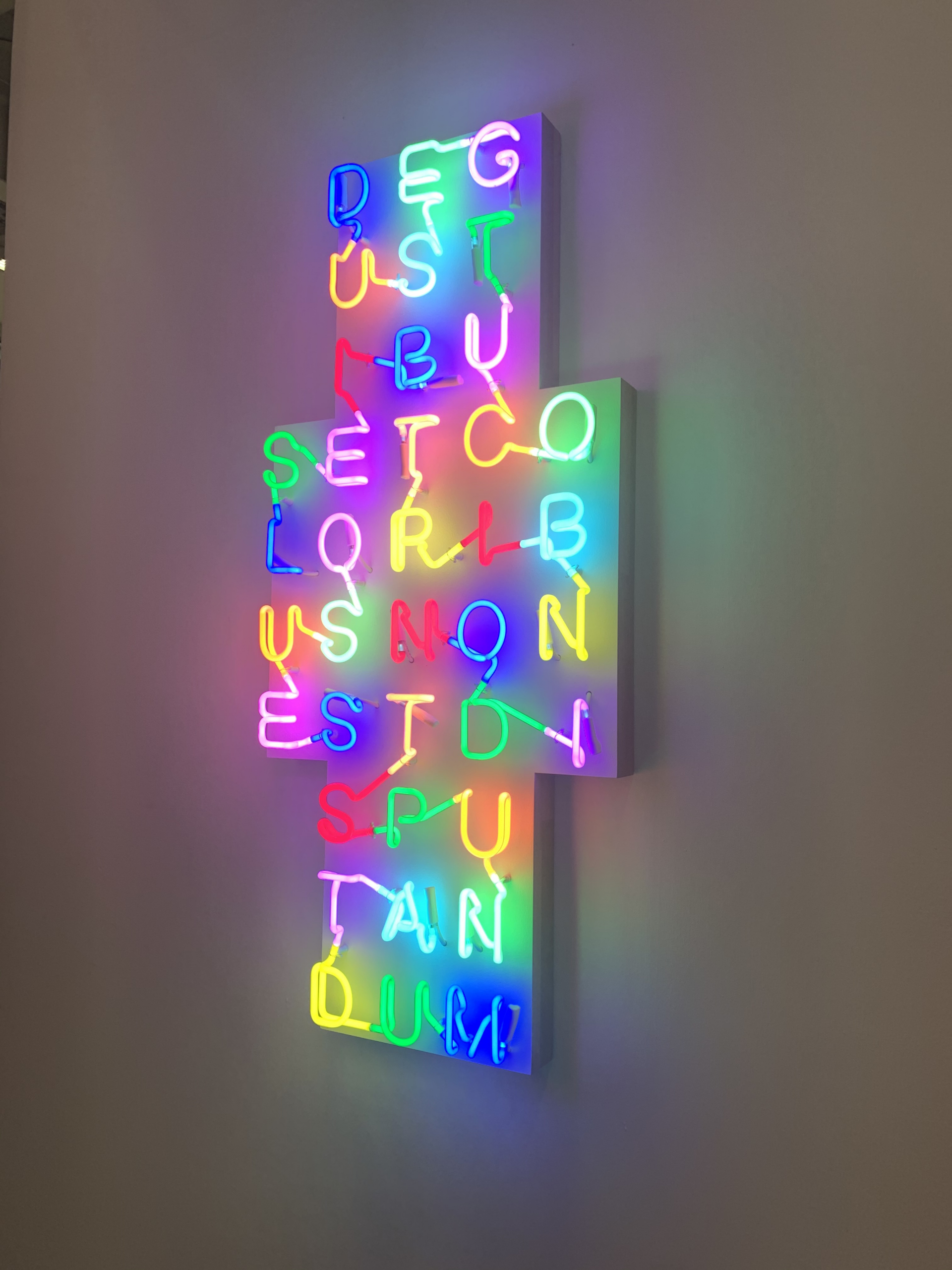 Ora ci avviciniamo in città per parlarvi di una innovativa installazione che, tra le tante, ci ha colpiti di più.
STUDIO  OCULISTICO D'AZEGLIO – Performing clouds – Pareideolie olografiche
dell'artista Michelangelo Bastiani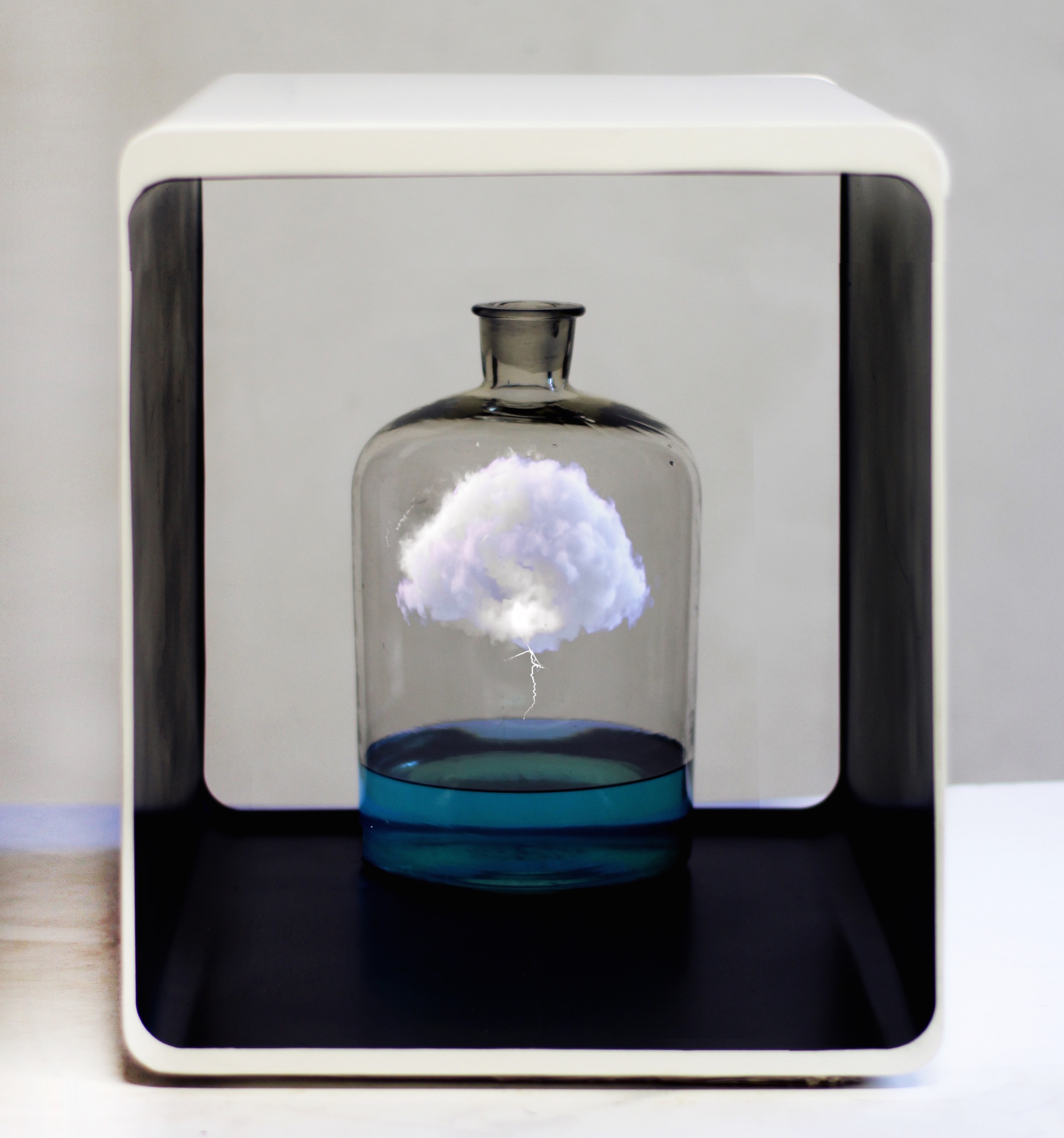 The Beautiful Eyes Series presenta  "Performing clouds", un'installazione olografica di Michelangelo Bastiani, composta da una grande nuvola in movimento, affiancata da altre due nubi in tempesta racchiuse in bottiglie di vetro.
Da sempre la nuvola, per la sua natura effimera e mutevole, è oggetto di osservazione ed immaginazione. Intravediamo nelle nuvole,  profili, volti, animali, forme a noi familiari. L'occhio, attraverso la memoria delle immagini sedimentate nella coscienza, vede altro,  oltre la forma visibile.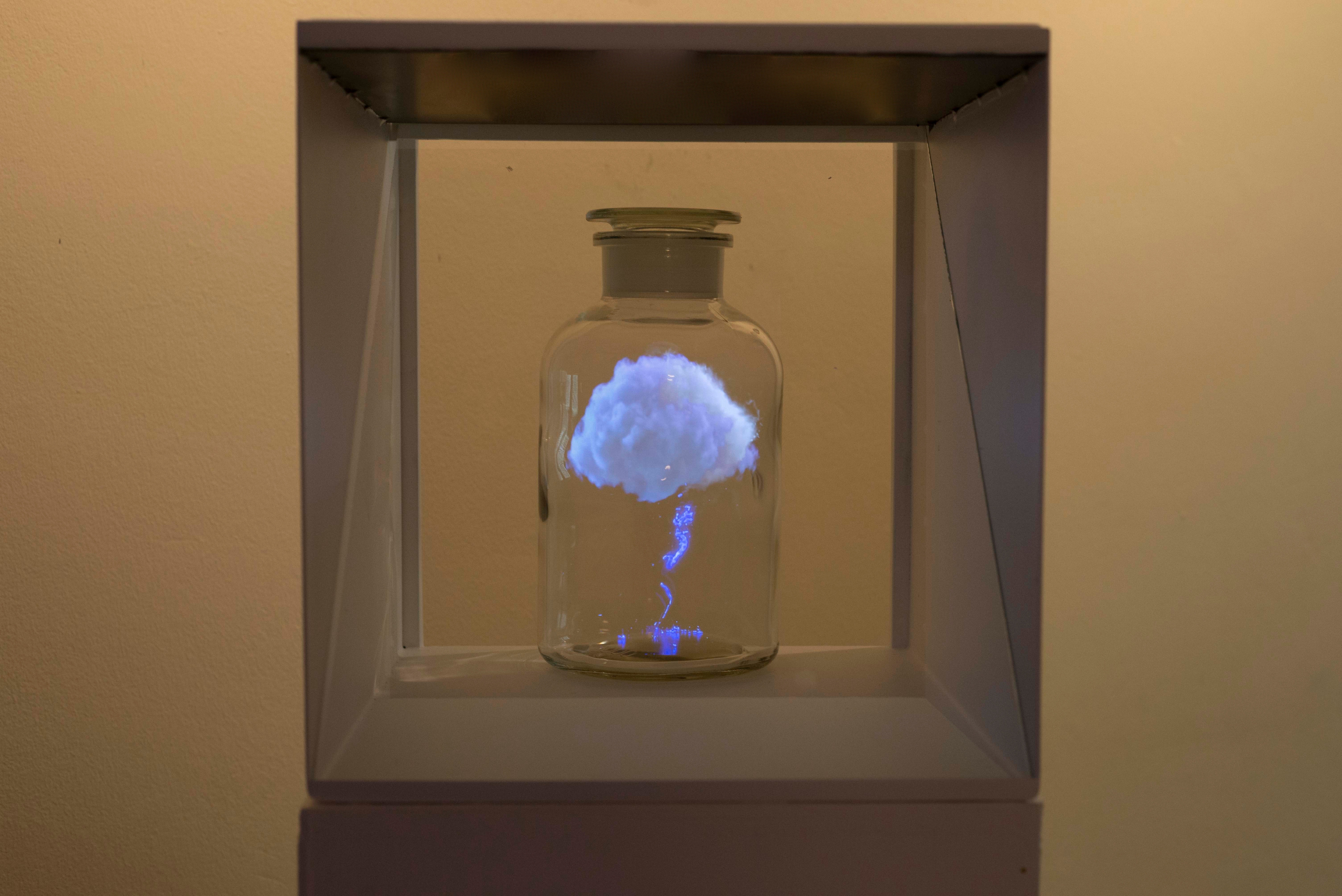 Pareidolia è il termine che meglio spiega questo fenomeno di illusione subcosciente, una caratteristica intrinseca dell'evoluzione del nostro cervello e dei centri adibiti al riconoscimento: vedere per assimilazione e analogia.
La sesta edizione di The Beautiful Eyes Series sarà intrisa di ipnosi, sogno e mistero, come pure di instabilità, tensione e trasformazione. Gli spettatori saranno invitati a contemplare le nuvole. L'ologramma, collocandosi in una sfera di transito tra reale e virtuale, sarà  l'impianto scenico prescelto.
Di seguito, la nostra intervista all'artista, che ci ha fatto molto piacere incontrare.
Cosa la lega alle nuvole?
Le nuvole ti fanno parlare del tempo, influenzano i meteoropatici e i cambiamenti climatici, ti fanno capire che se alzi gli occhi c'è sempre qualcosa di nuovo e diverso da osservare, quindi hanno un ruolo importante per tutti noi. Io le imbottiglio, le uso, le rendo icone delle mie opere, ma la loro natura è librare nel cielo.
L'installazione  è pensata per la fruizione di una larga fascia di pubblico, quindi anche bambini? 
Sì, le mie opere sono pensate anche per i bambini, quindi per il grande pubblico, direi un'arte di democrazia diretta, i bambini sono fruitori importanti, rappresentano la naturalezza, la  spontaneità che è in ognuno di noi. Riescono ad avere un'osservazione libera, senza preconcetti, e sono anche il nostro futuro.
Quanto legame c'è con la sua infanzia?
La mia infanzia è stata bella, avendo avuto una famiglia che mi ha dato molto amore, con mio padre pittore e mia madre scrittrice quindi sensibili alla cultura e alla contemporaneità. 
Ho avuto la fortuna di aver passato la mia infanzia e adolescenza in centro a Firenze vicino a Piazza Santa Croce, tra i luoghi più belli che si possono vivere, era la Firenze degli anni '80 con le grandi mostre di arte moderna e contemporanea.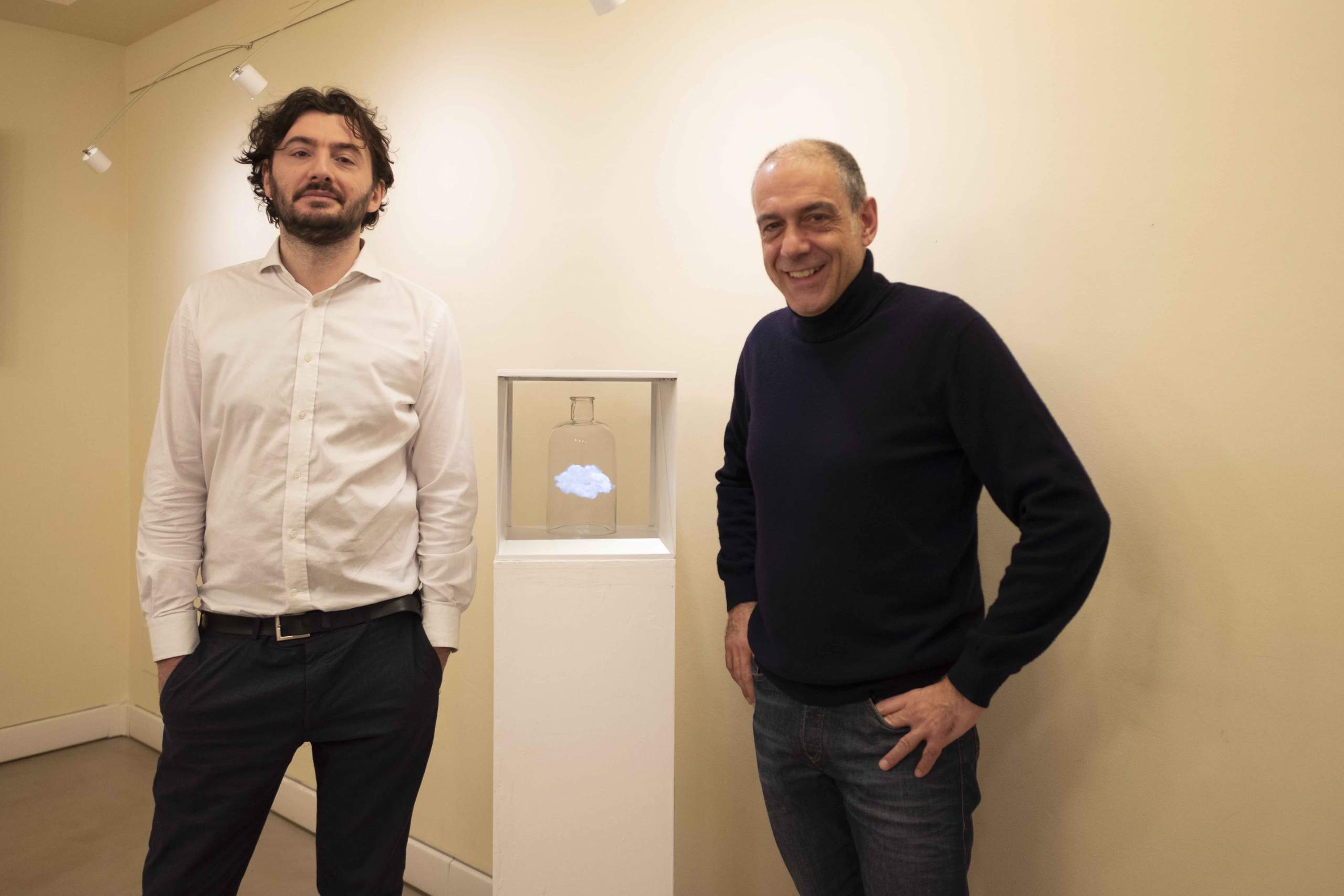 Cosa vuol dire per lei proporre arte oggi?
Sarebbe strano proporre arte per me, perché proporre qualcosa di inutile come un'opera d'arte da chi può essere accettato? Invece fai un tuo percorso, magari realizzi delle opere o forse immagini solo di realizzarle e se vengono apprezzate hai uno stimolo in più per continuare, ma se piacciono a te che le hai create hai già fatto qualcosa di utilmente inutile. 
Ho notato alle mostre le persone chiedono spiegazioni all'artista sulle opere, anche dettagli (almeno per me ininfluenti), penso vogliano soltanto essere rassicurate, ma l'arte crea incertezza e interrogativi a cui io non so rispondere, in quel caso c'è il critico che logicizza la spontaneità e ti fa credere che tutto sia razionalizzabile.
Ultima domanda, prima di ringraziarla, un consiglio che darebbe ai giovani artisti 
Premesso che non sono in grado di dare consigli agli altri, penso che ci siano due strade per essere un professionista nel campo dell'arte ma magari anche in generale, essere bravi in quello che si fa o essere ruffiani e per la seconda c'è sempre tempo e ci sarà sempre qualcuno più bravo di te.
BONUS: Rimarrà aperta al pubblico fino al 3 maggio 2020 ed è stato uno dei main project di ART CITY Bologna 2020, la mostra AGAINandAGAINandAGAINand a cura di Lorenzo Balbi.
La mostra sviluppa il tema della ciclicità e del superamento della rappresentazione lineare del tempo e
si pone l'obiettivo di indagare il tema del loop, della ripetizione e della ciclicità nella contemporaneità, analizzandolo da diverse angolazioni attraverso le opere di artisti che hanno posto l'argomento al centro della propria ricerca. Spaziando tra i diversi media – performance, video, scultura, pittura, fotografia e installazione – il progetto propone un percorso strutturato in ambienti immersivi, caratterizzati da intensità temporali differenti.
Da Bologna è tutto.
Fonte foto: Marzia Musolino e press office Michelangelo Bastiani
Commenti
comments