Si chiude il secondo capitolo del progetto SQUARE x Kenzo Kids, che ci ha accompagnato dal momento del back to school fino all'autunno inoltrato e le prime avvistaglie dell'inverno. Prima di lasciarci travolgere dall'atmosfera festiva, facciamo un veloce ripasso sulle collezioni fall-winter di Kenzo Kids.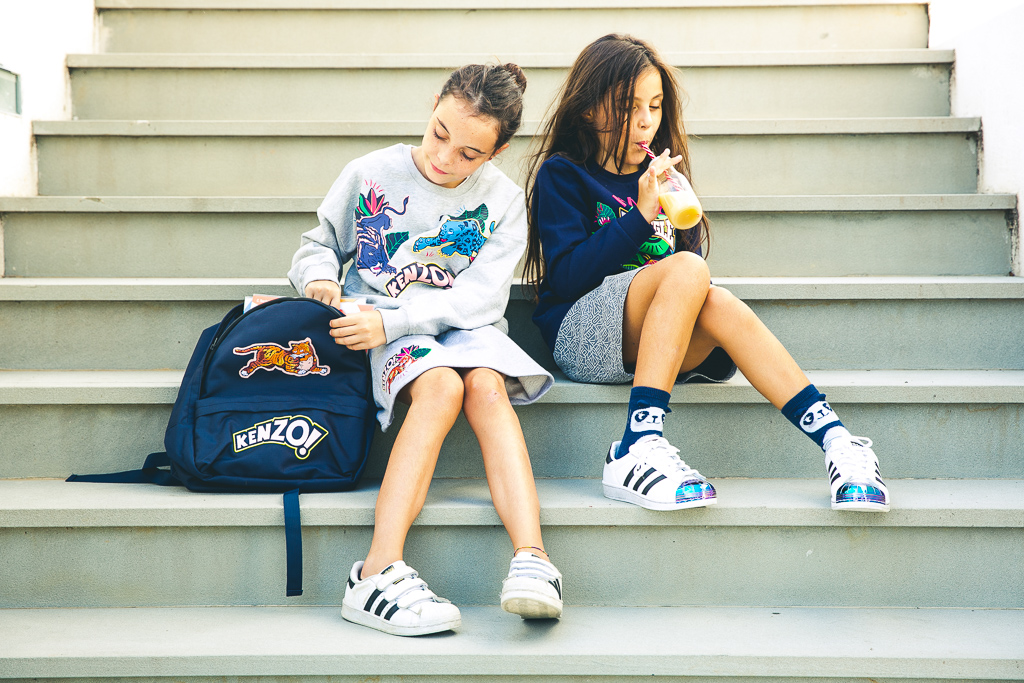 Cosmic, Fantastic Jungle e Frozen sono i tre temi della collezione autunno-inverno di Kenzo Kids. Tre temi che hanno accompagnato il secondo capitolo di SQUARE attraverso gli occhi delle blogger che hanno interpretato i mood della collezione in concomittanza con il ritorno a scuola. Outfit pratici e cool con richiami exotic, tocchi metallizzati e una nuova guest star per l'inverno: il fenicottero.
Cosmic: il back to school cool e urban di Kenzo Kids
Grigio, nero e tocchi metallizzati. Cosmic è senz'altro il tema più urban di Kenzo Kids con le sue felpe bambino e i suoi abiti due in uno in cotone felpato grigio mélange impreziositi da stampe e disegni di un pianeta molto anni '90 che non si separa mai dal suo transistor. Musica, street mood e pezzi versatili che piacciono a piccoli e grandi! T-shirt a maniche corte o maniche lunghe, jeans slim dalla vestibilità stretta, abiti felpati o ancora shorts e vestiti neri con disegni all-over metallizzati.
Per l'autunno-inverno delle bambine, Kenzo Kids introduce anche il velluto nero, nei leggings e nel giacchino abbinato. Tra gli accessori must-have non può mancare ovviamente lo zaino per la scuola, il cappellino con visiera in velluto e il cappello beanie in cotone. Ad interpretare il tema Cosmic, Elise Lefort di The Sparkling Mommy, Giada Lopresti di Mamma Che Vita, Paola Agostini di Sissi World e Anna Bardazzi di 50 Sfumature di Mamma.
Fantastic Jungle: vestiti colorati ed esotici anche per l'autunno-inverno
Chi l'ha detto che l'abbigliamento autunnale debba per forza essere cupo e noioso? Da Kenzo Kids l'esplosione di colore è garantita, specialmente nelle stampe dal mood esotico, in perfetto stile giungla. Tra i protagonisti del tema Fantastic Jungle non poteva mancare la famosissima tigre, presente come un leit motiv anche se spesso si diverte a giocare a nascondino tra le stampe di felpe, abiti in maglia, vestiti ma ancora giubbotti per affrontare i primi freddi con allegria. Maglioncini, sweatshirt di cotone felpato da abbinare con gonne pattinatrici oppure a tanto denim, meglio ancora se maculato tono su tono e impreziosito con qualche patch.
Un tema allegro e movimentato che ha ispirato le blogger a parlarci delle attività extra scolastiche da far fare ai bambini o da praticare con loro, merende colorate e attivi outdoor! Protagoniste di questo tema, Silvia Cattaneo di Insolitamentemamma, Olga Zappalà di Mammaholic e Valentina Piccini di Mamme a Spillo.
Frozen e l'anvangusto dell'inverno
Questo il tema più invernale della collezione di vestiti per bambini Kenzo Kids. Maglia, denim, parka con cappuccio bordato di eco fur e una meravigliosa pelliccia arancione per trascorrere l'inverno in modo vitaminico! Un abbigliamento per bambini juicy, con capi caldi e colori vivaci, nonché con una guest star speciale: il fenicottero vestito a tutto punto per l'inverno, pronto a sfrecciare sulle piste da sci. Un tema caldo e allegro, che ci da voglia di abbracciare l'inverno, le sue giornate fredde, la prima neve magari, le passeggiate fuori con il naso arrossito dal frescolino e le mani al calduccio nelle tasche del cappotto. I pomeriggi di relax a casa, a giocare tra fratelli, leggere un libro vicino al camino, oppure a fare merenda con una gustosa cioccolata calda!
A parlare del tema Frozen con i loro bambini, Giorgia Mantica di Mamma Glamour, Fabrizia Spinelli di Cosa Mi Metto e Mariangela Monti di Moms About Town.
Scopri la nuova collezione Kenzo Kids
Commenti
comments