Fabio Di Liberto, brand director di ISKO, ci parla del nuovo progetto che coinvolge e premia giovani designer.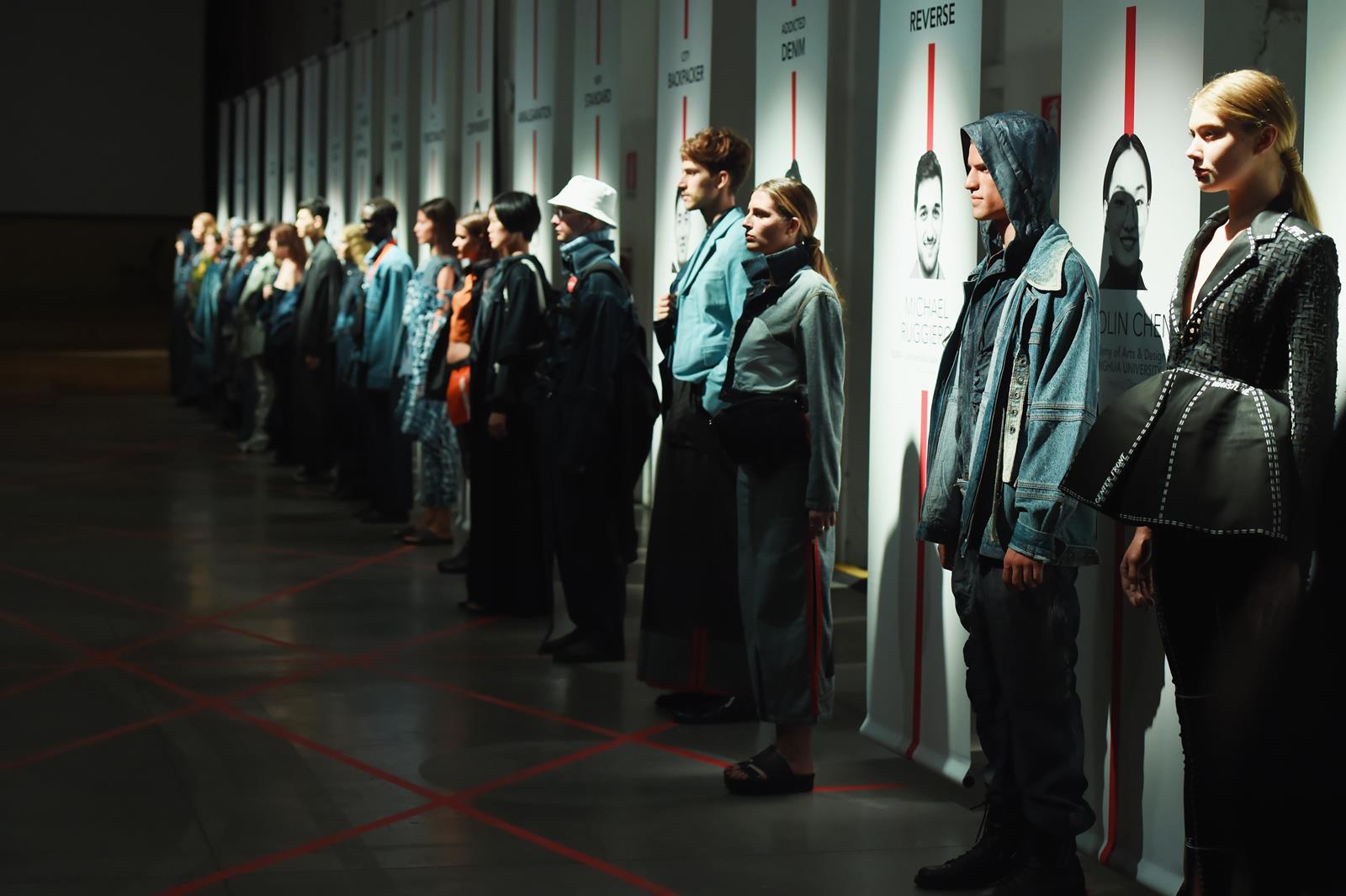 Quest'anno è stata la sua quinta edizione. Ovvero quella di un appuntamento internazionale strettamente legato al talento, al discorso creatività uguale ad evoluzione, uguale a giovanissimi che guardano al futuro: dello stile, della moda e del mercato.
GUARDA ANCHE: Stefano Secoli fa scuola, e non solo di moda: "Le strategie devono farle i giovani"
La location è stata il milanese BASE che ha visto svolgersi – a Luglio – il Gran Finale di ISKO I-SKOOL®, il progetto educativo dedicato ai protagonisti della moda di domani che ha coinvolto gli studenti delle migliori università al mondo.
Così qualche mese fa durante l'evento conclusivo –  alla presenza di professionisti internazionali del mondo della moda, della comunicazione, del marketing e di personalità di spicco del settore – sono stati annunciati i nomi dei vincitori.
Il progetto è promosso da ISKO, la "potenza" aziendale internazionale turca che sta dietro alcuni dei jeans più famosi e amati al mondo.
Ecco allora che gli studenti si sono così sfidati all'interno del Denim Design Award e del Marketing Award – i due rami in cui si articola il contest – muovendosi in linea, con il tema creativo di quest'anno: "UnDocumented".
L'omaggio creativo è al denim quindi! Il denim come forza, storia e avanguardia e come segno futuro di domani. Una sfida alla sua interpretazione… il denim visto anche come propulsore dei cambiamenti ancora da documentare.
In particolare, il tema rappresenta sia l'unione tra ciò che è stato (Documented) e ciò che sarà  ovvero con la possibilità di oltrepassare qualsiasi limite fisico e geografico senza barriere o costrizioni.
Main sponsor dell'evento sono stati Lenzing Group – leader internazionale per la produzione di fibre di alta qualità ottenute da materie prime rinnovabili di origine cellulosica, prodotte tramite tecnologie sostenibili e innovative – e Reca Group, azienda che progetta e produce etichette, packaging e molto altro per il mondo della moda.
I vincitori ISKO I-SKOOL® sono stati:
Vincitore dell'UnDocumented Award: GINA PALJUSEVIC, Parsons School of Fashion
Vincitore della Sportswear International's Special Mention: AMELIE SOPHIE AMANN, AMFI – Amsterdam Fashion Institute.
Vincitore dell'UnDocumented Award: JAEHA IM, ESMOD Seoul
Vincitore del Best Denim Showpiece Award: ZHUOLIN CHENG, Academy of Arts & Design, Tsinghua University
Vincitore del Certified Responsible Innovation Award: NIKITA SUGIYANTI DOMPIG, AMFI – Amsterdam Fashion Institute
Vincitore del Alternative Fibers Award: ANDREA GROSSI, Polimoda
Vincitore del Reca Award: NIKITA SUGIYANTI DOMPIG, AMFI – Amsterdam Fashion Institute
Vincitore del Lectra Award: MARIA CAPELLARO, NABA.
Vincitore del Sustainable & Circular Design Award: LUCILA NAIR PIERES, Istituto Marangoni
Vincitore della Vogue Talents Special Mention: RUI ZHAO, Beijing Institute of Fashion Technology.
Un progetto che questa settimana ho voluto approfondire – per Focus On –  con Fabio Di Liberto, brand director di ISKO.
Com'è nato il progetto? Il progetto I-SKOOL® è nato cinque anni fa con l'idea di portare intorno ad una piattaforma tutta la filiera e condividere anche attraverso questa, con i nostri partners e i giovani talenti la nostra passione e competenza sul denim. Negli anni poi questa piattaforma si è evoluta ed abbiamo inglobato un numero crescente di scuole. Siamo così passati da una decina di scuole nel corso della prima edizione, a quasi 40 scuole internazionali quest'anno, con una selezione di circa 250 studenti nell'edizione attuale (siamo alla quinta edizione). Nel corso dell'evento di questo Luglio erano presenti i 20 finalisti selezionati proprio tra questi.
Con quale criterio vengono selezionati i ragazzi?  La selezione è fatta insieme con i mentors delle varie scuole. Intanto gli studenti devono fare "centro" ed interpretare creativamente il tema affidato. Inoltre devono avere anche un occhio alla commerciabilità dei pezzi che disegnano, devono sapere interpretare il tema della responsabilità, della sostenibilità, sulla base degli input forti che noi diamo all'inizio del progetto e attraverso tutte le varie fasi di questo. Diciamo che sono studenti che devono stupirci con idee forti, quindi –  con l'aiuto dei mentors delle scuole e con i partners coinvolti nel progetto – facciamo una selezione via via sempre più fitta fino ad arrivare ai nostri 20 finalisti che poi sono quelli che hanno sfilato a Luglio a Milano.
Come viene scelto il tema?  Il tema lo scegliamo noi. Abbiamo una piccola commissione interna in ISKO e da due anni abbiamo creato dei temi coraggiosi. Abbiamo cominciato l'anno scorso con la celebrazione dell'universo delle identità possibili tema al quale gli studenti hanno risposto benissimo ognuno chiaramente attraverso la propria cultura, le proprie "lenti" ed esperienza. Questo anno con Undocumented abbiamo chiesto agli studenti di documentare ciò che ancora non lo è stato, usare quindi la loro creatività per tracciare dei nuovi confini della conoscenza. Crediamo che questo tema sia molto attuale sia perché riguarda la creatività sia perché riguarda il ritracciare i confini geografici visto che si parla tanto di muri, di divisioni e di valichi anche impossibili. Devo dire che molti di loro hanno interpretato il tutto in una maniera brillante e poetica … gli abiti diventano quasi delle case, un kit per attraversare una città o un deserto. Hanno devo dire dimostrato una grande sensibilità…
Avrete a che fare con i "millennials" …. che parlano proprio un altro linguaggio? Devo dire che sono aperti, sono curiosi, poco fedeli alle storie alle quali non credono. Sono interessati alla verità, mescolano, scrutano, non hanno preconcetti, sono ripeto molto più aperti … e forse anche meno legati ad un marchio astratto e che condiziona… e usano l'acquisto come arma politica scegliendo marchi che hanno una storia vera autentica, tracciabile e trasparente. Questa è stata un po' la nostra sfida nel Marketing Award. Abbiamo chiesto a questi giovani talenti di pensare a dei marchi che abbiano voglia di raccontare una storia trasparente, di responsabilità e la loro risposta è stata davvero interessante.
Secondo te la moda che direzione sta prendendo? Secondo me la moda sta attraversando un periodo di ripensamento sia da dentro e sia da fuori …. Siamo arrivati ad un momento abbastanza importante nel quale bisogna affrontare un cambiamento radicale. Siamo tanti, stiamo crescendo in questo pianeta e le risorse sono limitate, non c'è un piano B. Il concetto della moda stagionale non può esistere come è stato finora, questa è la mia personalissima visione … Questo non significa che il sistema moda deve collassare ma come in tutte le crisi ci può essere vita. Mi piace pensare che questo possa essere un momento di ripensamento forte. Il sistema moda esiste perché ci sono là fuori delle persone che la sostengono, i consumatori, ovvero persone che acquistano e decidono di investire in esperienze, in prodotti e in servizi. Vorrei che la moda prendesse spunto da altri settori penso per esempio al settore della mobilità urbana, penso alle biciclette o macchine on demand  … dove si passa da un concetto di possesso al quello di pagamento per l'utilizzo di un servizio. Alcuni marchi per esempio lo stanno già facendo pensando a modi diversi di "servire" e questo non significa non fare business ma cambiare il modo di farlo. E mi piacerebbe che anche nella moda più tradizionale ci sia un modo diverso di produrre e di costruire… e i nostri ragazzi devo dire che hanno già dato delle risposte. I millennials   ma ancora di più la generazione Z sanno le orme che lasciano su questo pianeta … insomma direi che mi piace pensare che le persone possano avere un effetto positivo anche sul sistema moda.  
Quali sono i vostri progetti che puoi anticipare? Sono progetti che sostengono i nostri valori di marca, quindi di innovazione responsabile sicuramente anche per aiutare quelli che si chiamavano un tempo consumatori, a capire, quindi a fare delle scelte responsabili e questo in partnership con i nostri partners e customers che decideranno di fare questo storytelling integrato con noi. Diciamo che la moda adesso richiede trasparenza .. Un tempo i marchi erano la storia ed erano sufficienti adesso serve trasparenza, serve tracciabilità e noi ci siamo! Proprio per riuscire a portare più valore ai marchi.
Commenti
comments