Nel 1989 una setta di poeti estinti turbò le notti di una quota importante della popolazione. Leggenda vuole che si trovassero nottetempo in una grotta nel bosco non lontano dal loro college e che si divertissero a leggere insieme, soprattutto poesie, coltivando sogni di rivoluzione personale o planetaria, ognuno a modo suo.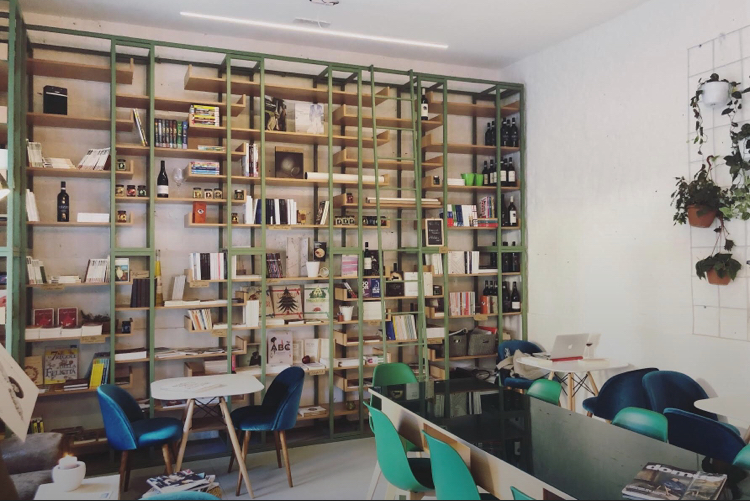 Passavano del buon tempo insieme, scambiando parole. Walden è un caffè letterario nato a Milano con l'idea di far rinascere quella alchimia, dove le parole diventano micce su idee da far girare per vedere fin dove arrivano.
I quattro fondatori portano in dote chi l'attitudine manageriale, chi quella filosofica, cioè il principio secondo il quale il pensiero è lo strumento per riconoscere e capire il mondo. Walden si definisce anche hub cioè un punto dove arrivano e partono iniziative e persone, sempre con le loro parole al seguito, dove le idee capitano, magari mentre si assaggia un piatto nel bistrot interno, rigorosamente veg. In via Vetere a Milano si riscopre come possa essere piacevole rovistare fra i propri pensieri e quelli dei libri sugli scaffali, da scegliere con calma, riprendendosi il tempo. Abbiamo chiesto a Leonardo Caffo, filosofo e co-fondatore, i perché di questa idea e il futuro che immagina.
Walden: words and good time. Il desiderio di good time è facile e non conosce crisi, mentre le parole richiedono ascolto e pensiero: scommettete che non siano merci così rare? L'idea di Walden è venuta all'improvviso dopo che Paolo Augugliaro, amministratore della nostra società, ha coinvolto me, Antonio Inserra e Matteo Pitanza con l'idea di creare un caffè letterario. Abbiamo subito capito che se il modello era interessante stava però a noi reinterpretarlo radicalmente fino a trasformarlo in un bistrot e hub di eventi in cui il filo comune fosse appunto il "tempo" da trascorrere all'interno del nostro spazio. Il "Tempo" perso, quello ritrovato, quello che rimpiangiamo, è come se Walden fosse lo spazio del tempo che una metropoli come Milano rischia di sottrarci: libri, cibo, eventi, incontri, tutto ha la funzione di rendere ascolto e pensiero qualcosa di unitario. E sì, ci scommettiamo.
'Walden' o 'Vita nei Boschi' è il libro di Henry Thoreau dove si trova un passaggio che ha probabilmente segnato una generazione. Lascio a voi dire quale sia e perché lo avete scelto, oggi. Sì certo, l'andare nei boschi per non rischiare di non aver mai vissuto a cui ti riferisci è stata una delle considerazioni che ci ha portato al nome "Walden". L'idea è che il concept dell'imprenditoria sia dato da quello della filosofia e qui sì che è una vera scommessa. Come tradurre idee radicali come quelle di Thoreau sul cibo, l'architettura o la natura in un prodotto e servizio? Speriamo di avercela fatta ma il giudizio, quello no, non spetta a noi.
Avete deciso di ospitare solo editori indipendenti. Che ruolo ha l'editoria indipendente oggi secondo voi, in particolare in Italia? Tutto, libri compresi, viene venduto con l'idea di agevolare chi crede nel progetto: l'indipendenza, sia nei cibi che nei libri, è il nostro filo conduttore. Si tratta di far passare l'idea che si possa ancora fare impresa e cultura dal basso e riuscire a trasformare tutto ciò in un'impresa e non solo in una resistenza. Da poco ho partecipato come rappresentate di Walden a un dibattito con Gogol and company e Libreria Volante al salone del libro "Tempo di Libri" invitati dall'AIE: noi tutti crediamo che la libreria sia soprattutto impresa, economia, e non solo resistenza.
Il bistrot di Walden è veg, che legame vedete fra questa scelta e le altre scelte forti che caratterizzano il vostro spazio? Semplice: siamo per l'orizzontalità e contro la discriminazione. Non potremmo mai esserlo fino in fondo uccidendo o sfruttando animali. L'alimentazione del futuro, anche solo per motivi ecologici o economici, è veg: noi siamo il futuro aspettando che il futuro ci raggiunga.
Cosa succede da Walden? Perché vale la pena di uscire di casa e venire a scoprirvi? Succede che si viene in Via Vetere 14 a qualsiasi ora (dalle 9 di mattina a mezzanotte), eccetto il lunedì, magari con il ricordo di cosa è stata prima questa via: spaccio, droga, movida selvaggia. Poi appena entri ti accorgi del progetto e di quanto stiamo rivalutando il quartiere: ti siedi, poi mangi, poi ti alzi e bevi, poi magari può capitare che balli, che leggi un libro, che ascolti o partecipi a un dibattito e che la domenica ti fai anche un brunch. Il più delle volte capita che quando chiudiamo la saracinesca, verde anche quella, sei ancora dentro e ti porti a casa un vino, una rivista, e un pezzo di cuore.
Come vedete oggi la città di Milano? Che tipo di trasformazione vedete, se la vedete, e in che modo vorreste farne parte? Come ho già detto, anche per me che Milano l'ho studiata bene per "insegnarla" agli studenti, siamo nel ventre creativo dell'Italia: ma a furia di creare, onestamente, vediamo solo differenza e ripetizione. Abbiamo cercato di inserirci nel tessuto imprenditoriale e culturale di Milano creando un'idea tentacolare su vari fronti che suggerisse un nuovo modo di vivere e interpretare la città. Milano cambia rapidamente e negli ultimi dieci anni in cui io, Paolo, Antonio e Matteo l'abbiamo abitata, siamo stati osservatori di un movimento rapidissimo architettonico, economico, politico: diciamo che abbiamo fatto tesoro di ciò che abbiamo visto, abbiamo unito le nostre competenze, e siamo saliti in sella a un cavallo in corsa. Speriamo di non cadere!
Commenti
comments