Philipp Plein ha sfilato sulle passerelle della New York Fashion Week con la collezione autunno inverno 2018 2019.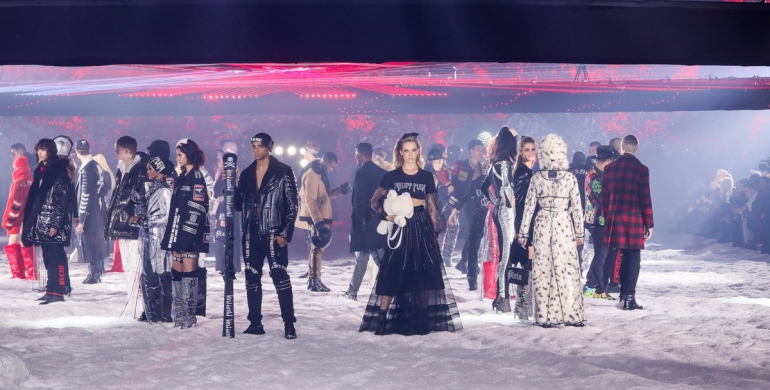 Philipp Plein ci porta nello spazio. Il brand sfila sulle passerelle della New York Fashion Week e ci conduce nella galassia.
La scenografia vede protagonista una navicella spaziale illuminata da 800 luci laser da cui esce Irina Shayk. L'odissea spaziale delle collezione autunno inverno 2018 2019 di Philipp Plein ha inizio in un clima lunare.
Questa stagione i brand dell'universo Plein sono riuniti in un unico spettacolare show a Brooklyn. La collezione uomo e donna Philipp Plein e Plein Sport vengono presentate in un unico show caratterizzato da un casting eccezionale composto da Migos, Rich the Kid, Ayo & Tayo e l'artista Alec Monopoly.
GUARDA ANCHE: Coach sfilata autunno inverno 2018 2019, tutti i look
Barbarelle con enormi parrucche pastello, tute metalliche e dopo-sci in pelliccia incedono audaci insieme a astronauti contemporanei con giacche borchiate e denim decorati con una striscia rossa. Impermeabili trasparenti in plastica, piumini spaziali, tute specchiate si mixano a pantaloni in latex, occhiali rotondi e snow hoverboard.
Tutine elasticizzate, stivali over the knee e borse teddy bear ricoperte di cristalli brillano come le costellazioni. E' un 'sci-fi fantasy' dove lusso, street-style e sportwear collidono come nell'esplosione di una
supernova.
Per festeggiare l'apertura del pop up store al 40 di Mercer street, sfilano anche alcuni pezzi della capsule see now buy now del concept store di Soho. I must di questa collezione sono la baseball jacket in pelle decorata dalla scritta 'No mercy on Mercer Street 40', le high top sneakers con scritte led personalizzabili e la collaborazione speciale con Playboy caratterizzata dall'iconico coniglietto pleinizzato con le ossa del teschio, simbolo del brand.
Commenti
comments