Lei è una delle top model più famose al mondo. Dal successo in passerella agli scandali legati al mondo della droga. Ecco chi è Kate Moss.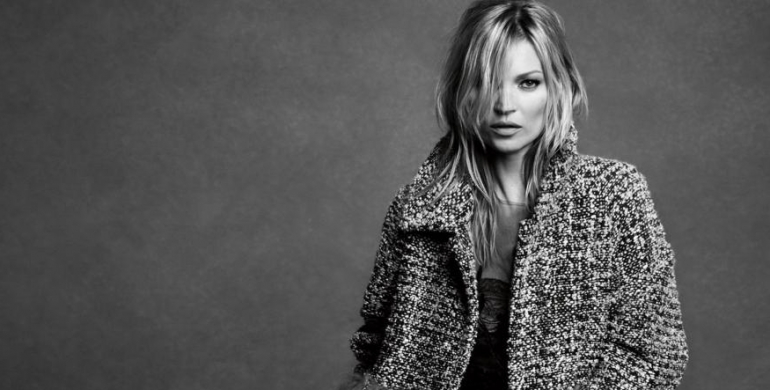 Nata il 16 gennaio del 1974, Kate Moss è diventata negli anni una vera e propria icona del mondo della moda, tanto da comparire su oltre 300 copertine delle riviste più note.
Nasce a Londra in una zona periferica e il mondo delle passerelle non è certo il suo primo desiderio, anche perché la sua fisicità non era in linea con i canoni di bellezza dell'epoca. Erano infatti donne come Claudia Schiffer e Cindy Crawford ad incarnare la perfezione.
GUARDA ANCHE: Kate Moss svela la sua vita privata in un'autobiografia
Nonostante ciò, nel 1990 viene ingaggiata per fare un servizio fotografico realizzato dalla rivista inglese The Face, che fu un grande successo, tanto da fare di Kate Moss uno dei volti noti del mondo del fashion.
A partire da quel servizio fotografico per Kate Moss si sono susseguite una serie di proposte lavorative decisamente interessanti, a partire dalla campagna pubblicitaria firmata Calvin Klein. In seguito la modella si è trovata ad essere l'assoluta protagonista delle copertine di Harper's Bazaar, Vogue, Allure, Elle e una delle preferite del fotografo Peter Lindbergh, che ha inserito il nome di Kate Moss nel libro sulle 10 donne del momento.
Il successo per Kate Moss è cresciuto in maniera esponenziale durante gli anni, portandola a sfilare per le più grandi ed importanti maison di moda come Gucci, Louis Vuitton, Versace, Dolce&Gabbana, Calvin Klein, Roberto Cavalli, Chanel, Missoni, Dior, Yves Sain Laurent, Longchamp, David Yurman, Burberry, Stella McCartney e altri ancora.
Conosciuta nel mondo come Queen of Cool, la modella, insieme alla fama e ad una carriera invidiabile, ha raggiunto anche un profitto economico da record, arrivando a guadagnare oltre 10.000 dollari al giorno.
Accanto al nome di Kate Moss, tuttavia, non ci sono solo elogi. Il primo scandalo nacque nel 1995 quando la top model si trovò protagonista della campagna pubblicitaria di Obsession di Calvin Klein: fu il suo apparire "poco vestita" a suscitare enormi polemiche, tanto che la campagna venne ritirata dopo alcuni giorni dal debutto.
Kate Moss: lo scandalo cocaina e le ripercussioni sulla carriera
Il 2005 è l'anno più nero della vita di Kate Moss, non solo da un punto di vista professionale. Era infatti settembre quando il Daily Mirror pubblico le fotografie che cambiarono il corso della sua carriera.
Le immagini in questione, infatti, ritraevano Kate Moss in compagnia del fidanzato Pete Doerthy (cantante e musicista) mentre consumano cocaina.
Inutile sottolineare le ripercussioni del servizio. In seguito alla pubblicazione di queste inequivocabili immagini, molti dei contratti di Kate Moss con le più importanti case di moda vennero annullati, portando la top model a prendere una decisione importante: scusarsi in pubblico tramite conferenza stampa.
Dopo lo scandalo che l'ha poi portata ad essere scagionata completamente l'anno successivo (nel 2006), la carriera di Kate Moss è ripartita con il titolo "top model dell'anno" a cui hanno fatto seguito numerosi contratti di lavoro.
In un certo senso si potrebbe affermare che lo "scandalo cocaina" abbia fatto bene alla carriera di Kate Moss, perché dopo la caduta pare che con la ripresa del lavoro i suoi introiti siano addirittura triplicati, tanto da fare di lei la detentrice del secondo posto nella classifica delle modelle più pagate al mondo per l'anno 2005-2006, seconda solo a Gisele Bündchen.
Oggi, superati i 40 anni, Kate Moss continua ad essere una figura molto ammirata del mondo della moda, pur rimanendo sempre una delle più discusse e chiacchierate.
Commenti
comments