Fiore simbolo della femminilità, dal profumo irresistibile, la rosa è protagonista di skincare e make-up. E si declina in fragranze molto diverse tra loro.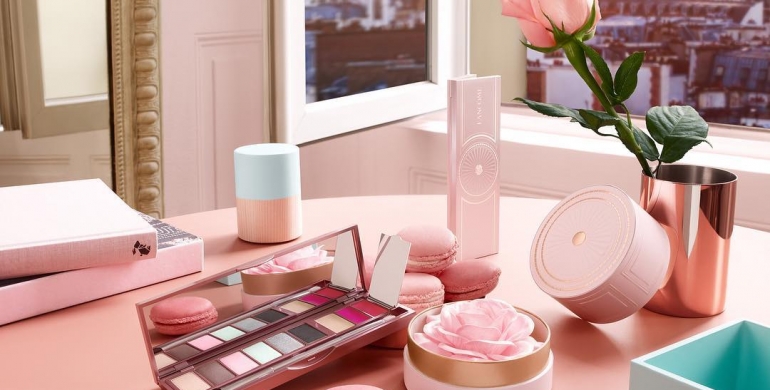 Fiore simbolo della femminilità, dal profumo irresistibile, la rosa è protagonista dello skincare più sensoriale e del make-up più femminile. E, a sorpresa, si declina in fragranze molto diverse tra loro.
Per il viso
By Terry propone un'intera linea, Baume de Rose, per la bellezza non soltanto del viso, ma anche di corpo e mani. Il profumo è intenso e superfemminile, le formule racchiudono tutta la ricchezza degli estratti nutrienti e antiage di diversi tipi di rose.
Lancôme con il nuovo, meraviglioso trattamento Absolue – L'Extrait Ultimate Mask – Rose Pearls ha concentrato in perle la capacità rivitalizzante dell'estratto di rosa, attivato dal siero che si miscela al momento dell'applicazione. Un rituale quasi magico, lussuoso, per una pelle visibilmente più giovane e radiosa già dopo la prima volta. E l'effetto dura 48 ore.
Acqua alle Rose Manetti & Roberts è una linea completa di skincare che da decenni unisce il piacere di un profumo rilassante a formule che realmente si prendono cura della bellezza della pelle. Così ci si può concedere un momento gratificante tutti i giorni.
Le fragranze
Rose de Taif di Perris Montecarlo è un'originale composizione opera di Luca Maffei, che ha unito la Rosa damascena alla Rosa di Taif, con note di agrumi e noce moscata.
Fragonard propone Rose de Mai, con note di foglie di cassis, ylang-ylang, mughetto e gardenia. Una composizione fresca, pulita e molto British.
Diptyque ha appena lanciato Eau Rose, interpretazione fruttata e succosa della rosa per la presenza di litchi e mirtillo, con un fondo originale di musk, legni morbidi e miele.
The Merchant of Venice, eccellenza italiana nel panorama cosmetico internazionale, ha creato Rosa Moceniga, ricco di note floreali di magnolia e loto, ma anche di ambra, vaniglia e musk.
Rose di Molinard è estremamente rassicurante, soave, rilassante. Una rosa chiara e luminosa arricchita da note di chiodi di garofano, camomilla e violetta con un fondo di vaniglia, mandorla e musk.
Izia di Sisley Paris è un'interpretazione originale e assolutamente contemporanea della rosa. L'esordio frizzante e vivace di bergamotto e pepe rosa lascia subito spazio al bouquet floreale ricco di rose e angelica, che si ammorbidisce con ambra e musk, assieme a una delicata nota legnosa.
La linea 3 Rosa di L'Erbolario associa alla rosa una nota speziata e delicatamente piccante per dare vita a una linea ampia di prodotti anche per la casa.
Come un vero e proprio gioiello, Rose de Rose di Rancé si presenta decorata da un bijoux staccabile. La fragranza ha invece un twist esotico: il cuore è composto da tuberosa, gelsomino e ylang-ylang, mentre il fondo è vaniglia e sandalo. La rosa è comunque protagonista assoluta.
Infine, Molton Brown ha aggiunto alla già ricca linea bagno legata a Rosa Absolute un sontuoso olio da bagno e una candela profumata, per la gioia di chi ama questa fragranza di elegante sensualità.
Il maquillage
Lancôme Absolutely Rôse! è l'apoteosi del rosa in tutte le sue declinazioni più di tendenza, non soltanto per questa primavera, ma da adottare per un look femminile e contemporaneo. Ideata da Lisa Eldridge, in esclusiva da la Rinascente, Coin e Ethos Profumerie.
Jane Iredale lancerà tra pochi giorni (e noi vi diamo un'anteprima) una collezione make-up che si avvale di formule minerali ed estratti botanici per prendersi cura della pelle, oltre a renderla più seducente con le nuance prese in prestito da rose, fiori e frutti di bosco.
Commenti
comments