"La bellezza è assolutamente inutile se non si ha carattere… Mi piacciono le donne consapevoli, curate e sarcastiche che interpretano un mondo al di là dell'abito. Donne intelligenti, sensuali e con personalità. (Alice Gentilucci). [ph. Paolo Santambrogio]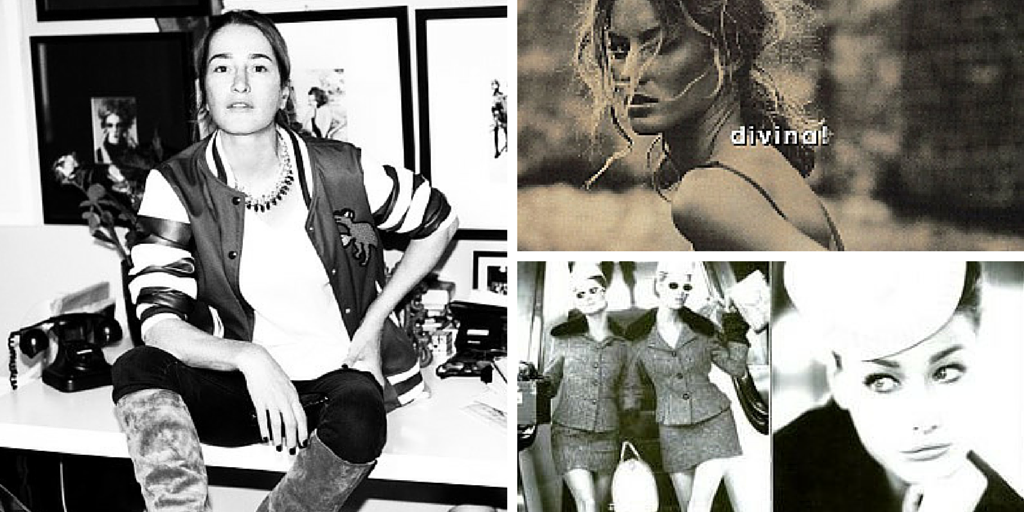 L'abito (e non tutti lo capiscono) ha davvero un'anima, una sua vita, un suo percorso e modo d'essere. E questo essere – che a volte può passare per la via del barocco, a volte per quella del minimal, o forse per un mood più volutamente rock – va capito subito, interpretato e "tirato fuori". A volte addirittura va stravolto, in alcuni casi con dolcezza, in altri addirittura con forza.
Al termine di questo processo – che trova inizialmente il suo spazio fisico negli shooting o nelle passerelle internazionali – il tutto arriva ad essere un trend che nasce e diventa oggetto, forma e comunicazione (fotografica e non) di un costume e di una nuova cultura-moda.
E' davvero un lavoro arduo, non per tutti, e affidato a pochissimi professionisti al mondo. Pochissimi e dalla sensibilità spiccata, dal gusto deciso, e dotati di quell'intuito-dono innato (che nella vita hai da subito o è meglio che lasci perdere…) di riuscire a cogliere – molto tempo prima degli altri e in un attimo – dove la moda è diretta e come ci vestiremo…
E questi pochissimi eletti, alcuni dei quali lavorano a strettissimo contatto con i designer, si chiamano fashion editor, gli stylist di fama internazionale, che hanno fatto propria la cultura dell'immagine e che sanno suggerire, raccontare, inventare e trasmettere sui magazines – nelle loro storie editoriali – quel "point of view" che sarà il must della stagione successiva.
Oggi per Focus On, la mia chiacchierata è con Alice Gentilucci. Stylist di fama internazionale, fashion consultant per Condé Nast, ovvero il colosso editoriale che dà vita ai vari Vogue, Vanity Fair (e via dicendo) nel mondo… Una casa editrice che del lusso, della moda e del life-style è un po' quasi la "Mamma" per eccellenza. Da Helmut Newton a Paolo Roversi, da Ellen Von Unwerth a Peter Lindbergh o a Mario Sorrenti… Ma passiamo tranquillamente anche alle super model. Da Shalom Harlow a Linda Evangelista, da Christy Turlington a Kristen McMenamy..
Alice Gentilucci si è mossa, si muove, e prosegue il suo straordinario percorso professionale accanto a nomi di questo spessore e conosciuti worldwide, con i quali lavora, condivide progetti, raccoglie emozioni e crea trend, trasmettendo – in un perfetto lavoro di squadra – immagini che hanno fatto e segnano anche oggi, la storia di Vogue e dei suoi editoriali.
Il suo stile e styling, il suo lavoro e la sua straordinaria carriera e molto altro, sono l'oggetto dell'incontro con Alice. Buona lettura
Alice vorrei iniziare la nostra chiacchierata chiedendole se mi racconta come ha iniziato a fare questo lavoro? E come si è formato, plasmato, sviluppato piano piano in questi anni il suo gusto personale?
Io dico sempre che ho fatto di un hobby un mestiere. Ho sempre amato la moda e da piccola inseguivo mia madre con dei figurini di abiti, chiedendole se voleva comprarli o comunque metterli. Mia madre era bellissima ed io ero affascinata da tutte quelle scarpe, borse ecc…. che giravano per casa. Credo sia partito tutto da li. Una volta finito il liceo è venuto a mancare mio padre ed ho cominciato a fare vari lavori tra cui la commessa, avevo 18 anni. Lavoravo in questa sartoria a Milano, "Bianca e Blu" e di passaggio venivano personaggi della moda, Manuela Pavesi, Miuccia Prada, Michela Bardini ecc… Venivano a scegliere accessori per Vogue. Per me è stata una rivelazione e così mi feci avanti e cominciai dal portare i caffè ad assistere sul set e collaborare a servizi fotografici come assistente. Poi Franca Sozzani mi prese con se e a 23 anni cominciai l'avventura. Il mio gusto personale è sempre stato quello di interpretare la fotografia di questi grandi talenti, rispettare la loro immagine e condividerla. Mi piace spaziare da un carattere all'altro dai fotografi ai designer… piu' che i vestiti mi piace raccontare delle storie attraverso di essi. La moda è indispensabile ma la mia visione è più rivolta al cinema, credo!
Fashion consultant per Condé Nast, stylist tra le più conosciute e quotate a livello internazionale. Il suo stile, il suo styling, è forte, chiaro e d'impatto. Se dovesse lei stessa definire – in pochissime parole – i tratti, i segni del suo lavoro quali sono i termini che utilizzerebbe? La bellezza è assolutamente inutile se non si ha carattere, così come anche i bei vestiti. Mi piacciono le donne consapevoli, curate e sarcastiche che interpretano un mondo al di là dell'abito. Donne intelligenti sensuali e con personalità.
Lei ha lavorato con i più importanti fotografi al mondo. Da Helmut Newton a Ellen Von Unwerth, da Paolo Roversi a Peter Lindbergh fino a Mario Sorrenti … Che ricordi ha di questi maestri dell'obbiettivo e degli shooting con loro? Sono stata veramente fortunata. Ognuno di loro è stato per me una guida, un insegnamento estetico di grandissimo valore. Helmut Newton riusciva a fare qualsiasi cosa, una volta fece sdraiare la modella nuda su un tavolo mentre degli ospiti stavano mangiando, ricordo lo scompiglio… ma lui fece le sue foto! Ellen Von Unwerth rende le donne bellissime e sexy…. tira fuori il meglio alle modelle che diventano delle attrici. Paolo Roversi ritrae l'anima come un poeta, il suo lavoro è assolutamente unico e fatto di dettagli sublimi. Peter Lindbergh: un uragano, divertente, coinvolgente, il suo immaginario rende la donna così sofisticata ma assolutamente reale. Mario Sorrenti, camaleontico, a volte le sue foto possono anche infastidire ma è un lavoro estremamente interessante il suo. Direi che sono fotografi dei quali riconosci subito la firma prima ancora di leggere il nome sulle pagine patinate delle riviste. Questo fa la differenza.
Mi racconta invece nello specifico come nasce una foto di moda che funzioni davvero? Ovvero quali sono gli elementi base che deve possedere? E nel dettaglio come si costruisce sul set, e credo non sia proprio semplice, quel giusto equilibrio-feeling tra il gusto, lo stile personale, il carattere del fotografo e la bravura, ancora il gusto e la sensibilità della stylist? E' un lavoro di squadra. Non dimentichiamoci l'importanza di Make up and Hair… così come la modella è altrettanto fondamentale per interpretare una storia. Un'alchimia tra tanti professionisti. A volte è più faticoso ma si arriva sempre a miscelare il gusto, lo stile personale ed il talento di ognuno per un risultato che entusiasmi. Lo scopo finale è quello di lavorare sull'immagine e renderla speciale ad ogni costo.
Qual è invece il servizio che ricorda più volentieri o forse quello più faticoso ma che alla fine si è rivelato uno di quelli da lei preferiti nel corso della sua carriera? Aiuto! Questa è una domanda difficilissima! Sono molto affezionata al servizio "Kessler" by Ellen Von Unwerth con Linda Evangelista e Christy Turlington su Vogue Italia (anni '90). E' ancora bellissimo.
Il suo lavoro ha visto passare sotto i suoi occhi tutte le top model internazionali. Dalla Evangelista, alla McMenamy, da Shalom, Karen Mulder, Christy Turlington fino più avanti a Maria Carla Boscono. Parlando un attimo degli anni 90, secondo lei che cosa avevano in più queste donne da essere rimaste ancora oggi presenti nell'immaginario collettivo? Semplicemente donne eccezionali, perfette in tutto!
Pensa che oggi il concetto-tipo di modella sia cambiato o che forse tutto il mondo della moda sia cambiato? Tutto è cambiato. La cosa più evidente è la comunicazione, velocissima, nel senso che è tutto vecchio dopo pochi giorni, già visto, già consumato. Prima dei social e del web si aspettavano mesi per vedere stampato un servizio di Vogue, ora invece mentre il fotografo fa un click gia' in rete si può vedere lo scatto. Con la moda è lo stesso, sfila ed già in vendita. Spero di non dover rinunciare al profumo della carta quando viene stampata! Mi mancherebbe molto. La modella ora viene definita up girl, poi ci sono le influencer, le bloggers, anche le top bloggers… i riferimenti del passato sono comunque importanti, e resteranno indelebili, a volte mi chiedo cosa si salverà, nel futuro, di questo periodo. Ora, se il mio Mac prendesse fuoco brucerebbero tanti bei ricordi in pochi secondi.
Com'è cambiato invece – se è cambiato – il suo styling negli anni? Ovvero qual è stata l'evoluzione di Alice Gentilucci e della direzione che ha fatto prendere al suo lavoro? Intendo, possiamo dire che ha avuto nella sua carriera, magari un approccio a volte più rock, a volte più romantico, a volte forse più dandy? Quanto ha influito e influisce tuttora il suo percorso personale di ricerca e crescita sulle immagini che andrà a realizzare? Come dicevo prima, ho sempre lavorato su tante tipologie di donna, e sono consapevole di possedere uno strumento che racchiude un immaginario poliedrico. Faccio un esempio: se lavoro con uno stilista o una casa di moda, ne studio a priori il suo percorso e cerco di utilizzare al meglio la storia della "Maison." Mi piace la ricerca, la musica, i libri, il cinema tutto mi influenza.
Jennifer Lopez, Gwen Stefani, Jessica Chastain, Maggie Gyllenhaal sono solo alcune delle celebrites con le quali lei ha lavorato. Pensa che le star abbiano davvero ancora una forza mediatica cosi forte tanto che Anna Wintour le sceglie sempre per le cover di American Vogue? Qual è la sua opinione in merito? Se questa è la decisione della Sig.ra Anna Wintour non potrei mai e poi mai contraddire. A parte lo scherzo, trovo che il talento di questi personaggi così unici abbia un riscontro mediatico talmente di valore che sono assolutamente d'accordo che siano icone a 360 gradi.

Da dove trae ispirazione per gli shooting che realizza? E chi sono, se ci sono, le sue icone di riferimento? Il cinema italiano neorealista degli anni '60 è certamente una costante, come i film asiatici che al momento prediligo. Mi piacciono poi i libri di fotografia (non devono essere eccezionalmente di moda ), amo il reportage e la musica… il mio cane si chiama Bowie.
A quale tra le sue colleghe, americane, francesi, inglesi si sente più vicina con il suo lavoro? Ci sono tanti bravissimi professionisti! Mi piacerebbe essere così brava! Non so, per un certo periodo mi sono resa conto di prediligere dei servizi che poi erano sempre degli stessi stylist: Camilla Nickerson e Joe Mckenna fra i tanti.
Quando vedremo invece un libro o una mostra sui suoi lavori? Questo non l'ho in programma, però tra poco uscirà una mia "capsule collection", ci sto lavorando con un caro amico e ne vado molto fiera.
Un'ultima domanda. Che cosa le piace fare quando non è sul set? In poche parole come si rilassa Alice Gentilucci? Amo il buon cibo. Mi piace cucinare. Specialmente al mattino, mi rilassa andare a spasso con Bowie (il mio golden retriever). Vedere film o leggere libri gialli, (ne ho anche scritto uno, un
giallo che giace in un cassetto da 2 anni). Amo chiacchierare con le amiche in interminabili telefonate ovunque
siano. La cosa che mi da piu' gioia in assoluto (ho due figli) è viaggiare con loro, ma ormai sono cresciuti ed è difficile organizzare.
Commenti
comments