Al volante della Hyundai i20 Comfort per seguire la puntata di The Voice of Italy e intervistare il deejay Federico Russo, testimonial di Hyundai.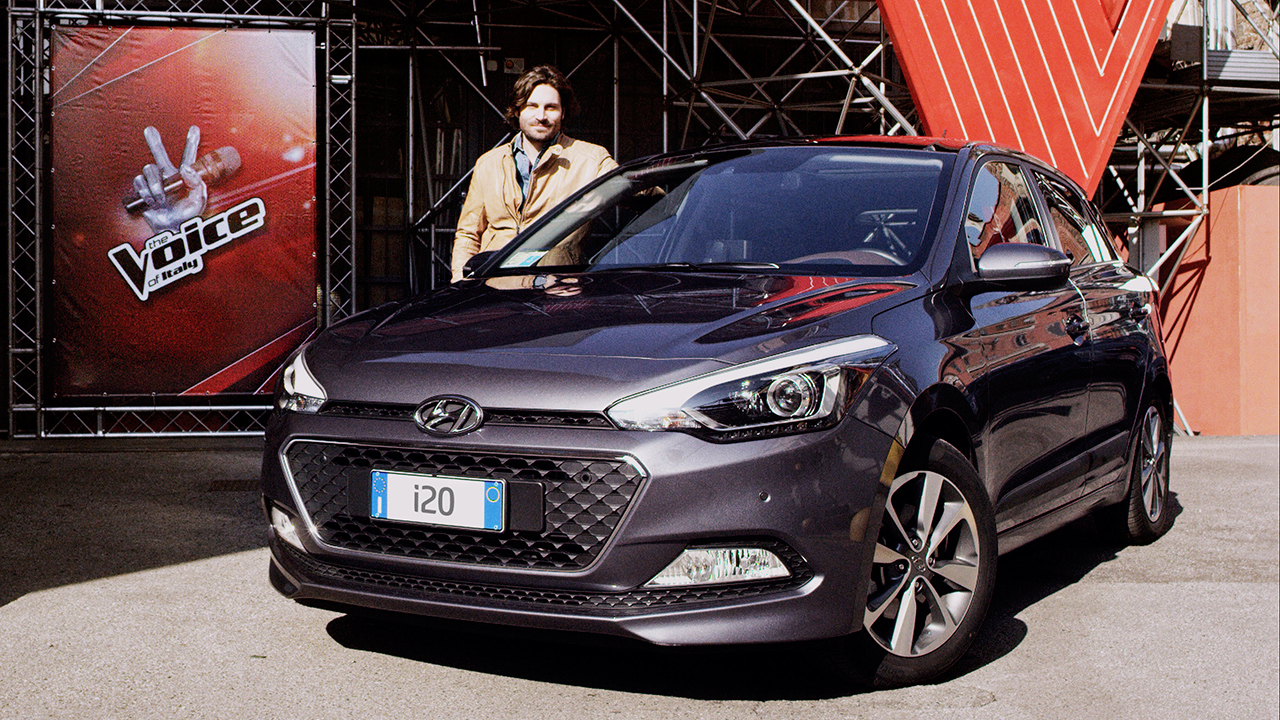 Direzione studi RAI di via Mecenate, 76, per assistere al secondo live di The Voice of Italy e intervistare il famoso Deejay Federico Russo, presentatore del talent e testimonial di Hyundai
A bordo della nuovissima Hyundai i20, auto ufficiale di The Voice of Italy, io e Elise Lefort (fashion editor di Fashion Times) sgattaloiamo con agilità nel traffico milanese preparando la strategia social della puntata, ma ci rendiamo immediatamente conto che abbiamo un problema: le batterie dei nostri smartphone sono "a terra". Con grande sorpresa scopriamo che possiamo ricaricare entrambi i telefoni grazie alle due prese posizionate nella parte bassa del cruscotto. Siamo già innamorati di questa auto!
Vicino alle prese elettriche non possiamo che notare un ingresso USB per ascoltare la musica. Decido di provare a collegare immediatamente il mio lettore mp3, nonostante il disappunto di Elise per i miei gusti musicali 😛
Non sono un grande esperto di auto, ma quella che sto guidando è senza dubbio facile da guidare. Mentre riesco a dare un po' di gas, mi rendo conto che il quadro mi consiglia di cambiare marcia. Vai con la quinta! L'ideale per chi come me non ha grande orecchio per il motore.
Siamo arrivati agli studi, è giunto il momento di trovare parcheggio. "Lì ci stai!" è la frase preferita di Elise. Ci provo, forte dei sensori di parcheggio. In meno di 30 secondi l'auto è parcheggiata. Ce l'avrei fatta comunque (ci tengo a sottolinearlo), ma così è stato davvero più semplice.
Entriamo negli studi RAI di via Mecenate e incontriamo Federico Russo. Ecco l'intervista
La puntata finisce a notte fonda. Siamo stanchissimi e una volta rientrati in auto l'unica cosa che vogliamo è tornare a casa il più velocemente possibile e dare un meritato riposo alle nostre orecchie dopo 4 ore continue di musica no-stop. Ci sediamo e ci rendiamo subito conto che le poltrone della i20 sono effettivamente più comode dei sedili della platea di The Voice of Italy. Tiriamo su i finestrini e nel silenzio della notte viaggiamo in direzione casa. All'interno dell'abitacolo riesci effettevimente a staccare, rilassando la mente dai rumori della città, viaggiando quasi in un mondo parallelo, dove tutto è più calmo.
In conclusione, la Hyundai i20 Comfort è stata davvero una bella sorpresa. Facile da guidare e con comfort in ogni dove: dal porta occhiali, allo specchietto con luce anche per chi guida (Elise ne ha approfittato per truccarsi). Un'auto ospitale, anche dal punto di vista estetico, grazie all'eleganza della doppia tinta a contrasto. Spazio per testa per gambe sopra la media. In strada offre sicurezza, anche quando si è in ritardo.
Commenti
comments