Malìparmi presenta la nuova collezione Primavera-Estate 2014: Gathering. Essere sé stessi insieme agli altri'' è la chiave di lettura di questa linea.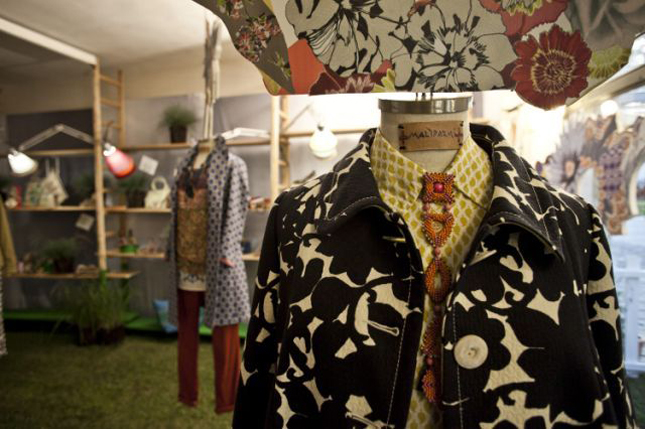 Rimanere fedeli sé stessi, facendo parte di un gruppo. Questa è l'essenza della collezione Primavera-Estate 2014 di Malìparmi. Gathering, il nome della collezione, che in inglese significa raduno, compagnia, insieme, per riflettere questo desiderio di coesione.
| | |
| --- | --- |
| Maliparmi Spring-Summer 2014 | |
La collezione è suddivisa in tre temi. Il primo è 'New Trbalism of style – contemporary & primitive', una nuova forma di tribale che diventa contemporaneo. Mussole di cotone e seta, tessuti jacquard, con effetti super tecnici e innovativi diventano waterproof. E' l'anima maschile della donna contemporanea, che ama il pantalone e veste di sovrapposizioni per renderlo speciale. Vuole molte tasche e lo zaino o la grande borsa per la sua giornata "nomade". Ai piedi la francesina con il tacco.
| | |
| --- | --- |
| Maliparmi Spring-Summer 2014 | |
La seconda tematica 'Gardening fantasy – cultivating together creativity & craft' mette in risalto l'artigianalità e i valori del brand, il coltivare la creatività e la fantasia. E' l'aspetto più femminile della collezione. La donna indossa abiti e gonne ma con volumi ampi e nuove proporzioni. Mixa la sahariana in camoscio multitasche con l'abito più romantico, porta la gonna ampia con la giacca-camicia super femminile. Ama il sandalo con tacco o la zeppa, ma li vuole comodi.
| | |
| --- | --- |
| Maliparmi Spring-Summer 2014 | |
Infine 'Rhythm & blues – the blue print of life between sea & earth'. Profondità, fluidità e connettività del mare. Prevalgono i toni del blu con tocchi di verde e su tutto il bianco. La silhouette è morbida, informale, a volte un po' gipsy. L'abito lungo e fluido è il protagonista.
| | |
| --- | --- |
| Maliparmi Spring-Summer 2014 | |
Completano la collezione borse con grafismi tribali tra cui la clutch ricamata con frange di perline, di rafia impreziosita di gioielli, full di perline e paillettes. Francesine, flat, high e sandali per le scarpe. A.R.
| | |
| --- | --- |
| Maliparmi Spring-Summer 2014 | |
Resta sempre aggiornato! Iscriviti alla Newsletter di FASHION TIMES
| | |
| --- | --- |
| Maliparmi Spring-Summer 2014 | |
| | |
| --- | --- |
| Maliparmi Spring-Summer 2014 | |
Commenti
comments