Deborah Milano porta in Italia la blogger Giuliana Arcarese. Il suo blog Makeup Delight è seguitissimo e ora potrete incontrarla grazie al The Delightful Tour.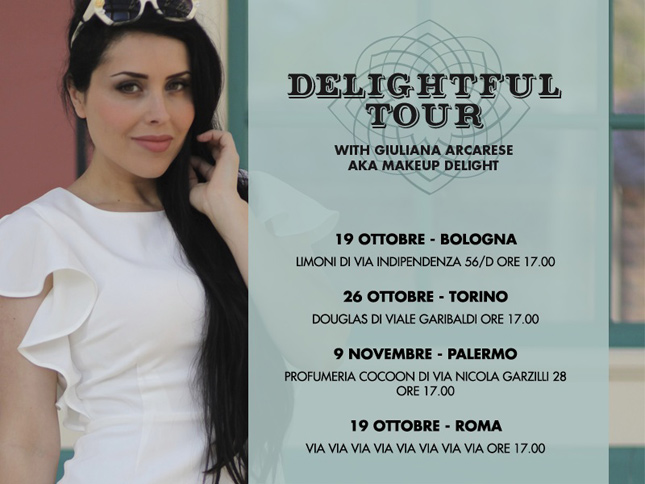 Le make up blogger ormai dettano tendenza. Deborah Milano lo ha capito e punta sulla blogger Giuliana Arcarese del blog Makeup Delight. Volata per 10 anni negli Stati Uniti, Giuliana ora sta tornando nella sua patria e Deborah Milano festeggia il suo ritorno. Dopo 3 anni di collaborazione, il brand organizza, su grande richiesta dei fans, The Delightful Tour con 4 importanti tappe nelle città italiane.
Durante l'evento Giuliana incontrerà le numerose fans, e sarà disponibile per preziosi consigli beauty. Inoltre premierà la fortunata vincitrice del concorso che nei giorni immediatamente precedenti l'evento, tramite un instant win, ha messo in palio il fantastico kit di 54 Ombretti 24Ore Velvet.
Se volete incontrare Giuliana e scoprire tutte le promozioni Deborah Milano non vi resta che recarvi ad uno dei 4 appuntamenti: il 26 ottobre a Torino (TORINO PROFUMERIE DOUGLAS di Viale Garibaldi 5), il 9 novembre a Palermo (PROFUMERIA POP COCOON DI VIA NICOLA GARZILLI, 28), il 16 novembre a Roma (PROFUMERIE DOUGLAS VIA DI VIGNE NUOVE – C.C. PORTE DIDI ROMA LOC. BOFFALOTTA) e il 23 novembre a Bologna (LIMONI di Via INDIPENDENZA 56/D). A.R.
Resta sempre aggiornato! Iscriviti alla Newsletter di FASHION TIMES
| | |
| --- | --- |
| Giuliana Arcarese ritorna in Italia | |
Commenti
comments