Vestirsi di bozzetti… I tratti dei creativi di French Connection, vestono appena i sensuali corpi nudi dei modelli. Ecco "From sketch to store" la nuova campagna stampa Autunno-Inverno 2013 di French Connection.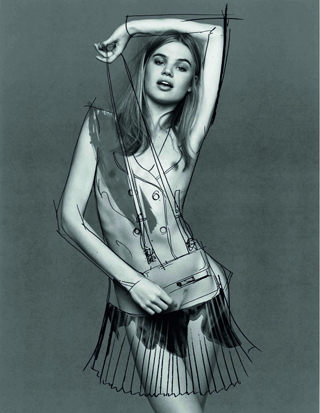 Corpi nudi. In movimento. Corpi che si fondono con tratti disegnati, accentuando un vedo-non vedo estremamente sensuale, e abbigliandosi di disegno stilizzato. Corpi "bozzettati", vestiti di abiti che prendono forma soltanto grazie alle abili dita dei creativi stilistici del brand.
Questa è la nuova campagna pubblicitaria di French Connection fotografata dal celebre artista in arte Rankin, assieme al team creativo della sua agenzia di communicazione The Full Service.
"Questa è stata la nostra prima vera esperienza a 360° per una campagna di moda vissuta come un' agenzia. Noi di The Full Service eravamo incredibilmente elettrizzati quando French Connection ci ha contattati per incaricarci di realizzare la nuova campagna A/I 13/14. Personalmente ho sempre ammirato questo marchio, teso a oltrepassare i limiti e per l'approccio coraggioso a campagne decisamente coinvolgenti. Mi auguro che la realizzazione di 'From Sketch to Store' da parte di The Full Service prosegua la tradizione di queste campagne straordinarie." afferma Rankin, fotografo, direttore artistico e editore dell'agenzia The Full Service da lui fondata. E.L.
Sempre aggiornato sulle nuove tendenze | Newsletter FASHION TIMES
Commenti
comments