Al via l'iniziativa organizzata da eBay e CFDA per la promozione dei prodotti originali all'interno della fashion industry. Scoprite le borse create dagli stilisti e partecipate alle aste!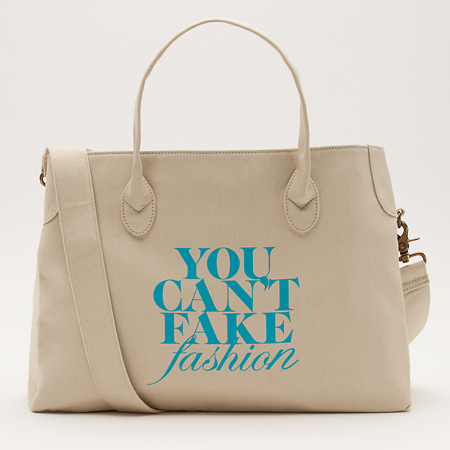 Al via la nuova campagna You Can't Fake Fashion lanciata da eBay e CFDA (Council of Fashion Designers of America). Dopo il successo delle iniziative nell'estate del 2011 e la primavera 2012, eBay si impegna nuovamente nel portare avanti la lotta alla contraffazione e la promozione dei prodotti originali nel settore moda.
Questa volta il progetto prevede la realizzazione di una collezione di borse da 90 designers americani, con nomi celebri come Ralph Lauren, Diane von Furstenberg, Derek Lam, Converse, Carolina Herrera e Tommy Hilfiger.
La vendita è iniziata nei giorni scorsi e durerà per tutta la settimana. Le borse degli stilisti sono in vendita all'asta a partire da 100$ mentre è stata realizzata un'edizione speciale "You Can't Fake Fashion" venduta a 50$.
"Con una borsa venduta ogni quattro minuti, un collaudato sistema di feedback e la presenza di venditori affidabilità top, qualificati per l'ottimo servizio fornito, eBay si impegna a garantire sempre un'esperienza di shopping sicura e si schiera in prima linea per combattere la lotta contro la contraffazione", afferma Eleonora Gandini, consumer pr manager di eBay. "eBay offre un'ampia selezione di capi fashion nuovi e di grande valore e sta lavorando fianco a fianco con i grandi brand e retailer per portare oggetti autentici nel più grande marketplace online al mondo". A.R.
| | |
| --- | --- |
| You Can't Fake Fashion | |
Commenti
comments