Idee regalo eco-friendly, charity e altamente tecnologiche. House of Marley dovrà sicuramente essere sotto il vostro albero di Natale. Scoprite le sue proposte.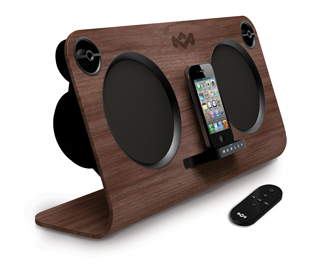 Il Natale è alle porte ed è decisamente iniziata la ricerca del regalo perfetto. House of Marley propone tante originali accessori e docking station da mettere sotto l'albero per rendere felici parenti e amici.
Per arricchire la casa di un oggetto bello, unico e di qualità superiore, House of Marley propone l'ultimissima novità di casa Marley: Get Up Stand Up è un sistema audio dotato di docking e charging station per iPod/iPhone/iPad, realizzato curvando un'unica lastra di legno di betulla. Un complemento d'arredo eco-friendly e dal design accattivante che vi catapulta negli anni '70 e '80.
Chi vuole portare ovunque la propria musica non saprà resistere alle cuffie e agli auricolari House of Marley. Ad esempio le over-ear Trench Town Rock dotate della funzione di isolamento acustico; o ancora le Exodus in legno di faggio, alluminio riciclabile, rame e pelle ultra morbida.
Chi vuole qualcosa di più piccolo potrà scegliere i coloratissimi auricolari Smile Jamaica che offrono una perfetta resa sonora.
Acquistando prodotti House of Marley, non solo state comprando prodotti eco sostenibili ma supportate anche associazioni e onlus in tutto il mondo come SOS Villaggi dei Bambini in Italia. A.R.
Commenti
comments