Guccio Gucci presenta la sua collezione autunno-inverno 2012 dal mood classico rivisitato. Borse, scarpe e abbigliamento all'insegna dell'artigianato Made in Florence.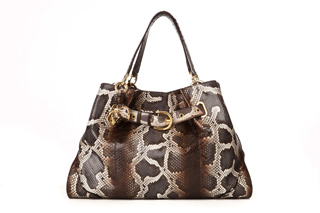 Arriva la collezione autunno-inverno 2012 To be G firmata Guccio Gucci. Una collection dedicata alla pelle declinata in varie tonalità e impreziosita da inserti in lapin e lana. Il tutto è ovviamente Made in Italy ed è perfetto per qualsiasi occasione: sia un meeting al lavoro che una tranquilla giornata di shopping.
Le forme delle borse sono morbide e raffinate e spaziano dalla hand bag con tracolla in pelle marrone, al bauletto con tracolla in pelle rossa, alla maxi bag in pitone grigio oppure alla pochette con cuciture a vista e tracolla a catena. Non mancano, a testimoniare l'occhio puntato sulle ultime novità anche del mondo hi-tech, i porta iPad e smartphone in pelle.
Molti stivali declinati in tante varianti, accompagnati da tronchetti in vernice e camoscio e Oxford basse in color mattone.
Non mancano nel guardaroba giacchini corti, come il tipico biker in pelle nera o quello con dettagli in lana ed effetto verniciato, trench in pelle brandy, cappotti con interno in pelo e maxi cardigan di lana. In tutto va indossato con jeans e chinos o sopra abiti in lana. A.R.
Commenti
comments