Marni collabora con l'artista americano David Salle, realizzando una collezione che riflette capi del passato, interpretati dalla donna odierna.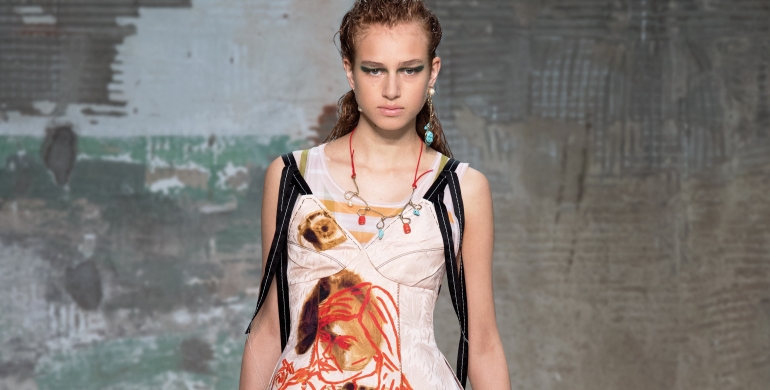 Il continuo e reciproco scambio tra Marni ed esponenti del mondo dell'arte emergenti viene concretizzato nella collaborazione con l'artista americano David Salle. La sua sensibilità post-modernista lo ha reso famoso per i suoi dipinti in cui le immagini si sovrappongono, in un contrasto tra figure languide e oggetti del quotidiano.
L'estetica della collezione Marni Primavera-Estate 2018, volta alla ricerca del bello, riflette su capi e silhouette del passato rimaneggiati da una donna del presente, ben si sposa con le fascinazioni nebulose e romantiche ma al contempo di straordinaria potenza di Salle.
GUARDA ANCHE: La moda parla a tutti: più dell'arte, più della musica
Marni ha collaborato con David Salle adattando due opere dell'artista, Rob Him of Pleasure del 1979 e The Fourth Since I Came Up del 1980, che con un attento gioco di proporzioni e sovrapposizioni, sono diventate stampe pittoriche che prendono vita sull'abito scivolato in seta, sul lungo cappotto-vestaglia e su top bustier destrutturati.
I capi David Salle x Marni saranno disponibili in tutte le boutique Marni e su marni.com a partire da aprile 2018.
Commenti
comments