La verità è che "il primo amore non si scorda mai". Almeno, così pare che dicano. E in effetti, secondo me, vale lo stesso per i viaggi.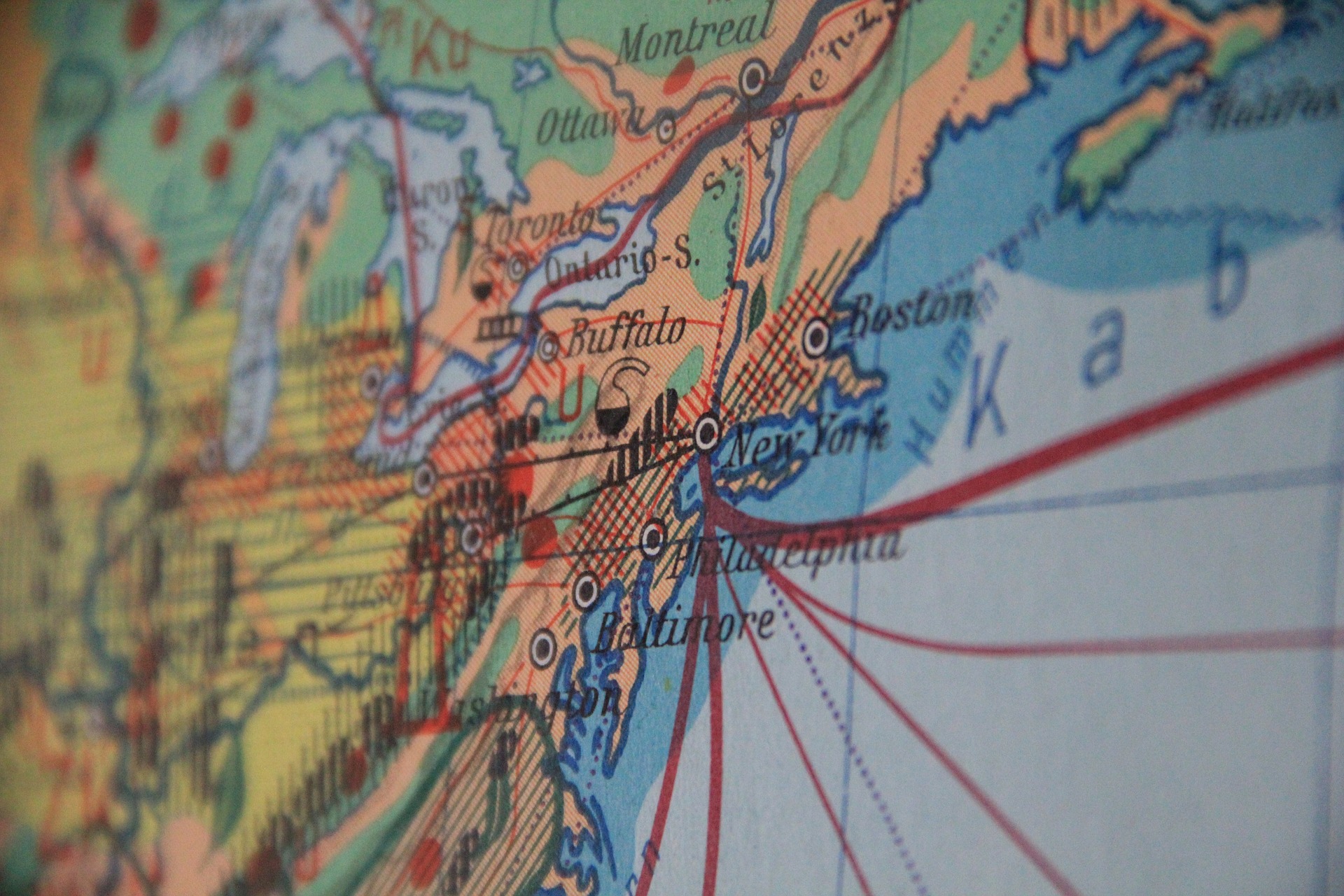 Quando il tuo amore è smisuratamente irrefrenabile e sogni di viaggiare continuamente, lo fai effettivamente appena puoi, nei posti più lontani e certe volte anche insoliti; prenoti il tuo soggiorno fuori e conti i giorni al weekend lungo che ti aspetta; in realtà quello che ti rimarrà per sempre nel cuore, come il primo bacio a 14 anni, è il primo vero viaggio da sola e dall'altra parte del mondo.
Bene, tutto questo lo posso dire adesso e con assoluta consapevolezza ma, quando mi sono trovata a dover davvero viaggiare sola, non solo non era stato preventivato prima, ma per di più non avevo idea di cosa avrei fatto una volta arrivata lì.
So che è un semplicissimo parere personale e che magari a voi non avrà fatto lo stesso effetto, ok ma…io mi sono innamorata perdutamente e, anche in solitudine, New York è uno scrigno magico. È un giardino incantato. E' un forziere da aprire piano, colmo di monete d'oro.
Arrivate insieme all'imbarco, mi ci sono poi ritrovata sola alla partenza. La mia amica Oriana non aveva il passaporto in regola e io, prima titubante poi decisa, mi sono detta "è il viaggio della vita che sogni da sempre, cosa aspetti a partire?". Perciò presto fatto, Milano – New York con due scali nel mezzo, zaino in spalla e guida alla mano, sono partita… lo rifarei altre cento volte! Le quasi 14 ore di volo mi sono servite per studiare un po' la città vista dagli occhi della guida (Lonely Planet, come sempre) e leggere soprattutto qualcosa sul quartiere dove avevamo preso casa, segnalare sulla cartina i posti di interesse e capire più o meno come avrei potuto organizzare le mie giornate nella Grande Mela, fino all'arrivo di Oriana da lì ai 4 giorni successivi.
Vi consiglio di pianificare bene il vostro soggiorno e non partire allo sbaraglio come ho fatto io…c'è così tanto da vedere che vorreste avere le giornate più lunghe che mai!
Prima di tutto il periodo è stato perfetto: a cavallo tra fine aprile e i primi di maggio, New York è certamente ancora fredda ma l'aria di primavera si sente eccome, la città si sveglia piano, il sole inizia a farsi spazio tra le nuvole e Central Park si anima di mamme e papà runners che corrono spingendo passeggini. È tutto così talmente americano che non so spiegarvelo, ma è bellissimo!
Mi sveglio presto – il fuso orario non mi aiuta – e alle 8.30 del mattino sono già pronta a camminare finché le gambe non cedono. Anika, la ragazza che mi ospita nella sua casa, ci tiene a farmi alcune raccomandazioni, mi consegna le chiavi di casa e ci salutiamo. Qui è proprio come nei film: Williamsburg è un quartiere molto popolato di Brooklyn, soprattutto da studenti, musicisti, giovani artisti e scrittori. È quella parte della città un tempo area industriale e ora più in voga tra gli hipster di tutto il mondo. Passeggio per le sue strade con un cappuccino take away caldo tra le mani e mi fermo a curiosare tra un negozietto vintage e un altro di dischi, fino a che mi perdo nel mercatino delle pulci di Brooklyn Fea…che fai, non ci vai? Cammino ancora, rifaccio una strada che mi sembra di aver già visto, sbuco ai piedi del ponte di Williamsburg…lo percorro tutto d'un fiato, e arrivo dall'altra parte.
Sono a Manatthan. Wow! La sensazione che avvertirete, almeno io l'ho sentita davvero, è di smarrimento misto a stupore misto a gioia. Io mi sentivo contemporaneamente felice di essere lì ma così piccola da sembrare quasi invisibile: è tutto grande e smisuratamente fuori controllo. Le auto si alternano ai taxi gialli che sfrecciano non curanti nel traffico della città ma ti basta solo alzare un braccio sul ciglio del marciapiede e un tassista sarà al tuo servizio…mi sono sentita quasi come Samantha in "Sex and the City" (non avrei mai potuto dire Carrie, care mie, io faccio la PR!).  Da qui decido di dedicare la giornata ai quartieri vicini e senza far caso alla mia guida, sono talmente inebriata che passeggio guardandomi intorno. Non mi dilungherò per non privarvi della sorpresa ma Tribeca, Chinatown (andaaateci, vi prego!), Soho, Nolita e Noho, sono forse i più caratteristici della città. Little Italy poi è un tripudio di tricolore tutto italiano! Cammino, osservo tutto, mi fermo a parlare col signore del camioncino degli hot dog, ne mangio uno e arrivo fino al World Trade Center.
Qui ho un magone inaspettato perché quei due grossi buchi neri al centro del Memorial Plaza mi fanno sentire piccola piccola. È come se il dolore di tutte le famiglie delle vittime dell'attentato alle torri gemelle fosse lì, materializzato in quattro giganti lamiere di ferro poste intorno al perimetro delle loro fondamenta e incise coi nomi di ognuno di loro, mentre l'acqua scende a cascata lungo le pareti. Resto qui per un po' di tempo fino a quando la stanchezza prende il sopravvento. Decido di tornare verso casa, a piedi e sempre con la testa in sù.
Camminare instancabile e senza una meta precisa da raggiungere, con un'irrefrenabile voglia di scoprire qualunque cosa mi capitasse sott'occhio. Siate sempre attenti viaggiatori, questo è il mio unico consiglio, e a New York più che mai…io ne sono rimasta stregata! Da Broadway, passando per La Fayette Street, pit stop a Washington Square Park per un vero hamburger da Shake Shack – se non lo mangiate non saprete mai come può essere un vero hamburger! Lo giuro! – e riprendere il passo più carica di prima. Imboccare la Fifth Avenue, fotografare il Flatiron Building (è un edificio triangolare del 1902 così chiamato per la sua forma a ferro da stiro), salire sull'Empire State Building fino al centoduesimo piano…ho detto 102esimo. Io mi sono emozionata.
Se dopo tutto questo camminare vi sentirete un po' stanchi, non c'è pericolo! Potrete rilassarvi nel silenzio assoluto della New York Public Library: un gioiello nel cuore di Manatthan, è un posto meraviglioso, quasi magico e pieno zeppo di libri. Incantata e senza parole, mi sono seduta su una delle sedie di una scrivania di legno lì nella sala, ripensando a quando Audrey Hepburn la percorre da nord a sud insieme a George Peppard in "Colazione da Tiffany".  Proseguite sulla Fifth Ave fino ad arrivare a Central Park: addentratevi nel cuore del polmone verde della città e rilassatevi come ho fatto io, sdraiata su una delle sue collinette in riva al lago, mentre il sole tramonta lentamente sulla città.
Devo ammettere che le giornate più belle sono state quelle che ho trascorso in solitudine, New York ai miei occhi aveva un'immagine che non dimenticherò mai. Era il viaggio che sognavo da bambina, era LA città che fino ad allora avevo solo visto nei film e che non credevo fosse davvero così, è il luogo dove mi sono sentita più a mio agio, naturalmente. Mi ci trasferirei adesso! Avevo comunque deciso di non vedere delle cose che avevo invece riservato all'arrivo di Oriana. È stato bello poter visitare insieme il MoMa e perderci tra un Manifesto del futurismo di Marinetti e un ritratto di Marylin Monroe di Andy Warhol; ripeterci allo stesso modo al Guggenheim Museum e ritrovarci solo all'uscita; sfidare la pioggia incessante e un fortissimo vento freddo sul Ponte di Brooklyn, all'ora di pranzo, per riscendere completamente fradice fino alle mutande (non scherzo! Avevamo acqua dappertutto!); condividere insieme l'emozione di vedere per la prima volta la Statua della Libertà, ascoltando la sua storia in cuffia raccontata da una voce registrata; passeggiare su Ellis Island e immaginarla punto di sbarco, fino al 1954, per gli immigranti che arrivavano negli Stati Uniti e che desideravano cambiare vita; regalarci lo spettacolo di "Mamma Mia!" a Broadway – che praticamente ho visto sola perché lei era così stanca che dormiva (Oriana perdonami, nessuno si addormenterebbe mai durante un musical…o si?! 😀 ahaha) – e godere dello spettacolo notturno di luci e cartelloni pubblicitari che Times Square offre tutte le sere.
Quando ho deciso di scrivere di New York l'ho fatto perché era arrivato il momento di esprimere quello che ho sentito quando ci sono stata. Potrei continuare a parlarne per ore, di quanto mi sia dispiaciuto non poter vedere Coney Island nel pieno dell'attività dei suoi luna park; di quanto sia vero che ad Harlem i ragazzi afro-americani giocano tutti insieme nei campi da basket delle chiese di quartiere; di quanto non mi piacciano i cookies pieni di cannella che offrono nei bar a colazione. Avrei ancora tanto e tanto da raccontare, ho cercato di essere anche molto sintetica ma mi rendo conto di non esserlo stata poi fino in fondo…eeeeh vabbè, succede! Ma di una cosa sono certa: questa città mi ha aperto la mente e mi ha dato modo di "affidarmi"…alla situazione e alla necessità che avevo perché non conoscevo anima viva, alla fiducia negli sconosciuti. Mi ha dato finalmente la misura di me stessa, sola, e mi ha fatto scoprire che di viaggi non ne avrò mai abbastanza.
Commenti
comments