Cartoon Network e Katie Eary presentano alla London Fashion Week la collezione della designer dedicata alle Powerpuff Girls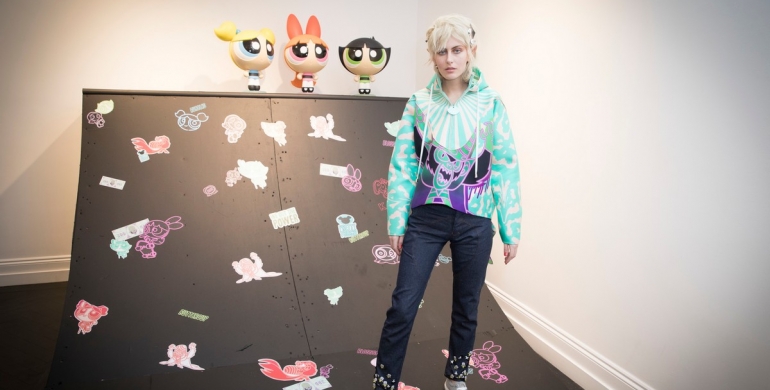 In occasione della London Fashion Week è stata presentata la collezione della stilista Katie Eary ispirata alle originali ambasciatrici del girl power, le Powerpuff Girls.
La collezione autunno inverno 2018 2019 – con protagoniste Lolly, Dolly e Molly – rappresenta la prima linea womenswear firmata da Katie Eary, ed è stata svelata ai trend setter del mondo della moda nel corso di un evento esclusivo che si è svolto presso la Maddox Gallery di Mayfair nel centro di Londra. Lo show ha reso omaggio al girl power con un ambientazione completamente "powerpuffizzata" e con una squadra di skateboarding tutta al femminile.
GUARDA ANCHE: Versus Versace sfila a Londra la collezione primavera estate 2018
La gamma completa della linea di Katie Eary dedicata a The Powerpuff Girls è composta da 15 pezzi che includono top, felpe, abiti e pantaloni pensati per le donne dalla forte personalità e una collezione "mini-me" per le più piccole.
Sin dal loro debutto le Powerpuff Girls, che quest'anno festeggiano il loro 20° anniversario, si sono affermate come icone di stile ed originali ambasciatrici del "girl power" conquistando le ragazze e le donne di ogni età.
"Sono una grande fan di The Powerpuff Girls – dichiara la stilista Katie Eary – e sono entusiasta di aver avviato questa collaborazione con Cartoon Network per il debutto della mia prima collezione d'abbigliamento tutta al femminile. Ho voluto con me le tre supereroine per una nuova era di emancipazione femminile. La mia collezione celebra l'unicità e abbatte ogni stereotipo di genere. Ho unito il mio stile a materiali di lusso per esaltare l'audacia e la grazia femminile. Spero che la mia collezione possa essere d'ispirazione per le giovani donne".
Commenti
comments