Back to School con il sorriso è possibile? Sì, grazie a Smiley! Il brand londinese invaderà le cartelle dei bambini grazie ad una collaborazione con Herlitz, del Gruppo Pelikan.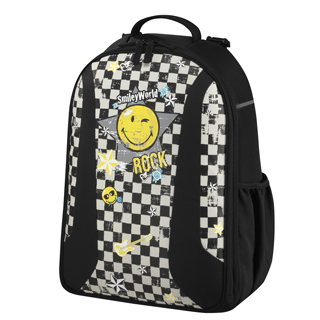 Le vacanze e il mare sono ormai diventati lontani ricordi ed è ora di concentrarci su un nuovo obiettivo: l'anno scolastico che sta per iniziare. Manca ormai poco alla riapertura delle scuole ed è giunto il momento di preparare le cartelle!
Un momento non sempre felici per bimbi un po' restii a tornare ad una routine scolastica, e per le mamme che devono riuscire a motivare i loro figli, e risolvere con loro il "rompicapo" del materiale da acquistare e preparare per la scuola! Il modo giusto per farlo? Con il sorriso ovvio!
Smiley ci semplifica la vita con una collezione Back to School realizzata sotto il segno del buon umore. Il celeberrimo Smiley, che in passato ha collaborato anche con Happiness, ha contagiato agende, astucci, quaderni, raccoglitori, notebook ma anche zaini con la sua allegria sì, ma anche aprezzo mini! Tutto ciò grazie ad una simpatica collaborazione con Herlitz, parte del gruppo Pelikan, che lancia con Smiley una collezione svuluppata su temi: Rock& Roll, Lucky Star e Happy. E.L.
Resta sempre aggiornato! Iscriviti alla Newsletter di FASHION TIMES
Commenti
comments