Capi icona di archivio Calvin Klein rieditati e rimordernizzati con le tecnologie e tecniche di oggi? E' possibile, ed è frutto della nuova capsule donna "Calvin Klein Jeans x mytheresa.com The Re-Issue Project". E se vi sembra di conoscere il viso della bella testimonial… avete ragione. Il suo cognome parla chiaro…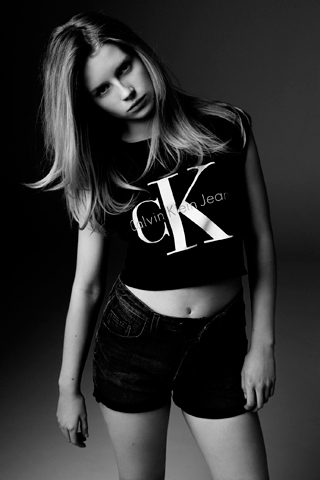 Restate sintonizzati… Sta per sbarcare online una nuova capsule collection davvero esplosiva. E' stata lanciata l'esclusiva capsule collection Calvin Klein Jeans x mytheresa.com The Re-Issue Project.
Una capsule che proporrà nove capi iconici di Calvin Klein Jeans, direttamente dagli anni '90, in una nuova veste, modernizzata e rieditata usando tessuti e tecnologie avanzate di oggi. Questo il frutto di una collaborazione tra il celebre brand e il sito mytheresa.com che ospiterà la vendita della capsule.
| | |
| --- | --- |
| Lottie Moss per Calvin Klein x mytheresa.com The Re-Issue Project | |
Ecco a voi in anteprima le immagini di questa special collection nelle quale spicca un viso conosciuto che ci rimanda proprio alla storia di CK Jeans. Una giovane top che porta il nome di Lottie Moss, nessun altro che la sorellina di Kate, eterna musa di Calvin Klein.
Lottie è l'unica "figlia d'arte". A realizzare le immagini, un fotografo dal nome molto noto: Avedon. Non Richard, ma Michael, nipote del celebre autore della campagna Calvin Klein Jeans del 1981 in cui Brooke Shields pronunciava il famoso slogan "Vuoi sapere cosa c'è tra me e i miei Calvin? Niente.".
La collezione, disponibile dal 16 luglio, comprende tra i suoi pezzi alcune versioni dei jeans skinny indossati da Brooke Shields negli anni '80, i classici boyfriend jeans a carota indossati da Kate Moss negli anni '90, ma ancora felpe, t-shirt CK, giacche e camicie in denim. Prezzi da 75 a 300 euro. E.L.
Resta sempre aggiornato! Iscriviti alla Newsletter di FASHION TIMES
Commenti
comments