La Città Eterna sta per essere travolta dalla 25esima edizione di AltaRomAltaModa che ha in serbo tantissimi eventi e manifestazioni legate al mondo della moda.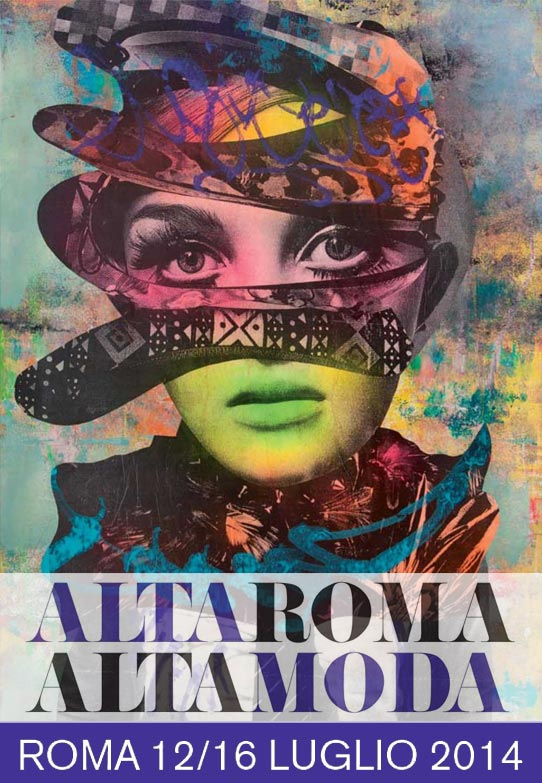 Dal 12 al 16 luglio 2014 arriva la 25sima edizione di AltaRomAltaModa che porterà nella capitale sfilate, inaugurazioni, mostre, anteprime e progetti speciali.
L'artista chiamato a rappresentare la 25esima edizione di AltaRomAltaModa è DAIN con l'immagine intitolata If The Shoe Fits. L'artista arriva nella città eterna con uno speical project di street art americana intitolato DAIN | Tribute to Rome.
AltaRomAltaModa Luglio 2014 avrà luogo, come di consueto nel Complesso Monumentale S. Spirito in Sassia e ci farà scoprire luoghi mitici di Roma come Palazzo Braschi, gli Horti Sallustiani, Le Scuderie di Palazzo Ruspoli, il Museo Nazionale Etrusco di Villa Giulia e lo spazio ultra-contemporaneo a Trastevere, tra l'Orto Botanico, il Tevere e il Gianicolo che aprirà in anteprima solo per A.I. e Altaroma.
tra gli appuntamenti già confermati in calendario ci saranno le sfilate delle Maison storiche: Curiel Couture, Renato Balestra e Sarli Couture, accompagnati dalle collezione A-I 2014/2015 di Antonella Rossi, Giada Curti, Luigi Borbone e Sabrina Persechino.
Due le new entry nell'haute couture capitolina: Rani Zakhem e Peter Langner. Torna inoltre Antonio Grimaldi Haute Couture con la presentazione di una esclusiva capsule collection. Un evento di risonanza internazionale sarà la sfilata di Jamal Taslaq che, per l'edizione estiva di AltaRomAltaModa 2014, sfilerà eccezionalmente nel Quartiere Generale delle Nazioni Unite a New York.
Altaroma e Bulgari, ancora insieme, questa volta per un progetto volto a sostenere Save the Children, attraverso la presentazione del volume "Forma/Luce", edito da Drago, e una mostra fotografica.
Altaroma si interessa anche ai giovani talenti e festegerrà il 10imo anniversario di "Who Is On Nesxt?" in collaborazione con Vogue Italia, per la ricerca e la promozione di giovani creativi del panorama nazionale ed internazionale e che quest'anno vedrà, con "10th Anniversary Who Is On Next?", le celebrazioni dei 10 anni dalla sua nascita.
Una mostra racconterà la visione creativa dei talenti che, dal primo anno ad oggi, hanno calcato le catwalk di Altaroma. Ma non solo, Altaroma conferma ancora una volta il suo impegno nel sostenere e promuovere la formazione: sfileranno sulle passerelle dell'Alta Moda capitolina l'Accademia Costume & Moda, IED Roma, l'Accademia Altieri, la Scuola di Moda Ida Ferri, l'Accademia Koefia, Creazioni di Moda Maria Maiani, l'Accademia Italiana, l'Accademia Nazionale dei Sartori, l'Accademia di Belle Arti di Roma.
Gli eventi in programma sono decisamente tantissimi ma troverete tutte le info sull'App di Altaroma per smartphone e tablet, scaricabile gratuitamente per iPhone e Android. A.R.
Resta sempre aggiornato! Iscriviti alla Newsletter di FASHION TIMES
Commenti
comments