Grande successo per l'evento "Jonathan Adler travels with Tumi" durante la settimana dedicata al design internazionale. Il Fuorisalone è diventato un po' "globe trotter", ma con stile! Durante un cocktail in boutique, i fans del mondo Tumi hanno potuto divertirsi, giocando, posando e postando sui social le foto con la nuova collezione!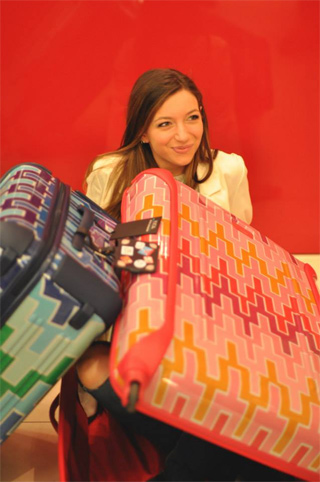 Jonathan Adler ha "colorato" questo fuori salone con i suoi colori e le sue inconfondibili stampe grafiche. Una collezione giocosa e divertente nata dal perfetto connubio con Tumi che, durante il Fuorisalone, ha dato vita ad una serata contest-social indimenticabile.
| | | |
| --- | --- | --- |
| L'evento Tumi a Milano | | |
Nella boutique Tumi di via Verri, 3, a Milano, sono stati numerosi ad accorrere per scoprire la special collection. Hanno curiosato e giocato con i pezzi della nuova collezione, per poi scattare qualche foto, posando e indossando una borsa o un trolley (qualcuno ci si è pure infilato dentro!).
| | | |
| --- | --- | --- |
| #TUMIMILAN su Instagram | | |
Lo scopo della serata? Presentare al pubblico la collezione Jonathan Adler Travels With Tumi, invitando i presenti a postare foto su Instagram con l'hashtag #TUMIMILAN per avere la possibilità di vincere una borsa… ovviamente firmata Tumi! | FOTO EVENTO E.L.
Resta sempre aggiornato! Iscriviti alla Newsletter di FASHION TIMES
Commenti
comments