In occasione di Moda In, Swarovski presenta le novità che scopriremo con la collezione "Traces of Times" per la Primavera-Estate 2015.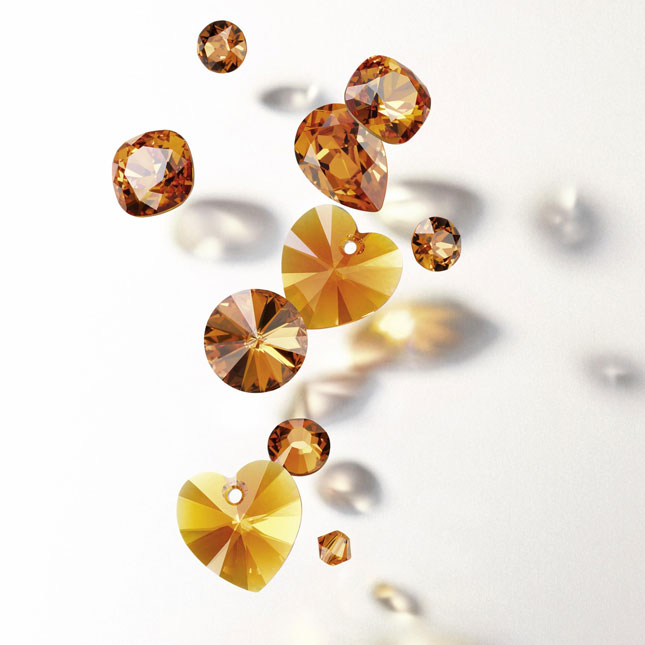 Per la prossima stagione Primavera-Estate 2015, Swarovski presenta una nuova gamma di tagli, colori, effetti ed estensioni delle linee già esistenti per riflettere l'ispirazione della stagione: "Traces of Time".
Sono quattro i temi chiave e altrettante le creazioni innovative: Faded Memories (Classico), Sunset Rituals (Romantico), Vivid Moments (Progressista) e Forgotten Dreams (Glamour).
Il classico non manca mai e lo ritroviamo nelle creazioni Faded Memories che ci rimandano ad estati passate, ricordi sbiaditi ma che non dimenticheremo mai. Finiture satinate monocromatiche, tonalità "tono su tono" e opalescenti si ritrovano in design asimmetrici che mescolano tra loro cristalli, acrilico e perle per creare un look moderno ed esaltante. Tra le novità vi è Crystal Iridescent Green, un misterioso effetto bitonale verde-blu metallico adatto a design sia tradizionali che moderni di ogni segmento.
Il legame con la natura viene esaltato con le creazioni Sunset Rituals. Lo spirito romantico del nuovo colore Tangerine evoca l'immagine di uno splendido tramonto e rappresenta uno straordinario sviluppo tecnico ispirato al granato mandarino. Pendenti e bead BeCharmed diventano antichi tesori tribali, e le superfici matt e simil-sabbia sono illuminate da Mini Size Beads.
| | |
| --- | --- |
| Swarovski Primavera-Estate 2015 | |
Un mix eclettico e vibrante di culture africane e dell'Asia orientale danno vita alle creazioni Vivid Moments. Gli accessori vengono trasformati in artwork con cristalli 3D e i gioielli incorporano tessuti ornamentali. Il nuovo e scultoreo pendente a goccia XIRIUS taglio chaton è assolutamente perfetto per gioielli e accessori statement in un design al contempo futuristico e tradizionale mentre le Pavé Balls presentano una miriade di minuscoli cristalli sferici che esaltano la loro deliziosa bellezza.
Il taglio complesso della Bead Skull è un capolavoro di design del cristallo unico ed esclusivo. Disponibile in tonalità nera e blu, brillanti gradazioni metalliche e attraenti effetti come Astral Pink e Aurora Borealis, questo cristallo multi-layer è ideale per un design dai toni oscuri e glamour; combinato con materiali naturali e altre bead, si sposa mirabilmente anche con creazioni dallo spirito tribale. Versatile, esclusivo e moderno, il nuovo ed affascinante Fancy Stone Cushion aggiunge un pizzico di rassicurante eleganza a qualsiasi design, ed è perfetto se utilizzato insieme alla Trilliant Fancy Stone. Questo è il tema Forgotten Dreams che mischia modernità e antichità.
| | |
| --- | --- |
| Swarovski Primavera-Estate 2015 | |
Infine lo scorso mese di luglio 2013, Maison Martin Margiela presentava la collezione Maison Martin Margiela Crystalactite for Swarovski. Ora Swarovski presenta la sua interpretazione di questo innovativo taglio in cristallo puro: il pendente Crystalactite. Con un'estetica progressista che combina sfaccettature parzialmente satinate alle forme irregolari e primordiali, scaturisce da una visione selvaggia ed è stata perfezionata da uno degli studi di design più sofisticati. Grazie al foro alla sommità, i pendenti Grand e Petit offrono una miriade di possibilità di design per creare motivi dallo spirito forte e contemporaneo, e per ricreare look d'alta moda. A.R.
Resta sempre aggiornato! Iscriviti alla Newsletter di FASHION TIMES
Commenti
comments