Lacoste presenta la tante novità della collezione Autunno-Inverno 2014/2015. Sei linee per una collezione dal mood urban chic. Scopriamole insieme...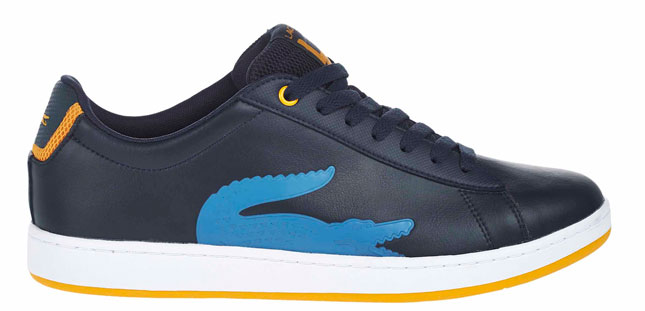 Per l'Autunno-Inverno 2014/2015 la collezione footwear è una sintesi di allure urban chic, praticità ed eleganza mixate con un flair contemporaneo che rendono ogni calzatura il perfetto complemento del guardaroba maschile. Sei le linee che compongono la collezione, capace così di rispondere alle diverse esigenze dell'uomo nella vita di tutti i giorni: Sport Active, LED, L!ve, Explore the Freedom, Sportswear e LCST.
La linea Sport Active sottolinea la ricerca della perfezione che contraddistingue il brand. La sneraker Carnaby gioca con lo storico simbolo del brand, il coccodrillo, che caratterizza la tomaia: tono su tono o a contrasto, diventa elemento grafico.
| | |
| --- | --- |
| Lacoste Footwear Fall-Winter 2014/2015 | |
Dedicata agli spiriti cittadini la collezione LED, con il modello Walsham e il modello Kenwick, un omaggio allo stile british.
La collezione Lacoste L!ve per la prossima stagione compie un percorso attraverso i paesaggi del deserto e la tundra artica che si riflette nel design retro-futurista di ogni singola calzatura. Un'immersione negli anni '80 per la Missouri, una training shoe adatta a tutti i tipi di terreno; e una scarpa per il running, la Trajet, in suede e nylon.
Il design della linea Explore the Freedom trova la sua ispirazione nel mondo sportivo, interpretando le radici atletiche del brand. In questa linea troviamo la sneaker dinamica e leggera L.IGHT e la L.IGHTBASE, una sneaker alta, dallo stile contemporaneo.
La collezione Sportswear mixa uno stile classico e forme sportive che si adattano alla stagione più fredda grazie a dettagli tecnici e a materiali naturali. La Misano, sofisticata e sportiva allo stesso tempo, gioca con i colori mentre la Millard propone il suo stile tipicamente inglese con DNA golfistico.
Terminiamo con la linea LCST che compie un viaggio fantastico tra i paesaggi futuristici delle metropoli del Far East. Le strade di Bangkok, le luci delle notti di Tokyo, i quartieri moderni di Shanghai. La Lerond e la Vaulstar ne sono le protagoniste. A.R.
Resta sempre aggiornato! Iscriviti alla Newsletter di FASHION TIMES
Commenti
comments