Ha aperto le sue porte al pubblico di Los Angeles la mostra "Journey of a Dress" di Diane Von Furstenberg, dove la stilista celebra l'iconico wrap dress.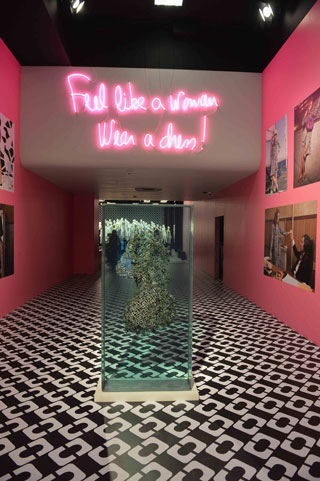 Presso lo storico palazzo Wilshire May Company di Los Angeles, Diane Von Furstenberg ha inaugurato la mostra "Journey of a Dress" per celebrare il quarantesimo anniversario del vestito da cui tutto è cominciato, il wrap dress.
Un vero e proprio viaggio nell'universo DVF attraverso 4 decenni, partendo dal primo modello fino ad arrivare ai modelli più moderni, oggi simbolo di libertà per intere generazioni di donne.
La mostra include ritratti della designer, musa e collezionista Diane von Furstenberg, fatti da artisti del calibro di Andy Warhol, Chuck Close, Francesco Clemente, Helmut Newton e Annie Leibovitz, ma anche pezzi di artisti contemporanei come Dustin Yellin.
| | |
| --- | --- |
| Coco Rocha e Diane Von Furstenberg | |
La mostra espone anche fermi immagine di pellicole iconiche dove le protagoniste indossano il wrap dress: da Cybill Sheperd in "Taxi Driver" ad Amy Adams nell'acclamato "American Hustle".
| | | |
| --- | --- | --- |
| Demi Moore | Gwyneth Paltrow | |
"Avevo 26 anni quando ho creato il wrap dress" dice Diane von Furstenberg, "non avevo idea che sarebbe entrato nella storia e sono entusiasta di celebrarlo oggi con questa mostra che segue il suo viaggio nel tempo – Journey of a Dress". A.R.
| | | |
| --- | --- | --- |
| Paris Hilton | Rosario Dawson | |
Resta sempre aggiornato! Iscriviti alla Newsletter di FASHION TIMES
Commenti
comments