Massimo Rebecchi presenta una collezione che gioca con i contrasti per l'Autunno-Inverno 2014/2015. Capo must have della collezione è la Rebel Jacket.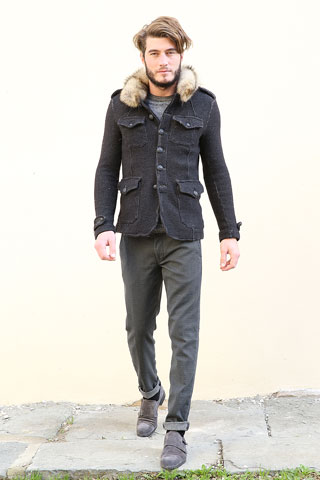 Protagonista della collezione Autunno-Inverno 2014/2015 è la Rebel Jacket di Massimo Rebecchi. Il pezzo must have del guardaroba maschile viene reinterpretato nei tessuti e nelle forme: un mix dinamico di elementi contrastanti che dà vita ad un nuovo ibrido, dandy e militare, dedicato a un ribelle misurato.
| | | |
| --- | --- | --- |
| Massimo Rebecchi Autunno-Inverno 2014/2015 | | |
La silhouette è sartoriale, i bottoni sono rubati ai loden e l'enfasi è posta sulla texture in lana cotta. Il mood perfetto per un raffinato rivoluzionario che ama i capi ricercati ma segnati dal tempo, da portare abbinati a chinos effetto used e impreziositi da scarf in colori inaspettati.
La Rebel Jacket si inserisce in una collezione che propone capi casual riuscendo a creare un look ricercato e mascolino. Eleganza anche e soprattutto nelle camicie sartoriali, di taglio rigoroso e proposte in colori decisi; sono arricchite da bottoni gemello e fanno capolino sotto giacche smoking dai grigi piombo pieni, che risaltano nei velluti lisci.
| | | |
| --- | --- | --- |
| Massimo Rebecchi Autunno-Inverno 2014/2015 | | |
Morbidezza e comfort nella maglieria: le nuove maglie sono rigorosamente artigianali, cardate con taglio vivo con agugliati; spesso hanno bordi irregolari o sono realizzati in mohair infeltriti. Look bohème chic per i chinos smerigliati, dalle fantasie madras o nelle lane semi-cardate tinte in filo dal sapore retro che si allentano sui jersey tinti in filo dal gusto inglese, talvolta sovratinti con effetto used. A.R.
Resta sempre aggiornato! Iscriviti alla Newsletter di FASHION TIMES
| | | |
| --- | --- | --- |
| Massimo Rebecchi Autunno-Inverno 2014/2015 | | |
Commenti
comments