Per il 2013 LACOSTE L!VE si allea con Tezuka Productions, rinomata casa editrice giapponese dedicata ai manga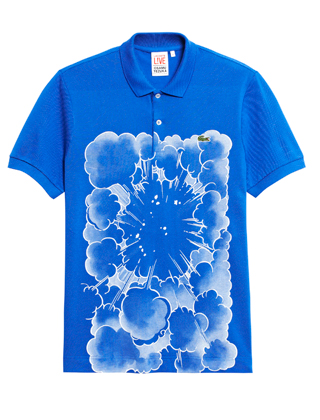 I mitici fumetti di Osamuu Tezuka protagonisti di una capsule collection firmata Lacoste Live. Osamu Tezuka (1928 – 1989) era un fumettista e regista d"animazione giapponese, nonché produttore, attivista e medico (senza aver mai esercitato la professione medica). Artista di manga di primo ordine, è conosciuto soprattutto come il creatore del Ragazzo Stellare, dell"Imperatore della Giungla (Kimba il Leone Bianco) e di Black Jack il chirurgo.
«Quando mi hanno proposto questa collaborazione mi sono subito ricordato di una frase presa da un saggio di Osamu Tezuka edito nel 2005: 201 Words That Help You to Open Up a Path to the Future», spiega Ohya-san. «Dagli albori del tempo, gli esseri umani hanno tre sogni: il primo è di volare, il secondo è di trasformarsi, il terzo è di comunicare con gli animali e la Natura».
La capsule per la Primavera-Estate 2013, nei negozi da maggio, sarà caratterizzata da immagini che raffigurano "Il misterioso uomo sotterraneo" (il volo), "Il ragazzo stellare" (la trasformazione), e "Black Jack il chirurgo" (la comunicazione con la Natura), mentre quella per l'Autunno/Inverno 2013-2014, nei punti vendita a partire da agosto, richiamerà i manga "La fenice" (il volo), "Delitto e castigo" (la trasformazione) e "L"imperatore della giungla" (la comunicazione con gli animali). F.A.
Sempre aggiornato sulle nuove tendenze | Newsletter FASHION TIMES
Commenti
comments