Persol incorona il suo grande legame con il mondo del cinema con la terza ed ultima edizione dell'evento PERSOL MAGNIFICENT OBSESSIONS: 30 stories of craftsmanship in film tenutasi a New York il 10 luglio scorso presso il Museum of Moving Image.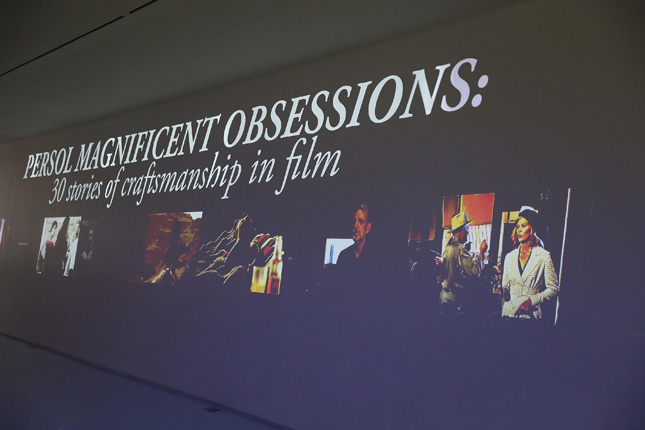 Dietro ogni grande film, dietro ogni capolavoro che ha fatto la storia, c'è un gran lavoro. Un lavoro meticoloso. Frutto di passioni e ardore, professionalità, anche artigianalità. Lo stesso lavoro, la stessa passione, la stessa precisione che mette Persol alla lavorazione e costruzione dei suoi occhiali.
Così è nato il connubbio tra il famosissimo brand di eyewear e il mondo del cinema attraversa il ciclo di mostre PERSOL MAGNIFICENT OBSESSIONS, giunto alla sua terza ed ultima edizione, e che ogni anno, dal 2011 celebrano le "ossessioni" che si celano dietro ogni capolavoro del cinema, 10 film ogni anno.
Una mostra accattivante e che negli anni ha già riscuotato un enorme successo. Curata da Michael Connor, esperto di cinema e arte contemporanea, quest'anno, per l'ultimo atto, la mostra presenta il lavoro di Julie Weiss per "Frida" e "Twelve Monkeys", di Jeannine Oppewall per "Catch me in you can", di Eiko Ishioka per "Dracula", Jennifer Connelly per "Requiem for a Dream", "A Beautiful Mind" e "Virginia" e di Walter Murch per "Apocalypse Now", "The Conversation", "Cold Mountain" e "The Talented Mr. Ripley", per non citarli tutti.
Una mostra attarverso la quale sarà così possibile scoprire i segreti più "nascosti" del "dietro le quinte" di chi a volte, lavora nell'ombra dei più grandi registi. La mostra, aperta al pubblico dal 11 luglio fino al 10 novembre, ha dato vita ad un evento molto esclusivo il 10 luglio scorso. Tra le celebrità presenti, Julie Weiss, Anna Kendrick, Filippo Timi, Emma Roberts, Marisa Tomei, Philipp Lim, Hilary Rhoda o ancora Giovanni Morricone. E.L. | PHOTO GALLERY
Sempre aggiornato sulle nuove tendenze | Newsletter FASHION TIMES
Commenti
comments