La collezione Jimmy Choo Primavera-Estate 2014 fa riferimento all'arte contemporanea di Robert Longo e alla sua installazione intitolata "Men in the Cities".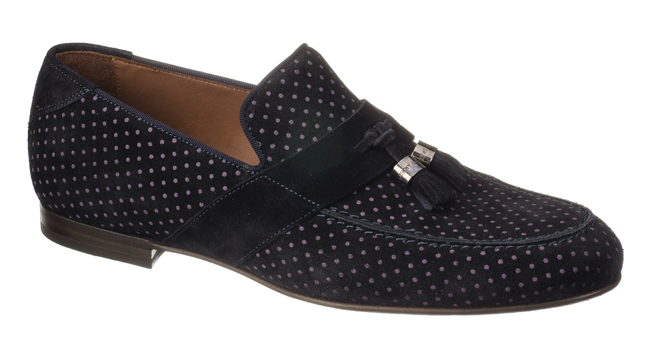 Jimmy Choo prende spunto dalla strada ispirandosi ad uno street style raffinato regolato anche dalle influenze artistiche di Robert Longo e dalla sua installazione "Men in the Cities". Nuovi vivaci dandy popoleranno le grandi metropoli con modelli di slipper reinventati adatti sia per il lavoro che per il tempo libero.
| | |
| --- | --- |
| Jimmy Choo Spring-Summer 2014 | |
La collezione Primavera-Estate 2014 che vedremo l'anno prossimo è fatta di materiali naturali con inserti a contrasto e si tinge di asfalto, nero, terra e cuoio con particolari più tenui color rosa cipria, chalk, blu fiordaliso, pistacchio e cayenne.
Oltre ai materiali naturali suede, pitone e simil-coccodrillo impreziositi da borchie, rivetti e glitter.
"Ho osservato le persone che vivono in città diverse dalle consuete capitali della moda – dichiara Sandra Choi, Direttore Creativo di Jimmy Choo – Ho tratto ispirazione da colori dei Sapeurs di Brazzaville, dallo street style iper accessoriato di New York e dalla creatività delle fashion victis di tutto il mondo". E.M.
Sempre aggiornato sulle nuove tendenze | Newsletter FASHION TIMES
Commenti
comments