Activisone e Xbox si alleano per portare al grande pubblico la competizione eSports di Call of Duty. Scoprite come partecipare a volare a Hollywood per vincere il monteprimi da 1 milione di dollari.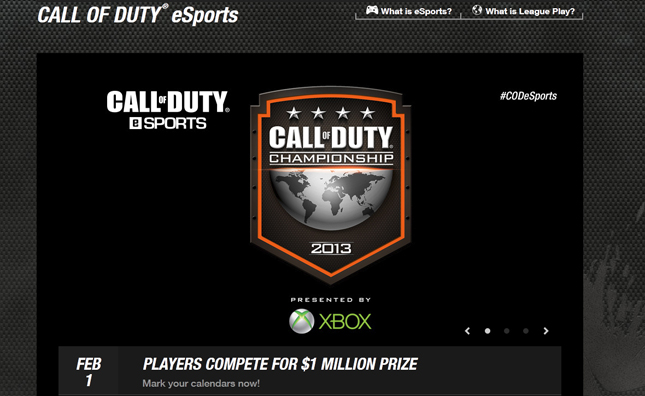 Giocatori di tutto il mondo, prendete il calendario e segnate questo importante appuntamento: ad Aprile arriva la competizione Call of Duty per eccellenza, che cambierà per sempre il volto dell'eSports competitivo.
Il Call of Duty Championship, presentato da Xbox, che avrà come protagonista il torneo di Call of Duty®: Black Ops II da 1 milione di dollari, si svolgerà a Hollywood in California dal 5 al 7 aprile prossimo.
Se siete interessati basta collegarvi al sito e registrarsi. Vi verrà poi spiegato tutto per prendere parte al torneo e forse vincere il vostro posto nel Call of Duty Championship, presentato da Xbox, che include il viaggio a Hollywood e la partecipazione al torneo con montepremi di 1 milione di dollari.
| | |
| --- | --- |
| | |
"Ogni giorno ci sono più persone che giocano a Call of Dutyin multiplayer di quante guardino in media la stagione dell'NBA. L'estensione della fan base di Call of Dutye la sua passione sono qualcosa di davvero incredibile, e tuttavia, fino ad oggi, non esisteva un modo formale per scoprire chi tra questi milioni di giocatori fosse veramente il migliore dei migliori", dichiara Eric Hirshberg, CEO di Activision Publishing. "Guardare le performance dei migliori giocatori a Call of Duty è già uno sport di massa con un suo pubblico su YouTube e su Call of Duty®Elite. Noi intendiamo riunire i migliori giocatori al mondo a Hollywood perché competano ai massimi livelli e conquistino il premio per eccellenza. Tutta la nostra fan base, da ogni parte del mondo, è invitata ad unirsi e prendere parte al divertimento". A.R.
Commenti
comments