In una sola settimana Spotify si è imposto e non esiste persona che non lo abbia sentito nominare. Vediamo quali sono stati i brani più ascoltati dal lancio e gli artisti preferiti.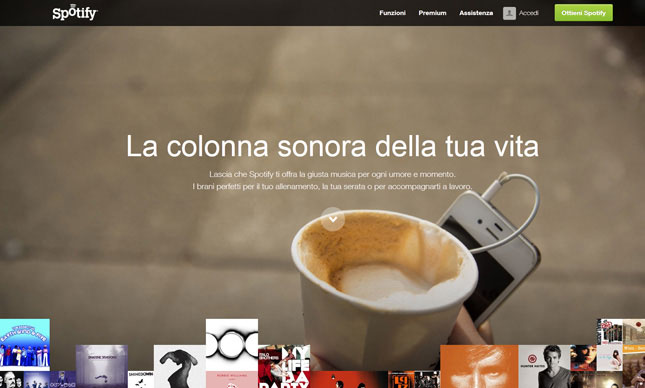 Il servizio di musica on-demand in streaming, Spotify, arrivato in Italia poco più di dieci giorni fa, ha già registrato 11 milioni di brani ascoltati.
Tra i brani più ascoltati nel nostro Paese ci sono "Scream & Shout" di will.i.am feat. Britney Spears, "Ho Hey" dei The Lumineers e "Locked Out of Heaven" di Bruno Mars. Sesta posizione per "Diamonds" di Rihanna seguita da "Try" di P!nk mentre chiudono la top ten Ke$ha con "Die Young" e "Hall of Fame" dei The Script.
Diversa la Top Ten dei dieci artisti preferiti, che propone The Lumineers in prima posizione, seguito da will.i.am e Rihanna. Quarto posto per Bruno Mars, quinto per Calvin Harris e sesto per Max Gazzè. Settimo posto per Macklemore & Ryan Lewis seguiti da Elio e le Storie Tese e David Guetta. I Swedish House Mafia chiudono la classifica.
"Il lancio di Spotify in Italia ha superato le nostre aspettative, sia in termini di accesso alla versione gratuita, sia nell'attivazione di account a pagamento; siamo certi che tutti gli amanti della musica nel nostro paese si appassioneranno al servizio, così come avviene nel resto del mondo", dichiara Veronica Diquattro, Responsabile del mercato italiano di Spotify. A.R.
Commenti
comments