La menswear collection firmata Pringle of Scotland è un insieme di elementi che combinano tradizione sartoriale e maglieria ottenuti attraverso la continua sperimentazione di nuove tecnologie.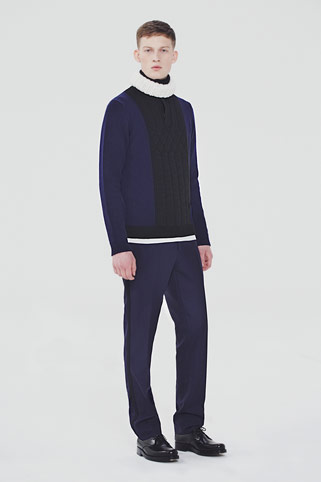 Il cashmere scozzese e le maglie a spina di pesce sono le novità introdotte da Pringle of Scotland che sfila portando con se la tradizione e l'innovazione. Il celebre brand scozzese nato nel 1815, porta nel guardaroba maschile la pelle alternata a tessuti strutturati. I blazer in maglia sono ammorbiditi da colli a scialle, le giacche e i cappotti sono strutturati come pannelli di maglia, hanno polsini e rifiniture che aggiungono una facilità di movimento.
| | | |
| --- | --- | --- |
| Pringle of Scotland Fall-Winter 2013/2014 | | |
I temi del patrimonio del brand sono sviluppati e combinati con tecniche innovative: cappotti reversibili harris tweed, mackintosh in cashmere con trattamento idrorepellente e blazer di lana, foderati con tessuto a rete tecnico.
La tradizione Scozzese appare in tutta la collezione e i colori spaziano dal nero al blu, fino al grigio scuro. Toni classici e farinosi. E.M.
| | | |
| --- | --- | --- |
| Pringle of Scotland Fall-Winter 2013/2014 | | |
Commenti
comments