La collezione autunno-inverno 2013/2014 Ben Sherman trae ispirazione dal profondo nord della Gran Bretagna per dare vita alla linea Spirit of Union.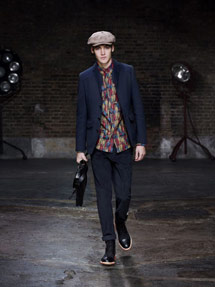 Festeggia quest'anno i suoi cinquant'anni di storia, il brand britannico Ben Sherman. In questa occasione ci presenta la collezione autunno-inverno 2013/2014 con uno speciale focus sul lino printing ispirato alla Spirit of Union.
Negli anni '50 nacque nelle terre del nord della Gran Bretagna questo spirito solidale di unione tra i minatori e le comunità minerarie. Lo spirito di questi centri industriali del nord dell'Inghilterra fu portato alla ribalta da una nuova ondata di artisti. I paesaggi industriali dipingevano un "nord" ospitale e aperto, ma anche difficile e avverso.
| | | |
| --- | --- | --- |
| Ben Sherman Fall-Winter 2013/2014 | | |
Ripreso da Ben Sherman la collezione è incentrata sopratutto sulle stampe. Ispirati direttamente alla stampa manuale su linoleum, gli stessi personaggi ritratti nei dipinti raffiguranti i paesaggi industriali e i minatori che vi lavoravano si trasformano nei capi iconici della stagione. Mentre ci addentriamo sempre di più nell'inverno, la camiceria altamente grafica e i chino con stampe all-over aprono a jacquard più impalpabili su maglieria e capi da esterno.
Immancabili i giacconi Melton in twill cerati e dettagli in cuoio e shearling. Lana cotta e tessuti tecnici vengono usati per la maglieria mentre le silhouette dei pantaloni si fanno voluminose. La palette cromatica propone nuances che si estendono dal blu fino al verde salvia e il giallo polvere. A.R.
| | | |
| --- | --- | --- |
| Ben Sherman Fall-Winter 2013/2014 | | |
Commenti
comments